Tumble-Bee Rock Tumbler Review
A New Brand of Hobbyist Rock Tumblers


For the past few months we have been running a couple of the new Tumble-Bee rock tumblers. Tumble-Bee is a new brand of hobbyist rock tumblers first offered to the public by Reentel International in late 2012. We wanted to give them a pretty good trial before offering them for sale.

The folks at Reentel International worked hard to "improve the rock tumbler" and to keep the cost down. They brought some great new features to the small hobbyist rock tumbler and were very successful at delivering a bargain-price machine.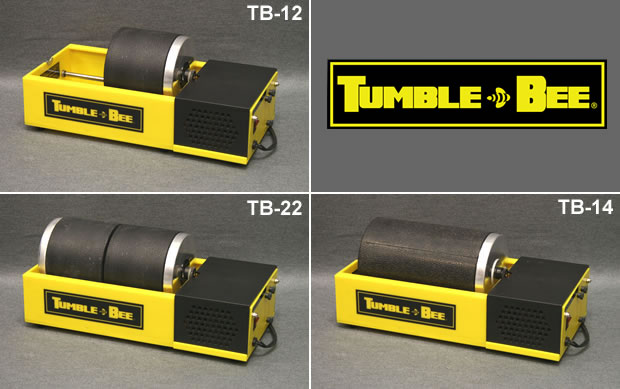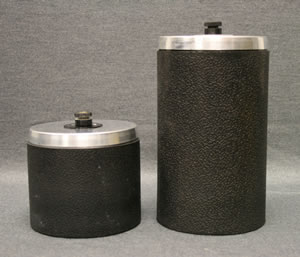 The Tumble-Bee can be operated with two different size barrels. You can run it with one of the 2-pound capacity barrels shown on the left, one of the 4-pound capacity barrels shown on the right, or two of the 2-pound barrels. The 2-pound barrels hold about the same amount of rock as the
Thumler's MP-1 tumbler
. And, a little less rock than the 3-pound barrels of the
Thumler's Model A-R1
and
Model A-R2
rock tumblers.
First Visual Impression


Our first impression of the Tumble-Bee was "Wow!". We loved the "Tumble-Bee" name, the logo and the bright yellow color. The on-off switch and timing-style belt were great surprises! And, we really liked the ability to run one two-pound barrel, two two-pound barrels or one four-pound barrel on the same machine. All of the small Tumble-Bee tumblers (TB-12, TB-14 and TB-22) are sold with the same base but shipped with the appropriate barrel(s). Smart.



Three Models


There are three different Tumble-Bees - the TB-12, TB-22 and TB-14. The only differences between them are the number and sizes of the barrels. We will review each of the models below.


Tumble Bee TB-12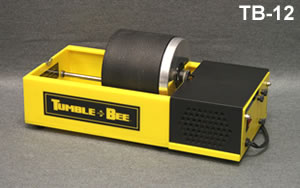 The Tumble-Bee Model TB-12 is sold with a single 2-pound barrel. MSRP is $79.00.

Tumble-Bee TB-12 tumbler is the least expensive model. (The "12" in TB-12 means "one 2-pound barrel".) It is provided with a single 2-pound barrel. If you decide that you would like to run a second barrel you can simply buy it, load it and place it on the machine. Or, you can buy a 4-pound barrel to run on this tumbler. With one barrel, it can be compared to the Thumler's MP-1 or the Thumlers AR-1. MSRP is $79.00.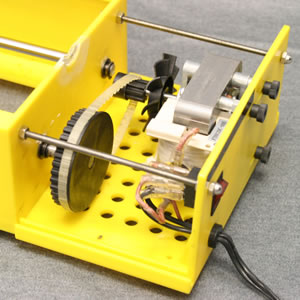 A look "under the hood" of the Tumble-Bee rock tumbler. This photo shows the polyurethane timing-style belt and drive pulley system.
Tumble Bee TB-22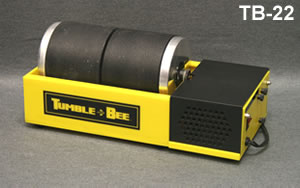 The Tumble-Bee Model TB-22 is sold with two 2-pound barrels. MSRP is $99.00.

Tumble Bee TB-22 tumbler is just like the TB-12 but it is supplied with two 2-pound barrels. (The "22" in TB-22 means "two 2-pound barrels".) This tumbler allows you to tumble two types of material, material at two different steps in the tumbling process or just more rock than you can fit in one barrel. It is a great way for two people to share a single rock tumbler. You don't have to run both barrels or you can remove the two barrels and run a single 4-pound barrel. Compares with the Thumler's A-R2. MSRP is $99.00.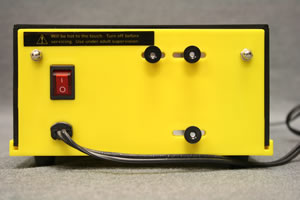 One of our favorite things about the Tumble-Bee tumblers is the on-off switch. Just flip the switch - no more searching for the plug!
Tumble Bee TB-14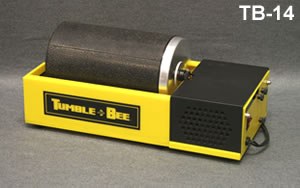 Tumble-Bee Model TB-22 is sold with two 2-pound barrels. MSRP is $99.00.

Tumble Bee TB-14 tumbler is sold with a single 4-pound barrel. (The "14" in TB-14 means "one 4-pound barrel".) As with the other tumblers you can also run it with a single 2-pound barrel or two 2-pound barrels. MSRP is $89.00.
Tumble Bee
(All Models)
Lortone
3A and 33B
Thumler's
A-R1 and A-R2
Belt
Polyurethane
Timing-style
Neoprene O-ring
Neoprene O-ring
On-Off Switch
Yes
No
No
Barrel Size
2-pound
or 4-pound
3-pound
3-pound
Shielded Moving Parts
Yes
Yes
No
Value Price
Best
—
—
Rust-Proof Case
Yes
No
No
Easy-Open Barrels
Yes
Yes
No
Noise Level
Highest
Quietest
Moderate
Oiling
Weekly
Monthly
Monthly
Makes a Great Polish
Yes
Yes
Yes
Sharp Metal Edges
No
Yes
Yes
Barrel Capacity


The Tumble-Bee is sold with a 2-pound capacity barrel and a 4-pound capacity barrel. What does that mean?

We filled a 2-pound barrel to 3/4 full with crushed agate and jasper. This material was 3/8" to 1 1/2" in size - similar to the rough that we sell. The 2-pound barrel at 3/4 full held about 1 1/4 pounds of rough rock. The 4-pound barrel at 3/4 full held about 3 pounds of rough rock.

So, by the time you add the recommended amount of grit and water the barrels will be close to their rated capacity of 2-pounds and 4-pounds.



Compare With Lortone and Thumler's


In the table at right we compare the Tumble Bee tumblers with small-capacity tumblers made by Lortone and Thumler's. We gave the Tumble-Bee best ratings (shown in green) in every comparison area but two: 1) noise level, and, 2) bearing maintenance. The Tumble-Bees are definitely louder than other tumblers of similar size. If you plan to run yours in an out-building, basement or garage where noise will not be a concern then the Tumble Bee will probably be a great tumbler for you. If you purchase one, you should plan to locate it in an area where you will not spend a lot of time. It will not work well in a room where you sleep, study, watch television or do anything where quiet is required.

To help keep noise to a minimum, the Tumble-Bee is supplied with a bottle of 10W30 oil for lubricating the bearings. Just place one drop on each of the four bearings every time you change the tumbler (or a minimum of once a week if you do long tumbles). The oil definitely decreases the noise and requires just two minutes to apply. Look in the center column of this page for a photo of a Tumble-Bee that shows the oiling locations.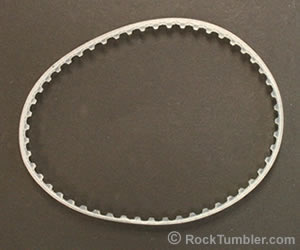 Here is a photo of the Tumble-Bee drive belt. It is made from polyurethane with embedded nylon fibers. This is a timing-style design for non-slip traction. The folks at Tumble-Bee estimate that it typically delivers 3000-4000 hours of operation.
Bottom Line on the Tumble-Bee


The Tumble-Bee tumblers are a fantastic value. The TB-22 costs about $30 less than comparable tumblers made by Lortone and Thumler's. The durable belt, on-off switch are great features not offered by any comparable tumbler.

The downside of the Tumble-Bee is the noise level and the regular oiling required. If a bit of noise and a couple minutes a week of oiling are not a concern to you then you will probably be buzzing about the value price and other great Tumble-Bee features.



Happy Tumbling!


We prepared this article to share our opinions about these tumblers. We want you to have full information about any tumbler that you buy from us. That makes for happy customers and less work for us. If you have a question about the Tumble-Bee or other product please let us know. Our contact information is at the bottom of every page of this website.