Genesis and Classification of Agates and Jaspers: a New Theory
by Marco Campos-Venuti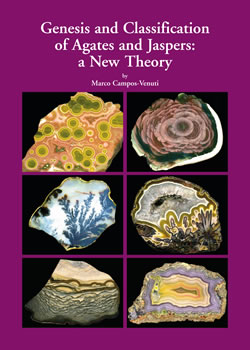 If you enjoy jaspers and agates, then you are familiar with their diverse colors and patterns. This book will help you understand these intriguing rocks - their appearance, their methods of formation, and how they can be classified.

A person must understand something exceptionally well to develop a successful method of classification. In this book, Dr. Marco Campos-Venuti explains jaspers and agates like no one has before. He presents a genetic classification scheme for jaspers and considers the internal events of agates in a facies model. Jaspers are gem materials formed from altered sediments and modified igneous materials. Agates are deposited, often in a sequence, by chemically active fluids in the fractures and cavities of the shallow subsurface.

After reading this book, you will look at jaspers and agates with an educated eye and see evidence of how they formed in their colors and patterns. I have been an enthusiastic reader of geology for over 50 years, and this is one of the most original, educational, and thought-provoking books that I have had the pleasure of reading. If you enjoy jaspers and agates, you must read this book.

An 8" x 11.25" paperback with 160 pages and tons of informative color photos.



Genesis and Classification of Agates and Jaspers: a New Theory
Table of Contents

Introduction

7

JASPERS

Chapter 1 - Classification of Jaspers

11

Oceanic Jaspers

12

Flints

13

Abyssal jaspers

15

The Banded Iron Formation (BIF)

17

Volcanic Jaspers

20

Stratiform jaspers

20

Massive blocky jaspers

24

Rhyolitic jaspers

28

Jaspers pseudomorphic on fossil

33

Chemical Jaspers

36

Orbed jaspers

36

Brecciated jaspers

39

Jasp-agates

41

Chapter 2 - Genesis of Jaspers

45

Silica in Solution

45

Abyssal jaspers

47

Volcanic jaspers

48

Thunder egg formation

51

Fumarole activity

55

Jaspers pseudomorphic on fossils

56

Chemical jaspers

56

Brecciated jaspers

62

Fracturing of chemical jaspers

64

Volumetric problems of chemical jaspers

66

Jasp-agates

73

Source of silica and geologic setting

74

Conclusions

75

AGATES

Chapter 3 - Facies in Agates

79

Facies of an agate nodule

81

Facies 1 - First chalcedony layer

82

Facies 2a - Banded agate: hemiagate

85

Facies 2b - Banded agate: horizontal banding

86

Facies 2c - Banded agate: concentric banding

86

Facies 3 - Horizontal white bands

88

Facies 4 - Macrocrystalline quartz

89

Non-crystalline inclusions: mosses and plumes

90

Chapter 4 - Genesis of First Chalcedony Layer

97

Structures and behavior of mosses

97

Influence of gravity in plumes

104

Color of mosses and plumes

108

Magic Gardens

109

Genesis of the first chalcedony layer (facies 1)

111

Chapter 5 - Genesis of Banded Agate

115

Structures of bands

115

Fortified agates

121

Primary colors

122

Secondary colors

124

Connective channels and interruptions of the bands

130

Horizontal banding

133

Quantitative analysis

137

Morphology of the bands and migration of the centroid

137

Stratigraphy of a banded agate

139

Influence of climatic conditions

140

Types of agate depending on host rock

142

Conclusions

144

Chapter 6 - Other Kinds of Agates and Chalcedonies

147

Chalcedony without bands

147

Banded agates without the first chalcedony layer

151

Lace agates

151

Beacon agates

154

Conclusions and classification of non-crystalline silica

155

Bibliography

159