SuperMix: Bulk Tumbling Rough
Lots of color - contains some of the most popular tumbling roughs of all time.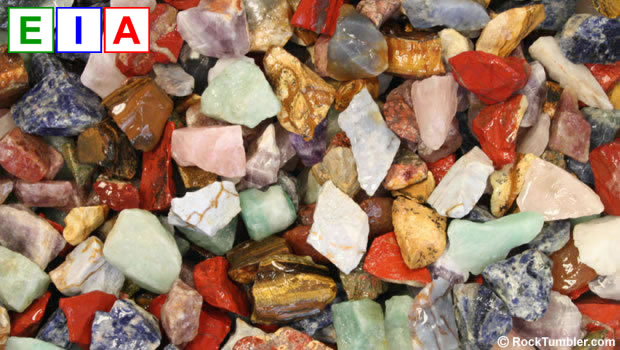 Photo of a typical bag of SuperMix Bulk Rough. It is super colorful, sized, and ready to tumble. Many different types of rough are included in the mix. The rough shown here was photographed wet to show full color.
SuperMix Bulk Rough - Very Colorful!

,

, and

What do they mean?
Size: mostly 1/2 to 2 1/2 inch pieces


In our opinion, this is one of the great bargains on our website: you can get a 20-pound bag of mixed tumbling rough for $99.99. In that bag you will find several materials that have been favorite tumbling roughs for the past fifty years - mostly in pieces that range from 1/2 inch up to about 2 1/2 inches.


These roughs sell for $7 to $10 per pound if bought individually!


Your bag of rough will contain a colorful mix that includes several different materials - similar to the photo above (photographed wet to show full color). Here is a list of some of the roughs that are typically found in a bag of this mix: banded amethyst, gold tiger eye, red jasper, picture jasper, green aventurine, rose quartz, sodalite, aventurine, unakite and white/clear quartz. Every bag is different and every bag has lots of diverse color.

The size of this rough ranges from about 1/2 inch up to about 2 1/2 inches in maximum dimension. Many of the pieces range from between 3/4 inch and 1 1/2 inches - just the right size to make nice tumbled stones. Rough of this size tumbles best in a six-pound or larger capacity barrel, but it can be successfully tumbled in barrels down to 3-pound capacity if you are patient, include small pieces (or media) in the barrel and are willing to run the coarse grit step at least twice. Big pieces of rough require extra time tumbling in coarse grit for shaping and smoothing.



Separate Material for Best Results


The best way to tumble this material is to sort it into roughs of similar hardness and tumbling characteristics. This will allow you to get the best results possible for each piece as well as conserve size. We would separate them into these groups.


These roughs sell for $7 to $10 per pound if bought individually!


The easiest-to-tumble materials that might be in your bag are: red jasper, picture stone, kambamba jasper, and petrified wood. All of these are composed of chalcedony, have a Mohs Hardness of about 7, resist bruising in most tumblers and shape nicely. You can tumble them together using the instructions on any of their pages linked above. We suggest that you start with these easy-to-tumble materials.

Another easy group of materials are those that are slightly softer than Mohs 7, resist bruising, and shape in a shorter amount of time than the materials above. In your bag, you might find them to include: dalmatian stone, sodalite, unakite, and silicified magnesite. You can tumble these materials separately or as a group, using the instructions from any of their pages linked above.

Now, for something more challenging... separate all of the varieties of crystalline quartz out and tumble those together using the recipe found on any of their pages. In your bag you might find: banded amethyst, rose quartz, rock crystal (white or clear quartz), tiger's eye pages. If you find green or red (pink) aventurine, it will also be tumbled using these recipes. All of these materials have a Mohs Hardness of about 7, bruise easily, and are slow to shape in a tumbler. You must use plenty of media to avoid bruising the rough.

You may also find a few pieces of obsidian in the bag. Most likely it will be snowflake obsidian and you can find a recipe for that here. We start with medium grit when tumbling any obsidian as it is very soft, and coarse grit will grind it away too fast. This material also bruises and breaks easily and must be tumbled gently. This is really challenging material to tumble to a perfect finish.

If you get great results tumbling all of the materials above then you have a high degree of skill using a rock tumbler. Nice Work!



Running It All Together


All of this material can be tumbled together if you are ok with losing a lot of weight and size off of the softer materials. If you run all of the material together, to get the best results where most pieces are shaped nicely, use the ADVANCED recipe for crystalline quartz. That recipe can be found on the rose quartz rough page. This will give you the best chance of not bruising or chipping the more fragile materials. However, this recipe will wear down the softer material quite a bit. I would check the barrel after one week in coarse grit and remove any pieces that are ready to move on to medium grit. Then bring the barrel back up to operating capacity with ceramic media.

Happy Tumbling!
Some of the roughs you might find in our SuperMix:
NOTE:
The bag you receive will not contain every material shown below. You will receive a random grab of what was available when the rough was packaged. Additionally, you might find pieces of rough that are not shown here. Every bag is different! If you order today and order one month later, the composition of the mix will change a little or a lot. We do not make custom bags of this mix. You will receive a random bag of random rocks grabbed by our supplier.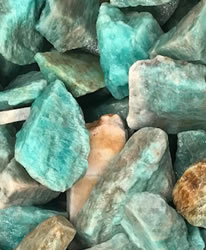 Amazonite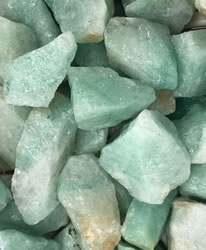 Green Aventurine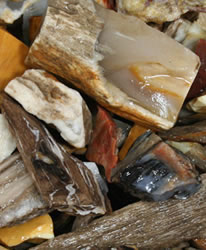 Petrified Wood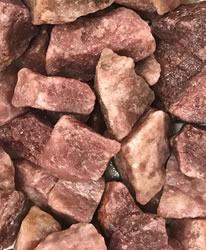 Red Aventurine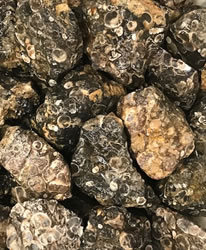 Turritella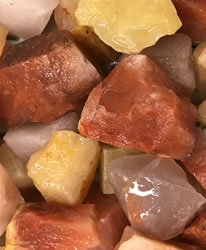 Yellow / Orange Aventurine
---
Customers also bought...

Large Ceramic Media



Large ceramic pellets work great as a filler and for delivering grit or polish to difficult-to-reach surfaces. More information...




Small Ceramic Media



Small ceramic pellets work great when you need small material for better tumbling action or to deliver grit or polish to difficult-to-reach surfaces. More information...




Standard Grit Kit



1 pound of each: coarse, medium and fine grit. 8 ounces of TXP polish. This is enough supplies to tumble up to four three-pound barrels of rocks. Save money with a large grit kit.