How Much Noise Does a Tumbler Make?
In this video we compare the sound of two rock tumblers. A large hobbyist tumbler with a rubber barrel and a tiny toy tumbler with a plastic barrel. The toy tumbler makes a lot more noise for two reasons: 1) the rocks are tumbling in a plastic barrel, and, 2) the inexpensive motor growls while it runs. If you want a quiet tumbler buy one with a rubber barrel. Tumblers with a rubber barrel cost a little more, but they also have motors that make less noise and will operate without problems for years.
How to Pick a Quiet Rock Tumbler


Noisy rock tumblers usually have two things in common: 1) they have a plastic barrel, and, 2) they have an inexpensive motor. Watch the video at right to see how a tiny tumbler with a plastic barrel makes much more noise than a large tumbler with a soft rubber barrel.

If you want a quiet tumbler, buy one with a soft rubber barrel and a quality motor.



Rock Tumbler Noise Testing


Noise is the primary concern that many people have about rock tumblers. Some tumblers make enough noise that everyone in your home will complain about them. However, others can be operated in the average home with minimal disruption.



| | |
| --- | --- |
| Rock Tumbler Model | Sound level at three feet (dB) |
| Discovery Planet | 73 - 75 |
| Thumler's UV-10 | 72 - 74 |
| Rolling Stones | 70 - 72 |
| Tumble-Bee TB14 | 66 - 69 |
| Tumble-Bee TB22 | 66 - 69 |
| Lot-O-Tumbler Single | 61 - 64 |
| Thumler's MP-1 | 61 - 64 |
| Thumler's A-R2 | 60 - 63 |
| Lortone QT-6 | 57 - 59 |
| Lortone 3A | 55 - 58 |




We decided to measure the amount of noise produced by some popular rock tumblers and share that information with you. We purchased a digital sound level meter that displays sound levels in decibels (dB), a standard unit of sound measurement.

Our noise level data is displayed in the table below and compared to common sounds in the graphic in the right column of this page. You can use this information to decide if you want to run a tumbler in your home and to compare the sound levels of several tumblers.

More information about what we learned and a few opinions are summarized below. We also have a separate article titled "Where is the best place to run a rock tumbler?" that provides information about running a rock tumbler in your home, garage or outbuilding.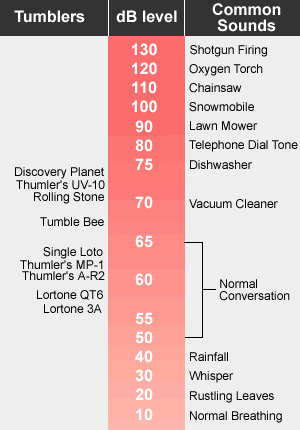 This illustration shows the noise levels of several rock tumblers compared to the noise level of a number of common sounds. It can be used as a guide by people who want to know the amount of noise that a tumbler will bring into their home. It can also be used to compare the relative noise level of different tumblers. NOTE: The amount of noise made by a tumbler is determined by many factors. Your test results might differ from these.
Rubber Barrel Tumblers Are Quiet


If you want a quiet tumbler, purchase a small rotary tumbler with a soft rubber barrel. The Thumler's Model A-R1, A-R2 and MP-1 are very quiet tumblers. Their soft rubber barrels absorb the impact of the tumbling rocks and produce very little noise. When running with a barrel 2/3 full of rocks, they make about as much noise as giving a 1/2-full carton of orange juice a gentle shaking.

If you want a larger tumbler the Thumler's A-R12, the Thumler's Model B and the twin-barrel Thumler's Model A-R2 are also relatively quiet.








Plastic Barrel Tumblers Are Noisy!


Some inexpensive tumblers are made with hard plastic barrels. Imagine how much noise will occur if you shake a hard plastic barrel with rocks inside!

We purchased two of the most popular plastic-barrel tumblers and ran them to see how well they worked. The clatter was more than we could tolerate. I ran one in my garage and could not sleep in the bedroom above because of the nagging noise. One of our staff members tried one in his basement and said that he could hear the noise in his second-floor bedroom.

These inexpensive tumblers might last through a couple loads of rock but the plastic construction assures that they will break or wear out quickly. We recommend buying a tumbler with a sturdy frame and rubber barrel. They make less noise and will last for years with proper care.

For an inexpensive but quiet start to tumbling, we suggest a good quality rubber-barrel tumbler such as the Lortone 3A or the Thumler's A-R1.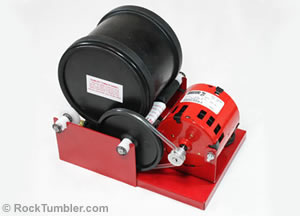 The
Thumler's Model A-R1
is a small tumbler with a soft rubber barrel that makes about as much noise as a 1/2-full carton of orange juice being shaken.
Where to Run Your Rock Tumbler?


Most people run their tumbler in the basement or in the garage where a little noise will not cause a problem. We have used small rubber-barrel tumblers in basements and garages of the homes where we have lived and could barely hear them in other parts of the house.

As I write this I have a Lortone Model QT6 and a Thumler's Model A-R2 running in my basement garage. I do not hear them while sleeping in the bedroom directly above. I also run a single Lot-O-Tumbler down there. I start it in the morning before going to work and rinse the rocks before going to bed. I don't run it at night because I can hear the "hummmm" in the bedroom above.

For more information check out our article: Where is the Best Place to Run a Rock Tumbler?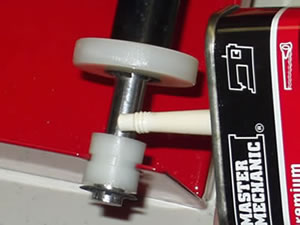 Some tumblers require occasional lubrication. Check your instruction manual for full details. Oiling the bearings is a very easy job that will make your tumbler run quietly and last longer. We have an
article with photos
that shows where we lubircate our Thumler's rotary tumblers. One drop of oil per bearing is all that you need to apply. This should be done once every four weeks of tumbler operation. Don't apply too much oil - too much will make a mess. Check your instruction for complete oiling details.
Does The Tumbler Need Oil?


Read the instruction manual provided with your tumbler to see if the motor or the bearings need occasional oiling. We have an article with photos that shows where we lubircate our Thumler's rotary tumblers.

Some tumblers will squeak if the bearings need oil. One drop of oil on each bearing once a month is usually all that is needed. Check the instruction manual supplied with the tumbler for specific oiling instructions. If your bearings are showing signs of wear they can often be replaced. We sell replacement bearings for several tumbler models.

One caution about using oil: the rubber parts of your tumbler such as the barrels, the belt and rollers should not be oiled. Oil will make the belt slip and oil will react with the rubber and make it sticky. So, do not oil the rubber parts of the machine. Also, some motors are permanently lubricated and do not need oil! Check your instruction manual before you put any oil on the motor.
The
Thumler's Model A-R2
is a small tumbler with two soft rubber barrels of three-pound capacity. It makes about as much noise as a 1/2-full carton of orange juice being shaken very vigorously.
The Noise is Coming From the Motor!


Most rotary tumbler motors run quietly if turned on without a barrel on the machine. However, some of the inexpensive tumblers with a plastic body and plastic motor housing can be very noisy - even when brand new. The motors on Lortone and Thumler's tumblers in good working order will run very quietly.

If your motor starts growling when you place a loaded barrel on the machine or after it runs for a short amount of time, you might have the tumbler overloaded. Tumbler barrels should be filled 1/2 to 2/3 full of rock that is not packed tightly. A three-pound barrel is designed to tumble a three-pound load. That means about two pounds of rock and one pound for the grit and water.

If your tumbler was overloaded, try reducing the load in the barrel and the motor might stop complaining. If the motor is loud with a properly-sized load then it might need lubrication or it might be wearing out. Check the instructions that came with your tumbler to determine if the motor needs monthly oiling. Some motors require occasional lubrication but others do not.

If the motor has been lubricated and still makes noise without running a barrel then you might need a new motor. Replacement motors for Lortone and Thumler's machines can be purchased and they are very easy to replace. But before replacing your motor, be sure that "vibrations" are not causing the noise.
Vibrating Noises


Some tumblers have a few screws that attach the motor to the machine base or screws that hold covers or other parts in place. If those screws are loose the parts might vibrate and produce noise. Check the screws on your tumbler to be sure that they are properly tightened.
Can I Put a Box Over the Tumbler?


Placing a cardboard box over the tumbler to reduce the noise is not recommended. The box cover might reduce the noise; however, it causes another problem - tumbler motors are cooled with air and the air under the box will soon become hot, causing the motor to overheat.

The best solution might be to find a different location for your tumbler where the noise will not be a problem. If you don't have a good location for a tumbler then you might decide to purchase stones that are already polished. Or, perhaps your next home will have a garage, basement or an outbuilding where a little noise will not cause a problem.



Happy Tumbling!

RockTumbler.com Authors
---
| | |
| --- | --- |
| | Hobart M. King has decades of rock tumbling experience and writes most of the articles on RockTumbler.com. He has a PhD in geology and is a GIA graduate gemologist. He also writes the articles about rocks, minerals and gems on Geology.com. |