The Perfect Rock Tumbler Kit for the Beginner
Small, Economical, Quiet, Easy and Fun!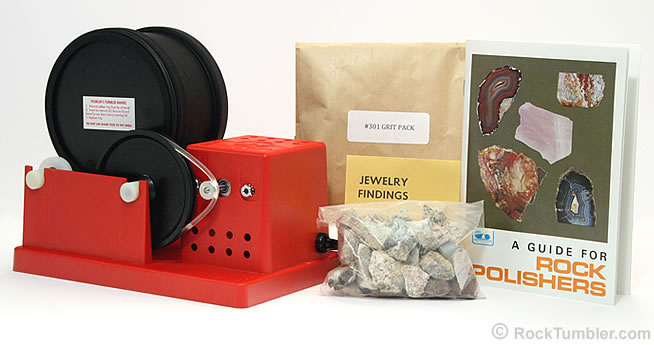 Age Recommendation
For use by children ages 14 and up
with close adult supervision.
Find out why.
MP-1 Rock Tumbler Kit
Thumler's MP-1 Rock Tumbler
Here's what you get in this MP-1 rock tumbler kit...
a Thumler's MP-1 rock tumbler
a soft rubber barrel for quiet operation (see video below)
two-pound barrel (tumbles about one pound of rock)
enough rough rock to produce one batch of tumbled stones
enough grit & polish to process one batch of tumbled stones
heavy plastic base that encloses a standard quality motor
a booklet: "Guide for Rock Polishers"
a jewelry kit to make gifts from your tumbled stones
Product Description - Who is the Intended User?


The MP-1 is the perfect rock tumbler for a person who wants to try rock tumbling without making a big investment. In our opinion it is the lowest priced tumbler on the market that is quiet, easy-to-use and will last through many batches of rocks. Because of its small size, it has the lowest operating cost for rough, grit, polish and electricity.

This tumbler is recommended for users who are age 14 and up. If you have a child who is interested in rock tumbling this is a project that you should always do with your child. The tumbler has an electric motor and moving parts and the barrel requires a little strength and coordiation to open.



This is an Entry-Level Hobbyist Tumbler, Not a Toy


Many department stores and websites sell toy tumblers with a hard plastic barrel. That hard plastic barrel makes a LOT of noise when the rocks are being tossed around inside (see video below). The MP-1 has a soft rubber barrel that is durable and quiet. The MP-1 is durable enough to tumble many batches of rocks. In our opinion, it is well worth the small increase in price.

We could sell thousands of plastic-barrel tumblers. We do not sell them because we know that our customers will be disappointed and we would get a lot of returns. That's no way to do business. If we are not willing to use a product ourselves, we do not sell it.



Everything You Need to Get Started


The MP-1 tumbler kit has everything that you need to get started. It includes: a tumbler machine, one soft rubber barrel, a package of rough rocks ready for tumbling, a four-step grit kit, a jewelry kit and a book to guide you - "A Guide for Rock Polishers". Refill kits with all rough rock and grit needed to run the tumbler are also available.

The kit will enable you to tumble one batch of rocks from rough stones to finished gems. That process requires four or five weeks. You will need to stop the tumbler, clean the rocks and barrel, and recharge it with fresh grit and water every week. Many people spend a few minutes doing that every Saturday morning and in a few weeks they have some beautiful tumbled stones.

The MP-1 rock tumbler is a durable machine that you can use to tumble many batches of rough rocks into finished gems. To tumble a batch of rocks you will need about 1 to 1 1/4 pounds of tumbling rock and about two to three level tablespoons of grit or polish for each of the four tumbling steps.

The kit contains enough rock to tumble one batch of stones. After that you will need to supply grit, polish and tumble-quality rocks. Premeasured grit/polish packages are sold at left. Also at left is our "Beginners Mix" - rock (mostly agate and jasper) that is already sized and prepared for proper tumbling. One box of Beginner's Mix contains two pounds of rock - enough rock to run the tumbler twice.



What Does it Sound Like?


This video compares the sound level of the Thumler's MP-1 with one of the inexpensive toy tumblers with a plastic barrel and a tiny motor. To learn more about tumbler noise see our article: How much noise does a rock tumbler make?




Common Questions From Customers


Where Can I Get a Refill Kit? We sell refill kits designed especially for this tumbler. They contain the right amount of rock - sized perfectly for the small barrel of this tumbler. They also contain all of the grit and polish that you will need to produce one batch of tumbled stones in premeasured packages. Just open them and dump them in. Step-by-step instructions are included. Get a refill kit here.

Where Do I Oil the MP-1? The motor of the MP-1 is enclosed in the case and does not require lubrication. The tumbler has four bearings, two on the ends of the drive shaft and two on the ends of the idler shaft. The bearings and drive shafts should be wiped clean with a soft cloth and be given one drop of oil after each month of operation. Learn exactly where to oil the bearings here. Household oil or SAE 20 oil is recommended for the bearings.

Why is the Barrel Shedding Particles of Black Rubber? This is normal and will decrease with time. As the tumbler barrel rolls on the shafts it sometimes rubs the barrel guides. This can wear a small amount of rubber from the edge of the barrel. This will eventually decline to a negligible amount.

Why is the Barrel Lid Getting Thin? As the tumbler barrel turns, the rocks and grit are continuously rubbing against the inside of the lid. Over time this will wear the lid thinner and eventually a hole will develop in the center of the lid. You don't want this to happen when the barrel is on the tumbler and full of water, grit and rocks. So, each time you open the tumbler or load the barrel, you should press on the center of the lid to see if it is flexible. That signals that it is getting thin. If you can detect that the center of the lid is getting thin, replace the lid before you load the tumbler. If the lid wears through while the tumbler is running the muddy water from the barrel can leak out and make a mess. Lids usually last through many batches of rocks.




A Rock Tumbler Story:

My father bought a Thumler's Tumbler about 35 years ago and gave it to me as a Christmas gift. I still have it, it still works great, and it has run through hundreds of grinding and polishing steps. We oiled it regularly, replaced a few belts (a very easy job) and replaced the barrels twice. The service that we received from that tumbler convinced me that it was a durable machine that was made to last a long time.

In 2006 I was shopping to purchase a new tumbler for family use. I was amazed to see machines that are almost identical to the one that my father gave to me a long time ago were still being made. Very few products persist so long in the marketplace without major changes. I purchased another Thumler's Tumbler with two three-pound barrels and have been pleased with the same great performance.

Barry King, Owner
RockTumbler.com