Gemstone Tumbling, Cutting, Drilling and Cabochon Making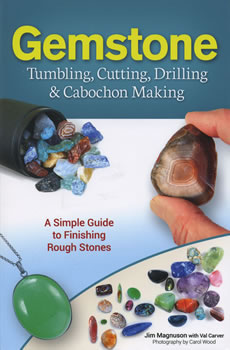 This is an excellent book, authored by people who have spent a lifetime making beautiful things from rocks and helping others enjoy the lapidary hobby.

It explains, through the use of expert descriptions and photos, the basics of rock tumbling and offers numerous tips that only experienced people can provide. Most important is its extensive section on how to recognize rocks that will perform well in your tumbler. This knowledge is essential to producing great gemstones and it is even more important to helping you spend your money wisely. It is easy to waste buckets of money on bad rough. This book will teach you how to avoid that.

After you have made some tumbled stones, what are the next easy steps to enjoy them? The authors show you how easy it is to convert your tumbled stones into beautiful beads and pendants with a rock drill, a small amount of cord or wire, or even some polymer clay. These projects are illustrated with a number of inspiring photos.

If you want to control the shape and size of your gemstones, the authors introduce you to cabochon cutting. This activity is the high point of lapidary art for a person who wants to cut, polish and create jewelry from opaque gemstones. It requires a modest equipment investment but that investment opens the door to a skill that is easy to learn and a very rewarding hobby.

Jim Magunson has enjoyed a life-long interest in collecting gems, minerals and fossils. He is the author of numerous publications about lapidary materials and lapidary work. Val Carver has done lapidary work throughout his life and has developed numerous lapidary tools and processes. He is the owner of Minnesota Lapidary Supply and spends much of his time helping others develop their skills and knowledge. Carol Wood is a life-long agate hunter and an accomplished jewelry artist and photographer. She created many of the book's excellent photos and jewelry projects.

Overall, this is a wonderful 176 page book that helps a person learn about rock tumbling and connects that person to a wide range of new and interesting activities. It makes those connections better than any other book in print. Paperback, 5.5 x 8.5 inches.



Table of Contents
Introduction........7

Getting Started........11
Gemstone Materials Commonly Used in Lapidary Work........12
Lapidary Machines........14
Lapidary Machine and Supply Pricing........15
A Few More Suggestions........17

Choosing Gemstones........19
Gemstone Prices........20
Selecting High-Quality Gemstones........20
A Visual Guide to Selecting Gemstones........23

Tumble Polishing........45
Recommended Equipment........46
Setup and Operation........48
Getting the Best Tumbling Results........51
Tumbling and Polish Operations........53
Tumbling Stages........54
Tumbling Process Steps........56
Getting Started........57
Comprehensive Tumbling Chart........63
Tumbling Tips Summary........66

Cutting........71
Recommended Equipment........73
Setup and Operation........74
Making the Best Cut........78
Getting Started........82
Cutting Tips Summary........85

Face Polishing........87
Recommended Equipment........89
Setup and Operation........90
Choosing the Right Gemstones to Face Polish........94
Determining How to Face Polish a Stone........97
Before You Start........98
Getting Started........101
Face Polishing Tips Summary........109

Routing........111
Recommended Equipment........112
Setup and Operation........112
Getting Started........113
Another Use for a Lapidary Router........115
Routing Tips Summary........117

Drilling........119
Recommended Equipment........121
Setup and Operation........122
Two Types of Drilling........123
Critical Drilling Tips........125
Getting Started........126
Drilling Tips Summary........131

Cabochon Making........133
Recommended Equipment........135
Setup and Operation........135
Getting Started........137

Jewelry Making........147
Cabochons in Bezel Settings........148
Cabochons in Clay Settings........150
Face Drilled Stones and Jump Rings........152
Headpins and Eyepins........154
Top Drilled Stones and Upeyes........156
Side Drilled Stones (Beads)........158
Wire-Wrapped Tumbled Whole Stones........160
Wire-Wrapped Edge-Routed Stones........163

Glossary........164
Recommended Reading for Jewelry Making........170
Quality Lapidary Equipment Manufacturers........171
Index........172
About the Authors........174
About the Photographer........176