Uses for Tumbled Stones
What can you do with tumbled stones?


Lots of people enjoy tumbled stones. Some simply like to own them. Others love to wear them. Many people make things from them. Some put them on display. A few people carry them for good luck! Smart people give them away because they know that good things will come back to them.

What will you do with yours? Here is a big list of fun, interesting and beautiful uses for tumbled stones. We think that the best uses are those that share the stones with other people.



Lucky Stones!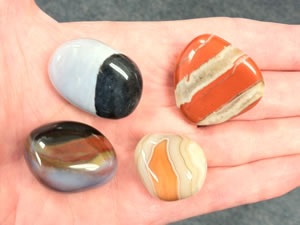 Lucky Stones! Lots of people carry one or more tumbled stones in their pocket or purse as a token of good luck. Pick one of your favorite stones and try it. You might be surprised by the good things that happen for you. Large stones work best! :-)
ADVERTISEMENT
Better Than a Painting!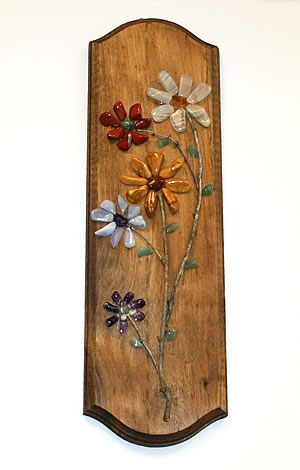 Here is a 3D "painting" of flowers made from tumbled stones and a few dried stems. You can create a floral arrangement on a plaque, canvas, a cabinet door or anywhere you want. These flowers were made from (top to bottom) moonstone, red jasper, yellow jasper, blue lace agate and banded amethyst - with leaves of green aventurine. Very easy to make once you have selected stones of appropriate shape.
Ground Cover in Planters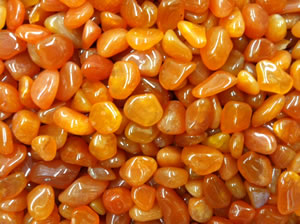 If you have a large potted plant or a planter you can give it a ground cover of tumbled stones. This protective cover can prevent erosion when the plant is watered and reduce the amount of water that is lost through evaporation. Most tumbled stones weight about 0.068 pounds per cubic inch. So, you will need about 2 pounds to cover a 12" x 12" planter with a thin layer of stones about 1/4" deep. A round, 5" diameter pot will require about 1/3 pound of stones for a 1/4" deep covering. Small stones work best. Undyed stones are recommened for use in planters.
Rock Critters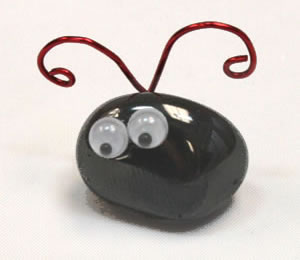 This is our hematite bug. You can create an enormous zoo of "
critters
" from tumbled stones using wiggle eyes, bits of cloth, wire, string and other small items. Your only limit is your imagination.
Pretty Stone Coasters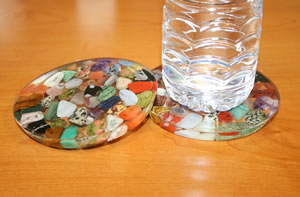 This is one of our favorite projects. These beautiful coasters were made using a mold and clear polyester casting resin. You select a nice collection of pretty stones, arrange them on the bottom of the mold, gently pour in enough Castin' Craft liquid plastic resin to cover the stones and allow the resin to harden overnight. The next day you have a colorful coaster that displays your beautiful collection of tumbled stones. Everyone here thinks that this is one of the best tumbled stone crafts. They make great for gifts or to use at home. Most craft stores sell coaster molds and liquid plastic resin.
Flower Pot Base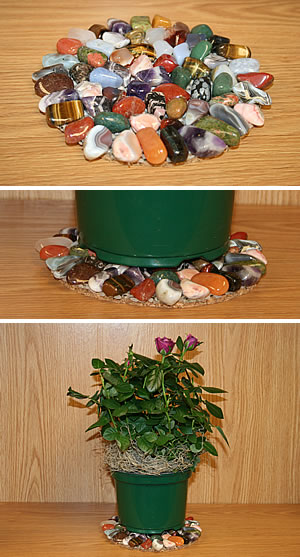 Select a group of flat-sided tumbled stones (undyed) of about the same thickness and arrange them on a piece of waterproof matting. Glue them in place to create a colorful base for a potted plant. The base will keep the bottom of the pot from scratching your porch or table.
Ornaments and Decorations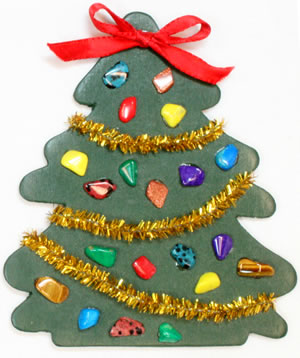 We used some brightly-colored tumbled stones, a little tinsel and a ribbon to trim this Christmas tree ornament. The tumbled stones remind us of the old-fashioned Christmas bulbs! Many craft stores sell plain wooden ornaments that you can paint and decorate yourself!
Three Tiny Jewels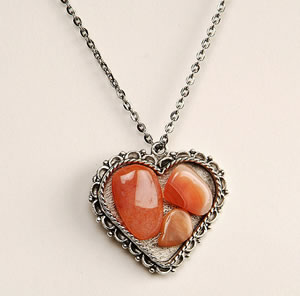 Three tiny pieces of tumble-polished carnelian are the jewels in this antique pendant made of silver-plated pewter. Photo provided by Etsy Shop 286Taylor.
Decorating Presents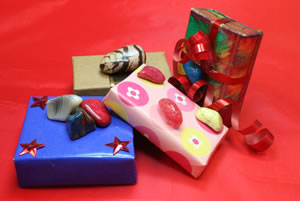 Next time you give a birthday or Christmas gift to a rockhound, consider dressing up the package with some of his/her favorite tumbled stones. They are easy to attach to the package with tape or adhesive putty.
A Big Bowl of Tumbled Stones!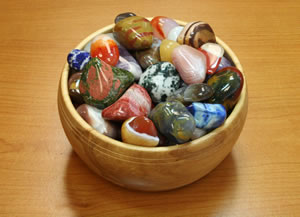 A big bowl (or even a small bowl) of tumbled stones can make a great centerpiece for a table, an accent on a shelf or a conversation piece on your desk. They will attract people's attention in a positive way. Allow everyone who admires them an opportunity to pick a few stones to take home. They will come back to visit again (to get more stones!) and think pleasant thoughts of you every time they see the stones. Medium and large stones work best. Wooden bowls work best. They don't make as much noise when you pour in the stones or search through them.
Prizes and Rewards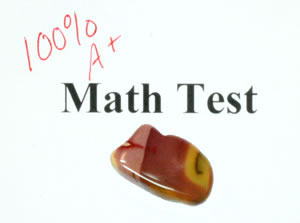 Reinforce good performance with clear praise and a small token of recognition. We know a few teachers who give students a brightly polished stone when they do good work. Some allow the student to select a pretty stone from a bowl or give a random stone and encourage students to show and trade. Medium stones work great if you have a small budget. Larger stones can be used for an extra special reward. :-)
Barettes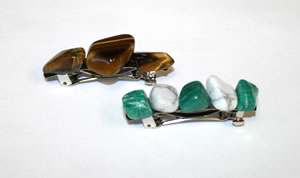 Use a few tumbled stones to dress-up a plain barette. Just pick some pretty stones with flat sides and attach them with hot glue. They are not as heavy as you think if you use small or extra small stones.
Decorate a Candle Holder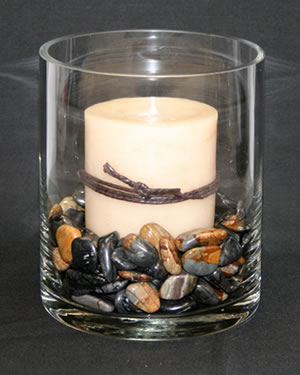 Lots of people love candles and display them in a bowl or on a glass tray. Scatter a few tumbled stones around the candle for an interesting and colorful decoration.
Educational Aides
Tumbled stones work great for a variety of educational activities. Students can describe tumbled stones, identify them, classify them and sort them. Tumbled stones also work great for counting and math activities. Give small groups of students a small collection of tumbled stones and you will see that they start observing, describing, comparing and debating without any cues from you!!
Vase Filler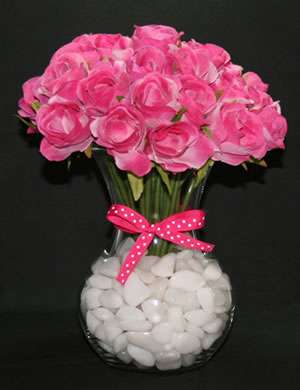 Tumbled stones make great vase fillers. They can support the stems of fresh or silk flowers and weight the bottom of the vase. We have an entire page of
vase filler ideas
.
Cosmetic Brush Holder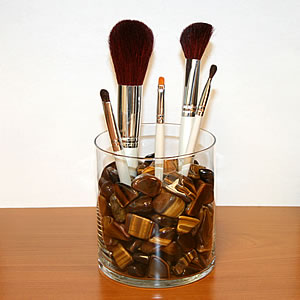 Keep your cosmetic brushes "at the ready". Select a nice clear container and fill it about three to four inches deep with your favorite tumbled stones (we used golden tiger's eye). The handes of your brushes will easily slip into the smooth tumbled stones and the weight of the stones will hold the brushes upright and ready for use. A container of stones can also be used to hold pens, dried flowers or many other items. They look great on your desk or vanity.
ADVERTISEMENT
Decorations and Accents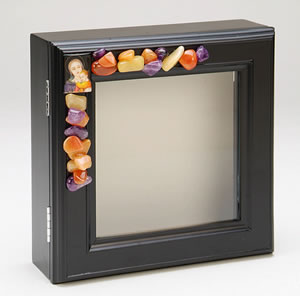 Tumbled stones can be used as colorful and interesting decorations on a wide variety of objects. Tumble-polished pieces of amethyst, carnelian, orage quartz and yellow quartz create a bright accent this cute shadow box. They make a simple box into a personalized work of art. Photo provided by Etsy Shop 286Taylor.
Card Holders / Note Stands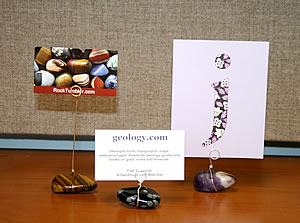 All you need to make a great card holder or note stand is an extra large tumbled stone, a nice piece of wire and a spot of glue. You can use them when you have guests for a meal, remiders of things that you need to do or simply as decorations. These were made with tiger's eye, snowflake obsidian and banded amethyst.
ADVERTISEMENT
Jewelry Crafts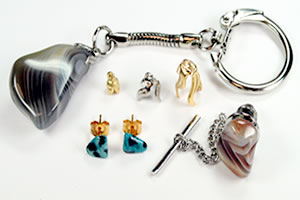 Few things are more satisfying than making a gift from some brightly polished stones that you tumbled yourself. Tumbled stones can easily be made into keychains, earrings, tie tacks, necklaces, pendants and many other jewelry items using
inexpensive findings
.
A Colorful Jar of Stones!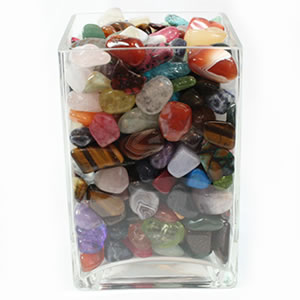 Clear glass containers filled with brightly-colored tumbled stones make great decorations and gifts. Wow!
Accents in Potted Plants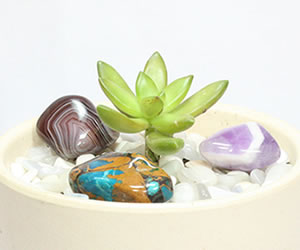 Place a couple of brightly-polished stones in a potted plant. This potted succulent has a ground cover of small white moonstone and large accent pieces of Botswana agate, banded amethyst and jasper.
Bookmarks!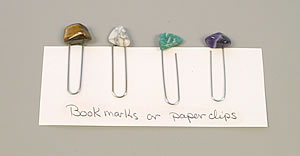 Here's a really easy and inexpensive craft. Glue a few flat-sided tumbled stones to the large end of a paper clip. They make great bookmarks!
Stepping Stone Decorations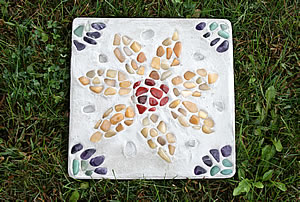 "Stepping stone" kits are sold at most craft stores. Colorful tumbled stones work great for dressing them up. We don't think that very many people who make these actually use them to walk on. Instead they use them to accent their shrubbery or display on their porch!
Sandbox Treasure Hunt!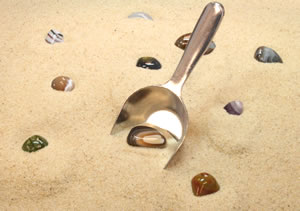 This one is really fun. Hide a few stones under the sand in your sandbox and allow young treasure hunters an opportunity to look for them. This is a fun activity for a party or picnic.
Picture Frame Accents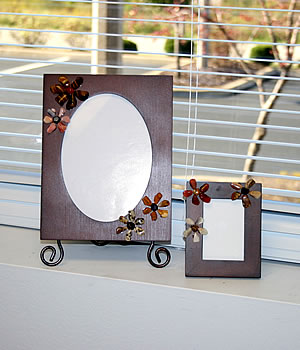 A few tumbled stones glued to a picture frame in the shape of a flower will dress up the frame and give it a three-dimensional character. This is one of the easist tumbled stone crafts!
Game Pieces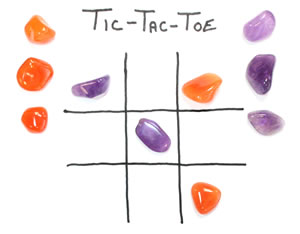 If you play board games, use tumbled stones as markers. They make great "Bingo Stones". Use them for tic-tac-toe! Or, use them to keep score! The winner gets to keep 'em.
Tumbled Stone Magnets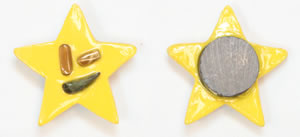 We painted a small wooden star, then decorated one side with a few tumbled stones and glued a magnet to the other side. This makes a great magnet for use on a refrigerator or file cabinet. You can also glue a large tumbled stone directly to the magnet! A great craft project for kids. :-)
Tumbled Stone Pin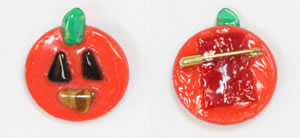 We painted a small wooden disk, then decorated the front with tumbled stones to look like a pumpkin face and glued a safety pin to the back. This makes a great pin to wear for Halloween! You can make pins like these for any occasion. If you have a stone with a flat side you can glue the pin directly to the stone! This is a fun craft project for kids. :-)
Rock and Mineral Collections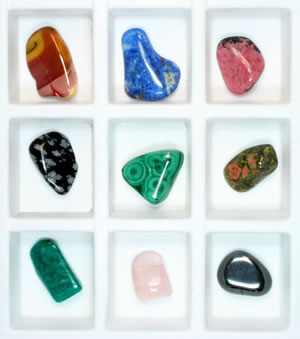 Lots of people who collect rocks and minerals add tumbled stones to their collections. Hematite, lepidolite, malachite, rhodonite, amazonite, prehnite, and quartz are minerals. Obsidian, lapis, unakite, and mookaite are rocks. If you visit a major museum their rock and mineral collection always includes an exhibit of beautiful gemstones. Check out our
tumbled stone identification guide
.
"Healing Crystals"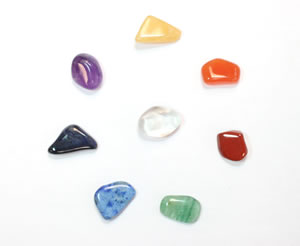 Some people believe that placing certain types of rocks, minerals or gemstones on parts of the body that are suffering will result in a healing effect. This practice has been followed by many cultures throughout recorded history. Although there is no scientific evidence to support this practice beyond a placebo effect, many people today continue to seek out certain types of gems for their "healing properties." Many medical experts warn that the use of these methods can cause people to delay seeking proper treatment and result in serious illness or even death.
RockTumbler.com Authors
---
| | |
| --- | --- |
| | Hobart M. King has decades of rock tumbling experience and writes most of the articles on RockTumbler.com. He has a PhD in geology and is a GIA graduate gemologist. He also writes the articles about rocks, minerals and gems on Geology.com. |