Rock Tumbling Book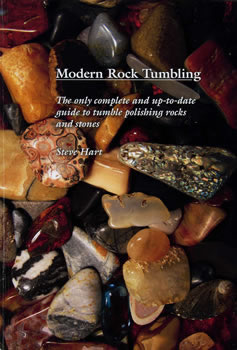 Modern Rock Tumbling

The only complete and up-to-date guide to tumble
polishing rocks and stones.






We have read every book about tumbling that we could find. From that reading we have found that there are only a few books that explain tumbling with great clarity and genuine knowledge. Of those, we believe that Steve Hart has produced the best one. It explains the tumbling process completely and provides enough detail that you should produce excellent results if you follow his instructions.

There are very few places where you can learn how to tumble polish rocks from an expert. Without that, you will make a lot of mistakes and spend lots of time and money producing less-than-excellent results. If you are just getting started, read this book and you will be off to a great start. If you already know a lot, you will probably still learn many valuable things. The price might seem a bit high for a 96-page book, but we found it well worth the cost. Format: 9" x 6", paperback.



Table of Contents
Part 1: The Basics

Chapter 1: History of Rock Tumbling & the Lapidary Arts-Plus Some Free Advice

Chapter 2: Setting up your Tumbling Corner and Tumbling Your First Batch of Rocks

Chapter 3: Theory & Practice of Rotary Rock Tumbling

A. Issues Preparatory to Rock Tumbling:
1. The Sizing Process - Breaking Big Rocks into Tumbling Rocks
2. The Loading Process - Barrel Filling, Consumables, Media & Water
3. The Grading Process - Letting the Rocks Talk
4. The Cleanup Process - Avoiding Contamination
5. The Recording Process - The Importance of Keeping Track

B. Understanding the 4-Stage Rock Tumbling Process:
Stage 1: Rough Grind (Shaping) with 80-Mesh Silicon Carbide
Stage 2: Medium Grind (Sanding) with 220-Mesh Silicon Carbide
Stage 3: Fine Grind (Pre-Polish) with 600-Mesh Silicon Carbide
Stage 4: The Polishing Stage

C. The 5-Stage Rock Tumbling Process for Softer (or More Valuable) Stones:
Stage 1: Rough Grind (Shaping) with 80-Mesh Silicon Carbide
Stage 2: Medium Grind (Sanding) with 220-Mesh Silicon Carbide
Stage 3: Fine Grind with 600-Mesh Silicon Carbide
Stage 4: Extra Fine Grind (Pre-Polish) with 1000-Mesh Silicon Carbide
Stage 5: The Polishing Stage

D. Burnishing

E. Equipment Maintenance Issues


Part 2: Rock Tumbling Properties, Materials, and Techniques

Chapter 4: Fun Facts and Solutions
A. Particle Size
B. Rock Hardness
C. Toughness
D. Quantity of Abrasives and Polish to Use

Chapter 5: The Materials We Use Inside the Barrel - Compounds and Media
A. Silicon Carbide Compounds
B. Polishing Compounds
C. Ceramic Shaped Media
D. Plastic Pellet Media
E. Soap
F. Burnishing Powders

Chapter 6: Tumble-Polishing Specific Rocks + Hobbies
A. Quartz, Agates & Jaspers
B. Obsidian & Apache Tears
C. Jade & Jadeite
D. Banded Rhyolite (Wonderstone)
E. Abalone Shells
F. Colored Glass
G. Candles
H. Jewelry Making

Chapter 7: Introduction to Vibratory Polishing

Chapter 8: Getting the Slurry Right

Chapter 9: Vibratory Cycle Times

Chapter 7: Introduction to Vibratory Polishing

Finale

Appendix
Table 1 - Particle Size Chart
Table 2 - Rock Hardness Chart
Table 3 - Rock Toughness Chart
Table 4 - Quantity of Abrasives & Polish to Use
Do Rocks Really Have Secret Powers
Sources
My Favorite Internet Places
Glossary of Terms
Bibliography
Attributes of a Rockhound
Rock Tumbling Record
Rock Tumbling Record Form
Index