Rock Tumbler Instructions
Directions for Turning Rough Rocks into Beautiful Tumbled Stones
"Golden Rules" of Rock Tumbling


There are three important rules that we follow in all aspects of rock tumbling. These are: 1) "Garbage in means garbage out"; 2) "Avoid contamination"; and, 3) "Great results take time."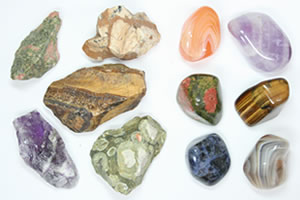 Tumbling will enable you to turn the
rough rock
on the left side of this photo into the sparkling
tumbled stones
on the right side of the photo. The results are amazing!
"Garbage in means garbage out"


If you start with garbage (low-quality rough), you should expect low-quality tumbled stones. So, don't hesitate to discard a rock that is porous, fractured, or that will not produce an attractive tumbled stone. You will spend a lot of time and valuable supplies tumbling a batch of rocks. Using quality rough saves time, gives you better value for your money, and produces tumbled stones that are of much higher quality.



"Avoid contamination"


You will use a different size tumbler grit for each step of the tumbling process. If coarse grit gets into your medium grit step, it will scratch up the rocks and you will need to do the medium grit step over again.

Avoiding this type of contamination is easy: just thoroughly clean the rocks, the tumbler barrel, and your tools when you change from one grit size to another.

Another way that contamination occurs is when you use rocks that have a granular texture or are brittle. These rocks might break or shed grains or fragments in the tumbler. These grains and broken pieces can scratch up every rock in the barrel.

This type of contamination is also easy to avoid: just examine your rocks before tumbling, and don't tumble suspect rocks in the same barrel with your best rough. Treat new types of rough or suspicious materials with caution.



"Great results take time"


Don't be in a hurry. Spend time doing a great job. If you tumble a batch of rocks through the coarse grind and they still have a few rough edges or are not nicely rounded, don't hesitate to run them through that step again. Also, spend the time needed to thoroughly clean your work area, tumbler barrel, rocks, and tools between steps to avoid contamination.