What Are Tumbled Stones?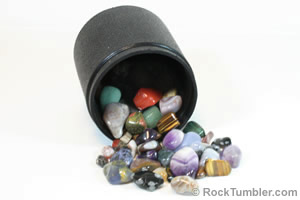 Tumbled stones (also known as "polished stones" or "baroque gems" or "polished rocks") are small pieces of rocks and minerals that have been rounded, smoothed, and polished in a rock tumbler. They are beautiful, colorful, brightly polished specimens of natural materials. Tumbled stones are very popular with people who make jewelry or use them in a variety of craft and home decor projects. They are also used in many New Age practices. We sell them in
mixed stone packages
and in
single-variety packages
. We also have a page that shows many
uses for tumbled stones
.
Wholesale Tumbled Stones?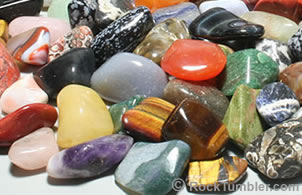 Lots of gift shop owners, schools, summer camps, nonprofit organizations and others have contacted us to ask, "Do you sell wholesale?" Our reply is always, "We sell to everyone at the prices listed on our website. The prices there give you a discount for purchasing larger sized packages." That is the reply that we give to everyone. When you purchase a one-pound bag or a three-pound bag of mixed tumbled stones, you pay a higher price per pound than the person who buys a
10 or 20 or 40 pound bulk package
. Lots of retailers purchase our bulk packages and resell those stones at profitable prices. We offer some retailing ideas for shop owners at the bottom of our
bulk tumbled stones
page.
What to Expect in Mixtures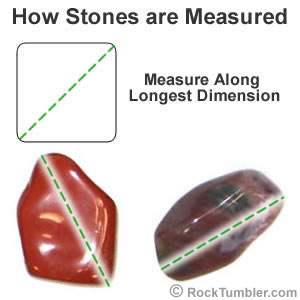 We want you to understand what you will receive when you buy tumbled stone mixtures from us. We have an
article
that explains - with as much honesty as we can provide:
* how tumbled stones are sized
* how they are measured
* expect some undersized or oversized
* how many to expect in a pound
* how many varieties in a package
* expect some chipped or broken
* place a test order before a big buy
* uses for tumbled stones
* why we are unable to hand-pick stones to meet your size, shape, color, or other requirements
Collecting Tumbled Stones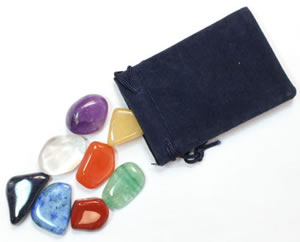 We know that lots of people like to have a small collection of nice stones. To help with that we offer a collection of
50 different tumbled stones
from around the world. We also offer small packages that contain five premium stones for over
70 different varieties
of tumbled stones. Lots of people like to store a few tumbled stones in a velour "
treasure bag
" with a drawstring.
Tumbled Stone Shapes and Sizes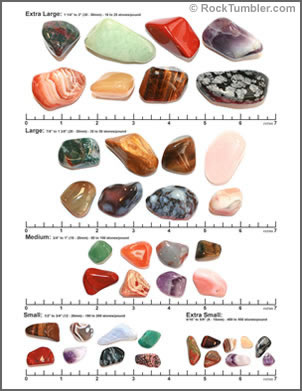 We sell tumbled stones in five different sizes: extra small (5/16" to 5/8"), small (1/2" to 3/4"), medium (5/8" to 1"), large (7/8" to 1 3/8") and extra large (1 1/8" to 2"). To help you visualize these sizes, we have a
tumbled stone size chart
that you can download as a .pdf document and print. When printed on paper, the photos of the tumbled stones are as close as we could get to their actual size. If you have any questions about stone sizes and shapes, please print this document.
Make Them or Buy Them?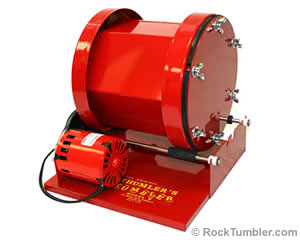 Some people purchase a rock tumbler because they think it will be cheaper to produce tumbled stones themselves than it will be to buy them. This might be true if you live where you can collect great agates or jaspers for free. However, if you have to purchase the
rough
, purchase
grit
, purchase
polish
, pay for
electricity
and spend lots of time, then you are probably better off buying
tumbled stones
. It is very difficult to compete with commercial rock tumblers who tumble in 6000-pound tumblers and purchase their supplies by the ton. We have an article about the
economics of producing tumbled stones
.
In summary, buy a
rock tumbler
if you want the experience and satisfaction of tumbling your own stones, but if you want to save money on tumbled stones, then buy
tumbled stones in bulk
.
Tumbled Stone Gifts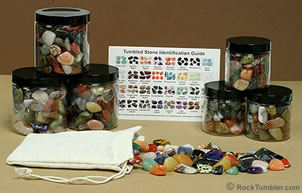 These are
perfect gifts
for people who love tumbled stones... 1) a crystal-clear jar full of beautiful tumbled stones; or, 2) a white drawstring bag that contains a pound of tumbled stones. A free tumbled stone identification guide is included with each bag or jar.
50-Stone Collection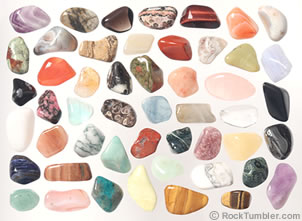 Get a collection of
50 different semiprecious tumbled stones
from countries around the world and five different continents. Each specimen is a brightly-polished example that is representative of that gemstone. Specimens range from 5/8" to 1 1/2" in maximum diameter. This collection comes with a soft drawstring pouch and a special identification card that shows the 50 selected varieties of stones and their names. These are great to keep as a collection or for use in making jewelry and craft projects.
Types of Tumbled Stones?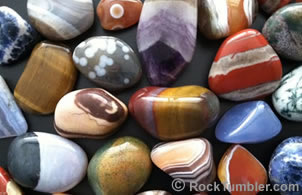 Tumbled stones are produced from hundreds of different types of rocks, minerals, volcanic glasses, and fossil materials. The most commonly seen varieties include agate, jasper, petrified wood, and varieties of quartz such as aventurine, tiger's-eye, and banded amethyst. We sell tumbled stone mixtures and over
70 varieties of tumbled stones
.
Gemstones of the World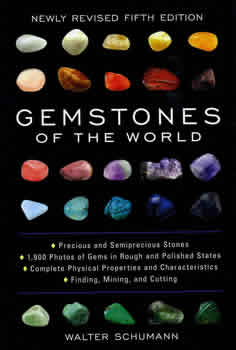 Gemstones of the World
by Walter Schumann is one of the most popular gemstone books ever written, with over one million copies in print. The fifth edition has about 100 pages of basic gemstone information and about 200 pages dedicated to photos and descriptions of over 100 gems and gem materials. It will help you learn about gemstones and serve as a guide to their identification. This book is always kept within easy reach at the desks where we do our reading and writing because it is an excellent book for learning and reference.
Identifying Tumbled Stones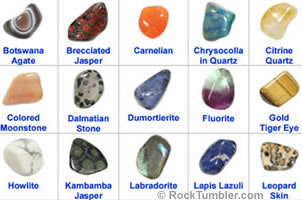 The most popular types of tumbled stones are made from materials that are fairly easy to identify. If you have some tumbled stones, a comparison chart, and are willing to do a little learning, then you should be able to identify many of the stones. See our
picture guide to polished stone identification
, and our
free printable tumbled stone identification chart
. We also offer for sale handy 4x6
identification cards
.
Uses for Tumbled Stones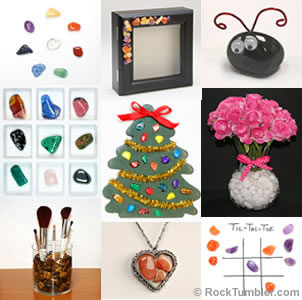 There are a million uses for tumbled stones. Our customers frequently send us photos of what they have made, and we are always discovering new uses for our favorite stones. We assembled a small
collection of our favorites
. We hope you decide to make a few things. :-)
Vase Filler and More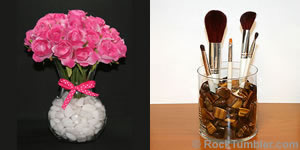 One of our favorite uses of tumbled stones is in vases or planters or any clear container. Place a few
medium or small tumbled stones
in the bottom of a vase, insert your flowers and then add enough additional stones to hold them in place, or fill a clear vase to a height that looks nice. Get a nice clear container, add some
medium tumbled stones
and insert your cosmetic brushes to create a colorful brush holder. A couple
large polished stones
make a nice accent in a potted plant or add a ground cover of
small polished stones
so that you don't disturb the soil when you water the plant. The cover of stones also slows evaporation. Enjoy!
Polished Stone Identification
Tumbled Stone Varieties

"Healing Crystals"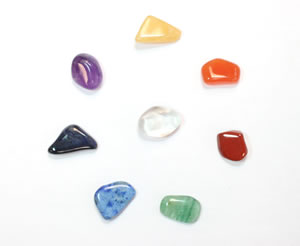 Many people believe that placing certain types of rocks, minerals, or gemstones on parts of the body that are suffering can produce a healing effect. This and many other practices have been followed by many cultures, in all parts of the world, throughout recorded history. Although there is no scientific evidence to support these practices beyond a "placebo effect," many people today continue to seek out certain types of
tumbled stones
for their healing, energy, mental, romantic, spiritual, or other potential values. We make no claims whatsoever that the stones that we sell have any special values or powers. Medical experts always recommend seeking qualified medical assistance if you have any physical or mental concerns. A delay in seeking proper treatment can result in serious illness, injury, or even death. Please take care.
Tumbled Stone Jewelry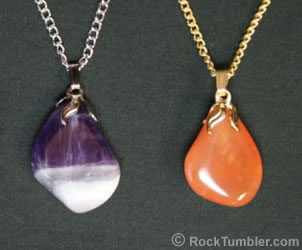 Tumbled stone jewelry
is easy to make. All you need are some findings, some glue, and a small pair of pliers. We sell jewelry parts collections that allow you to make
pendants
,
keychains
,
tie-tacks
, and
bracelets
. We also have an article that shares our experience in
gluing tumbled stones
to metal findings.