Jewelry Glue and Epoxy for Gemstones and Metal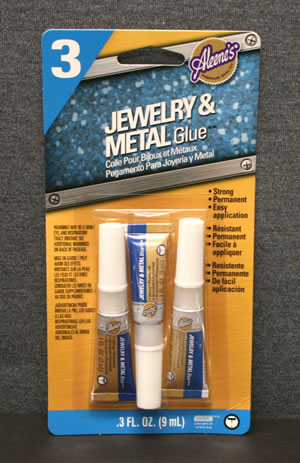 Aleene's Jewelry and Metal Glue works great for gluing tumbled gemstones to metal jewelry findings. It has a pointed applicator tip for dispensing the glue.
Glue for Tumbled Stone Jewelry Projects


If you visit a craft store to get glue for a jewelry craft project you will probably be surprised at the enormous number of glues that are offered for sale. We recently visited a Michael's store and found at least fifty different varieties of glue. Why so many varieties? Each one performs best on different materials or under different conditions -- and competing manufacturers are trying to earn your purchase.

We purchased several glues that we thought would work well and brought them back for testing. While we were at the store we were looking for glues with these characteristics:

clear
suitable for stone, metal, non-porous materials
delayed bonding (allows time to position)
"viscous" consistency (for controlled application)
easy application
Glues That We Like for Gemstone Jewelry


Three products, Aleene's Jewelry and Metal Glue, Gorilla Glue, and Loctite Super Glue (gel control formula) performed to our satisfaction. Photos of the products in their store packaging are shown on this page. (All three of these products are very popular and you can probably find these at a craft store or department store near you - WalMart even has these glues in our area.)

Near the bottom of this page is Epoxy 330, a product that we have used since the 1970's for bonding gem materials to metal findings. It also works great for invisible bonding of glass, china, ceramics, and other non-porous materials.
Tips for Gluing Tumbled-Stone Jewelry


TIP #1: Before you begin work get one or two paper towels and have them ready at your work station. You will be very glad that you have them nearby if you drop a glue-coated part or squeeze too much out of the tube. Accidents happen to everyone.


TIP #2: If you are gluing bell caps or another finding that must be bent to fit the stone, do that bending - and test carefully - before you open the tube of glue. You don't want to do that type of work in a hurry or adjust the bend of a glue coated part!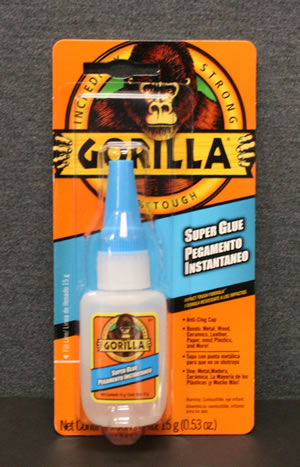 Gorilla Glue is an extremely popular brand of glue and is available in craft stores, home improvement stores, hardware stores and department stores everywhere.
Tips for Gluing Tumbled-Stone Jewelry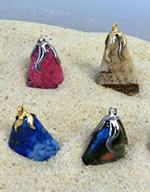 TIP #3: When gluing a bell cap to a stone, press the stone into sand or a piece of clay. That will put it in a great position for hardening. Then apply the glue and position the bell cap. Now you don't have to worry about the pieces moving out of alignment. Place your sand in a shoebox or plastic container.


TIP #4: Use a tiny piece of transparent tape to hold parts in place after gluing. The transparent tape will allow you to see through and confirm alignments. Cut the tape to desired lengths before you open the tube of glue and stick them on the edge of your table. It is now ready to grab when your parts are in alignment.


TIP #5: Small clamps also work great for holding pieces that are curing. We use these small plastic clamps with spring-loaded jaws. They hold firmly and can be operated with one hand.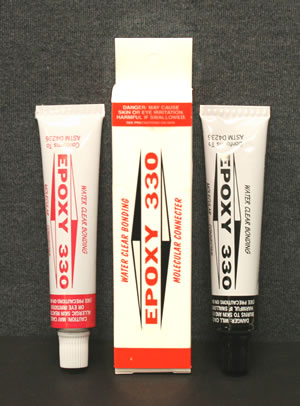 Epoxy 330 is a two-part epoxy resin that is very easy to use. It dries very fast and works great for almost any jewelry project. We have been using it for decades on all of our gemstone jewelry projects. We like it because it dries crystal clear and that hides our mistakes! It thickens in just 15 minutes and hardens in 2 hours.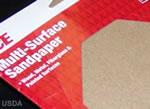 TIP #6: For best results, use fine sandpaper to rough up the surfaces being glued. The glue will adhere better to a rough surface than a perfectly polished surface.


TIP #7: For best results clean the parts that you will be gluing together. Use a detergent or a mild solvent that will remove any fingerprints, oils or other residue that might be on the parts. Oily fingerprints and dust particles from sanding can reduce the bonding effectiveness of any glue. Do this cleaning after you have the pieces bent to shape.

Happy Tumbling!
Article Authored by
---
| | |
| --- | --- |
| | Bradley Cole: Bradley is the manager of RockTumbler.com and has authored much of the content on this website. He also does customer support, photography, maintains the website, and consults with customers about rock tumbler repair and maintenance. |
| | Hobart M. King: Hobart is the owner of RockTumbler.com and has authored much of the content on this website. He has a PhD in geology and is a GIA graduate gemologist. He also writes most of the content for Geology.com. |