Rock Tumbling Before and After

This page shows you "before and after" photos of many types of rock that we have tumbled. In each photo pair below, we show the rough rock (the "before" photo) on the left. And we show the tumbled stones (the "after" photo) on the right.

Where possible, we include links to (A) articles where our tumbling procedures are described, or (B) to product pages where the rough rock or tumbled stones are offered for sale. The stones shown below were tumbled by Adam Rittenhouse, Brad Cole, and Hobart King.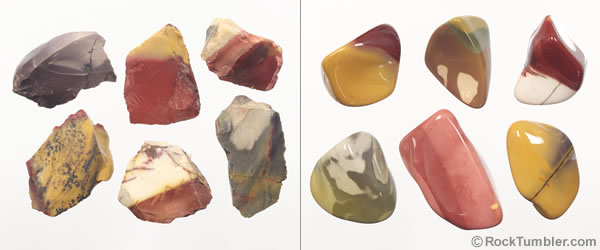 Mookaite:
Mookaite is a rock formed on the ocean floor where organisms with silica-rich hard parts die in the water column above and sink to accumulate as a seafloor sediment. The rock is more properly called "radiolarite" because the organisms with the silica-rich parts are a variety of plankton known as radiolarians. Mookaite is a geographic name, derived from Mooka Creek, a stream in Western Australia, where this material is mined.
Mookaite is a wonderful multi-colored material, ranging through white, cream, yellow, red, brown, green, and purple. It can be composed of chert, chalcedony, or opal. These can sometimes be separated by their index of refraction, specific gravity, hardness, and tenacity.
Mookaite is fun to polish in a rock tumbler. The rough (stones on the left) has a dull luster, but it shapes nicely in the tumbler, and we are usually surprised by the spectacular polish produced (stones on the right). Mookaite shapes best in a
rotary tumbler
, but we always run the medium grit, fine grit and polishing steps in a
vibratory tumbler
. Why? Because mookaite is brittle and will chip and bruise severely in a rotary tumbler. We love this rock. We often have
tumbled mookaite
available for purchase. If you'd like to try tumbling it yourself, we also have
mookaite tumbling rough
.
Basalt (Beach or Stream Rounded)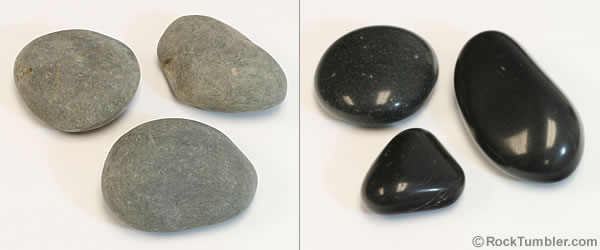 Beach-Rounded Basalt:
These photos show a few pieces of beach-rounded basalt. These are basalt pebbles between about 1 1/2 and 3 inches in size that we purchased in a 30-pound bag at Walmart's garden center. They were described as "Mexican Beach Pebbles".
The three pieces on the left were photographed right out of the bag, and the three pieces on the right were photographed after we tumbled them. What a difference! You can read our step-by-step recipe for
tumbling basalt cobbles
. We also have general tips for
tumbling beach- and stream-rounded rocks
.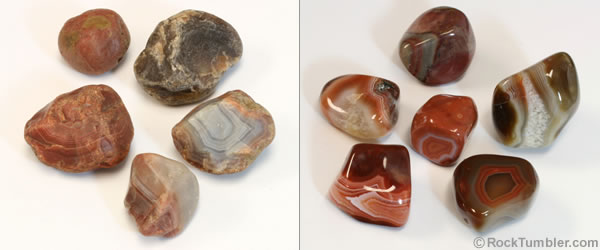 Lake Superior Agate:
Lake Superior agates are a popular tumbling rough in the Great Lakes region of the United States - especially in Minnesota, Wisconsin, and Michigan, where they are the "official state gemstone" (
see map
). These agate nodules are usually about 1 1/2" or less in size, but large nodules can be up to several inches across. (The nodules and nodule pieces in the photos above range between about 3/4" and 1 1/4" in size). Lake Superior agate nodules formed in cavities of ancient basalt flows beneath the Great Lakes region. Then they were excavated and scattered by glaciers during the Great Ice Age. Today they are found in streams, on beaches, in farmers' fields, and along roadsides.
Lake Superior agates are usually concentrically banded, often with "eyes" or mossy inclusions. Their usual color range is red, brown, orange, white, and yellow - sometimes with transparent quartz centers. They can be polished to a super-bright luster. We show unpolished nodules in the photo on the left and polished nodules in the photo on the right. In these photos you should be able to see examples of concentric banding, transparent quartz centers, and the super-bright polish. Occasionally, we have
Lake Superior Agate tumbling rough
available for sale - but this wonderful material has been hunted almost to extinction and is hard to get.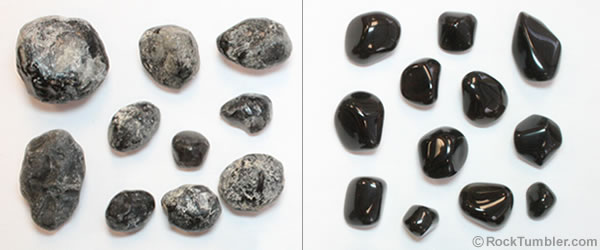 Apache Tears:
Apache Tears are small rounded nodules of an igneous rock - a volcanic glass known as "obsidian". They often have a crusty surface in the rough (left photo), but they can be polished to a super-bright luster (right photo). The polished nodules appear to be opaque, but if you hold them up to a source of light you find that they are often transparent.
Not for beginners or for use in super-fast tumblers
. Apache Tears are brittle, they bruise or break easily, and expert tumbling skill is needed to bring out a super-bright polish. You need a slow tumbler, lots of
ceramic media
for cushioning, and you must follow instructions carefully. We have tumbling instructions and sometimes have tumbling rough available
here
. You can find tumbled stones (and the Apache tears legend)
here
.
ADVERTISEMENT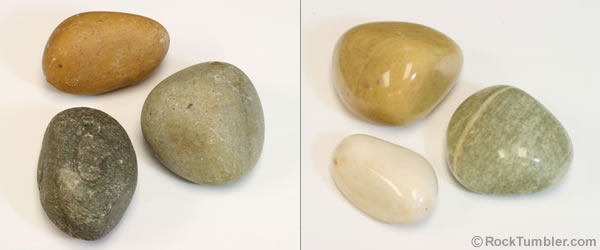 Quartzite Cobbles:
Quartzite is one of the toughest rocks on the planet. We bought a 40-pound bag of stream-rounded quartzite cobbles about 2 1/2" to 3" across at Home Depot. They called them "River Rock". Many of them were gnarly, but we found over a dozen really nice ones.
We tumbled these large rocks for two weeks using
extra-coarse grit
in a
Thumler's Model B
tumbler (we changed the grit at the end of one week). We then tumbled them for a few days in each of medium, fine, and TXP polish in a
Thumler's UV-10
vibratory tumbler.
That polished green quartzite with the white healed fracture is one of our favorite tumbled stones of all time. You can find a detailed description of the procedure used to polish these rocks
here
.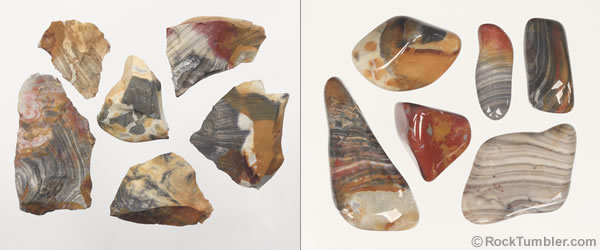 Ohio Flint:
A ridge in eastern Ohio is underlain by a rock unit known as the Vanport Flint. As early as 12,000 years ago, Native Americans traveled there from hundreds of miles away to "dig for flint". They used the flint to make durable tools and sharp weapons. People still dig the flint, and it is used today as a popular lapidary and
knapping
material.
The rough and tumbled stones above are made from Ohio flint. It is colorful, has interesting patterns, is easy to tumble, polishes to a very bright luster, and always surprises you when you open a tumbler after the polishing step. We have tumbled it many times and are not tired of it yet. We have a detailed article about Ohio flint
here
and sometimes have tumbling rough (and tumbling instructions) available
here
.
Igneous and Metamorphic Rocks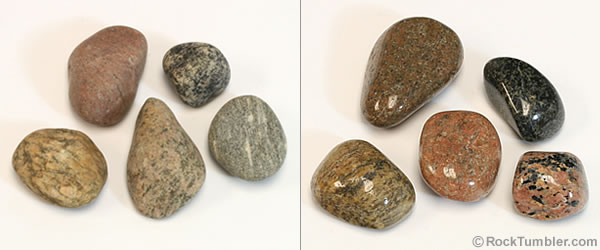 Igneous and Metamorphic Rocks:
Many types of igneous and metamorphic rocks can be polished in a rock tumbler. If you avoid heavily weathered rocks, or rocks with vesicles, abundant mica, or fractures, you can often make nice tumbled stones.
We have been able to polish numerous igneous rocks such as: andesite, basalt, diorite, granite, gabbro, obsidian, and rhyolite. We have also polished a few metamorphic rocks that include: epidosite, gneiss, marble, novaculite, quartzite, serpentinite, and unakite.
We especially like igneous and metamorphic rocks that have been rounded by streams or the wave-action of a beach. Here is
an article
that shows some igneous and metamorphic rocks that we picked out of landscape gravel sourced from the Ohio River and polished to a super-bright luster using a single-barrel
Lot-o-Tumbler
and
TXP polish
.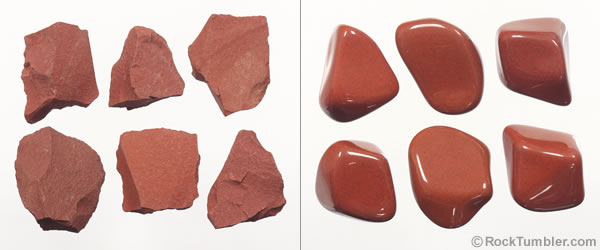 Red Jasper:
Jasper occurs in many different colors, but red is the color that most people have associated with jasper for over 1000 years. Red jasper is common in nature, and it is a color that many people find attractive.
We have tumbled red jasper from many different sources, and it usually performs great in the tumbler - shaping nicely and polishing to a bright luster. We believe that the red jasper in the photo above is from India, but we have had red jasper from South Africa, Arizona, Brazil, Mexico, and other locations. Each has a slightly different color, and the pieces tend to break a little differently, but regardless of source, shape, or color, red jasper is generally a rock that produces nice tumbled stones. We highly recommend red jasper as a tumbling rough to people who are starting to learn about rock tumbling.
We are often selling red jasper tumbling rough
here
and usually have red jasper as tumbled stones
here
.
ADVERTISEMENT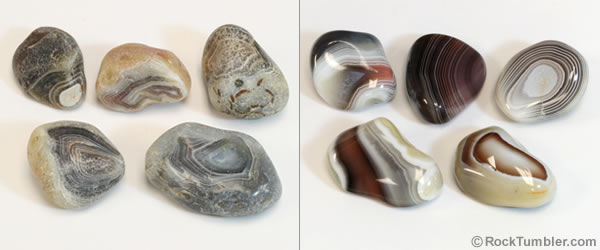 Gray Banded Agate:
Agate nodules are a favorite material for people who do rock tumbling. The nodules are often found as broken pieces or have a "rind" that is covered with deep impact bruises. That's OK because their beauty is on the inside of the nodule.
Once you grind those scars away and expose their banded interiors, agate nodules can be the most interesting and beautiful gems. Few things polish better and to a higher luster than agate. Here are some tumbling tips for
stream-rounded agates with deep bruises
.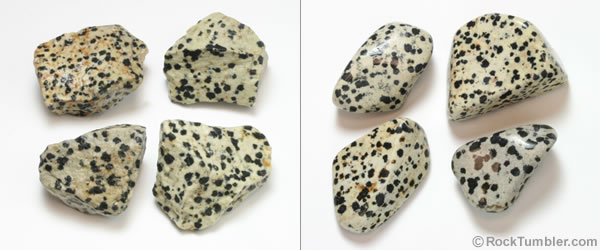 Dalmatian Stone:
Dalmatian Stone gets its name from its white and black spotted appearance - many pieces have the color markings of a dalmatian dog. Some people have called this material "jasper" but that name is incorrect because dalmatian stone is an igneous rock.
The white material in the rock is albite, a sodium-rich plagioclase feldspar with a composition of Na(AlSi
3
O
8
). The black spots are mostly a sodium-rich amphibole mineral named arfvedsonite (which is very similar to hornblende). It has a chemical composition of Na
3
(Fe,Mg)
4
FeSi
8
O
22
(F,OH)
2
. We have an article that explains dalmatian stone
here
. We have tumbling instructions (and sometimes dalmatian stone rough)
here
.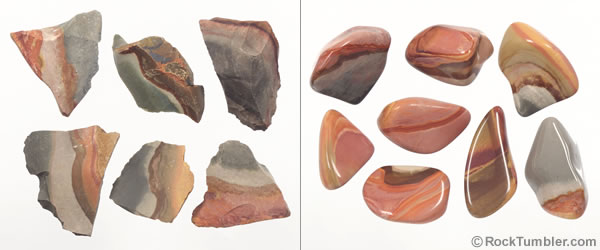 Polychrome Jasper:
The name "Polychrome Jasper" was first given to a multicolored jasper found in Madagascar. That name is appropriate because it is a particularly colorful material. Today, much of the material sold as "polychrome" is from Madagascar, but some material from other sources is sold under the same name.
Polychrome jasper is a very durable material, it shapes nicely in coarse grit, and it can be polished to a bright luster. It is a perfect material for the beginner to tumble. We sometimes have
polychrome tumbling rough
that is sized for small tumblers.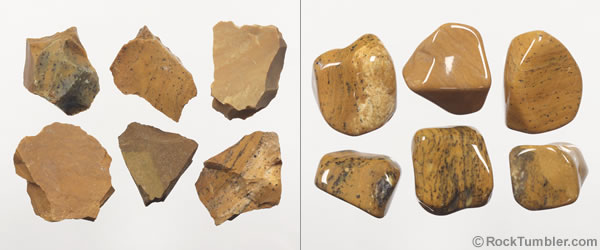 Brown Jasper:
We believe that this brown jasper is from India. In the rough, it has a dull luster and a laminated (layered) appearance. It looks like so many siltstones that we have seen. We bought a lot of it and were initially disappointed - we didn't think that it would accept a polish. Fortunately, we were surprised - it accepted a very nice polish. When we look at some of the polished specimens through a microscope, we see evidence of sedimentary structures and tiny (microscopic) bivalve fossils. Some jaspers form from the silicification of sediments or sedimentary rocks.
There are many sources of jasper with a brown color. The name "brown" here is simply a color descriptor.
We have
brown jasper tumbling rough
in stock for those who would like to try tumbling it.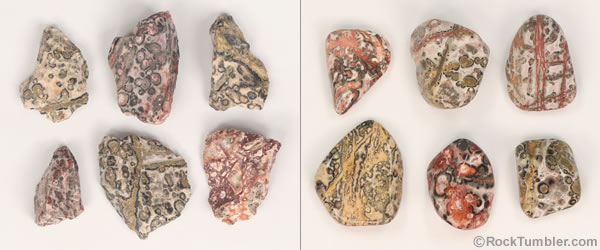 Leopard Skin:
Leopard Skin is an igneous rock. We think that it is a rhyolite that has been mineralized after it was erupted. On the left are six pieces of leopard skin tumbling rough, photographed dry, before tumbling. On the right you can see six tumbled pieces of leopard skin. Leopard skin contains several different minerals. Some of the minerals are as soft as 5 on the
Mohs Hardness Scale
and some are as hard as 7.
Leopard skin polishes to a soft glow instead of a bright shiny luster like jasper and agate. When it is tumbled, the softer minerals cut away faster than the harder minerals. This causes the harder minerals to have a very subtle positive relief on the finished stones. We sometimes have
leopard skin tumbling rough
and
tumbled stones
in stock.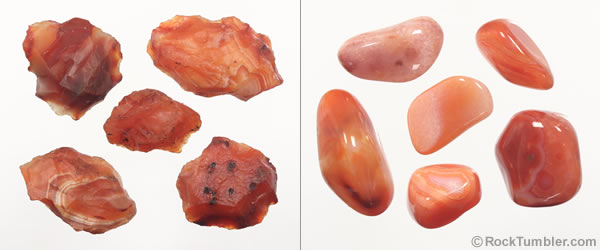 Carnelian Agate:
The name "carnelian" implies a color variety of chalcedony that ranges from yellowish orange to orangy red to reddish brown to brownish orange. The name "agate" implies a variety of agate that exhibits banding. So, carnelian agate is a good name for this material, which we believe is from India.
For thousands of years, people have modified the color of gemstones by heating them, oiling them, or exposing them to certain substances or conditions. We believe that the color of this material has been enhanced by heating.
We often have tumble-polished carnelian and banded carnelian available for sale on our
tumbled stones
page.

Fluorescent Opal:
Some rocks and minerals produce a fluorescent glow under ultraviolet light. Much of the common opal found in Virgin Valley, Nevada fluoresces a spectacular brilliant green under shortwave (100nm - 280nm) ultraviolet (UV) light.
We tumbled some fluorescent opal from the
Royal Peacock Opal Mine
in Virgin Valley, Nevada. It shaped quickly and made some beautiful stones. The photo on the left is rough pieces of Virgin Valley opal, the middle photo shows tumbled stones, and the photo on the right shows the same stones under shortwave UV light.
We have an article about
fluorescent opal
from Virgin Valley, Nevada. We also have an article on
Geology.com
that explains fluorescent minerals, the science behind the fluorescence, and an introduction to ultraviolet lamps.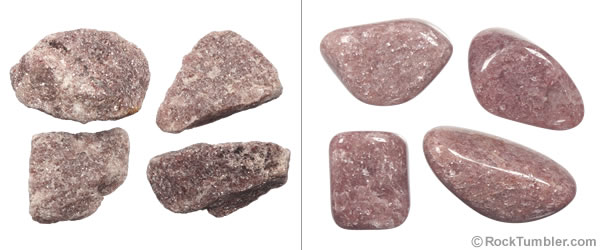 Pink Aventurine:
The name "pink aventurine" has two parts: "pink" and "aventurine". The word "pink" applies to the color of the material, and the word "aventurine" means a material that displays the property of "aventurescence".
These stones are composed mainly of quartz (they are metamorphic rocks known as quartzite). Their pink color is caused by inclusions of a pink mica known as lepidolite. Some people call these stones "lepidolite" but they contain only a few to several percent lepidolite - so, the names pink aventurine or pink quartzite are more appropriate.
Aventurescence is a sparkly luster caused by inclusions of flake-shaped mineral grains that are highly reflective. Light enters the stone, strikes the inclusions, and reflects back out of the stone and into the eye of the observer.
Pink aventurine is often used to make cabochons and tumbled stones. It is not often used for beads or small sculptures because its mica content causes chipping on curved surfaces with a small radius. We sometimes have pink aventurine available on our
tumbled stones
page.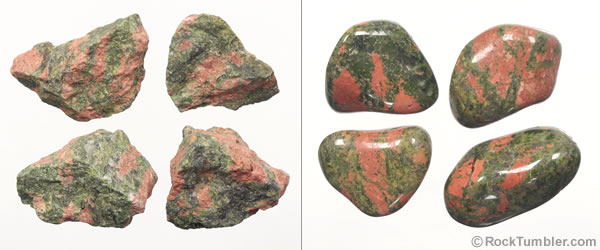 Unakite:
Unakite is a pink and green metamorphic rock. The pink mineral is orthoclase, and the green mineral is epidote. Unakite forms when a granite made up of plagioclase, orthoclase, and quartz is metamorphosed by hydrothermal fluids. Plagioclase in the granite is converted into epidote, but the orthoclase and quartz remain unchanged.
Unakite is very easy to tumble into nice polished stones. It has a hardness of about 6 on the Mohs Hardness scale, so it shapes quickly. It also can be polished to a very bright luster.
Unakite is used to make cabochons, beads, small sculptures, tumbled stones, and small ornamental items. It is rarely seen in jewelry stores, but you can find it in jewelry at
rock shops
, crystal shops, or gem and mineral shows. We often have
unakite tumbling rough
and unakite
tumbled stones
for sale.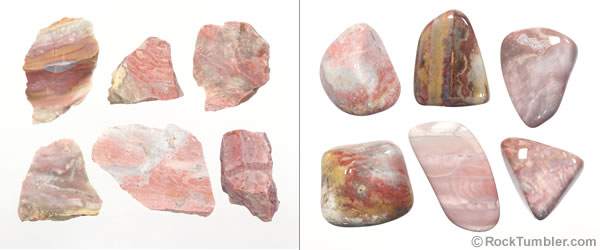 Mozarkite:
Mozarkite is a name that people in southern Missouri use for pieces of colorful chert that weather out of the Cotter Dolomite. Many people in the state have used mozarkite to cut cabochons or make tumbled stones and other lapidary items. In 1967, Mozarkite was named the "official state rock of Missouri" by the 74th Missouri General Assembly. That launched a cottage industry of people making items from Mozarkite to sell in local gift and tourist shops. Official "state rocks" and "state gems" always become popular souvenirs.
Similar materials, weathered from limestone, dolomite, or chalk, are found in many parts of the world, and local rockhounds start calling them an interesting name. Mozarkite has a hardness of seven, and it can easily be made into
tumbled stones
using a
rock tumbler
and the
tumbling instructions
for jasper and agate. It polishes to a bright luster. We have an article about
Mozarkite
that explains how we tumbled it and shows more photos of stones before and after tumbling.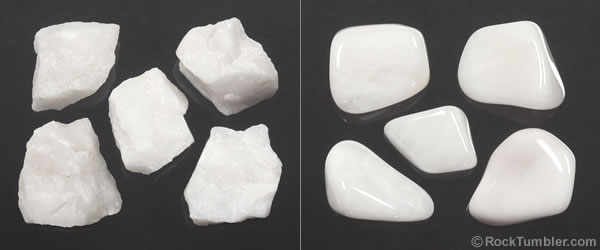 White Quartz:
White is the most common color of quartz. Many other names are used for white quartz, such as milky quartz, snow quartz, and common quartz. White quartz is one of the easiest varieties of quartz to tumble into nice polished stones. The reason for that is that white quartz does not show bruising very well. We have
white quartz tumbling rough
with a super-white color. We also have some beautiful
tumbled white quartz
that looks especially nice as a ground cover in potted plants.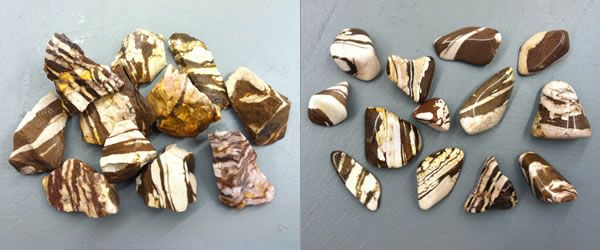 Zebra Jasper:
Zebra Jasper is the name used for a brown and cream banded rock that is popular as a tumbling rough and as tumbled stones. Yes, we know that zebras have black and white stripes, but did you know that many young zebras - under one year of age - have brown stripes? We polished some zebra jasper, and we published and article to report our method, show photos of rough, show photos of tumbled stones, and provide a little background on the material. Check out our article about
tumbling zebra jasper
.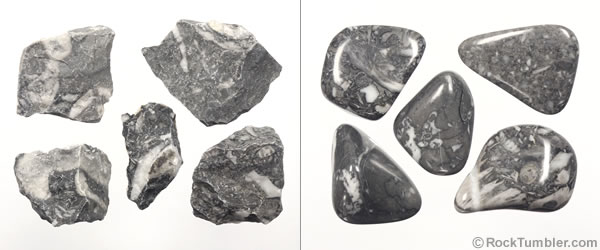 Fossiliferous Marble:
Fossiliferous marble is a limestone with abundant fossils that has been metamorphosed into a marble. Marble has a
Mohs hardness
of 3 and requires special procedures to polish. It must be polished dry. We start by doing the shaping wet with medium silicon carbide grit in a
rotary tumbler
. Because the marble is so soft, only a couple to a few days of shaping is needed (we check on the progress often). Then we switch to a
vibratory tumbler
for smoothing, giving the stones one day in fine silicon carbide grit and one day in ultrafine (1000 mesh). Then, we dry the stones thoroughly and place them, a few at a time, in an ultraclean vibratory bowl loaded with dry
crushed corncob media
that has been treated with
TXP polish
. We then run the stones in the treated corncob until a nice polish develops. Not all marble polishes well in a rock tumbler. We are lucky that this fossiliferous material is one of them.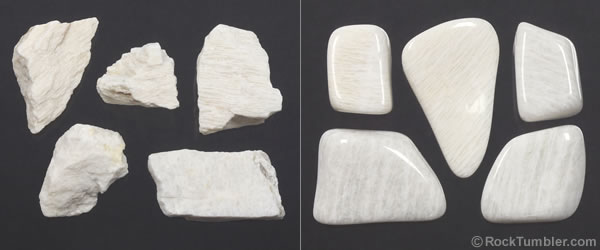 Feldspar:
Feldspar minerals can be difficult to convert into nice
tumbled stones
in a
rotary rock
tumbler. They usually break along cleavage planes while being tossed around during the tumble. We often begin tumbling feldspar by running it a few days in
coarse grit
in a rotary tumbler. That breaks up the pieces that are not tightly bound together. The result is a larger number of smaller pieces - but some of those pieces are usually durable enough to survive in a
vibratory tumbler
. We then use a vibratory tumbler for the medium, fine, and polishing steps.
We have often been surprised by feldspars that accept a spectacular polish. We use
TXP polish
because it has a particle size of about three microns, which is larger than the width of some cleavage separations in the feldspar. Polish in the cleavage separations is usually not noticeable when polishing white material, but polish in cleavage can stand out like a sore thumb on darker colored materials. We have observed that
#61 Rapid Polish
, with a 0.3 micron particle size, more often gets stuck in the cleavage separations of feldspar minerals.
We believe that the white feldspar shown above consists of an intergrowth of two types of feldspar - possibly an intergrowth of plagioclase feldspar and an alkali feldspar. These intergrown feldspars exhibit a "perthitic" texture, which displays as the irregular laminations seen in the polished stones. Learn more about feldspar mineral properties and their ability to serve as gem materials in an article that we have published on
Geology.com
.
We are actively building this page and expect to add more "before and after" photos soon. Actually, we will probably never stop working on this page. We will continue to add more photos as we tumble new materials and dig out stones that we tumbled years ago. We have a lot of stones!