Thumler's UV-10 Vibratory Tumbler
For Rock and Brass Polishing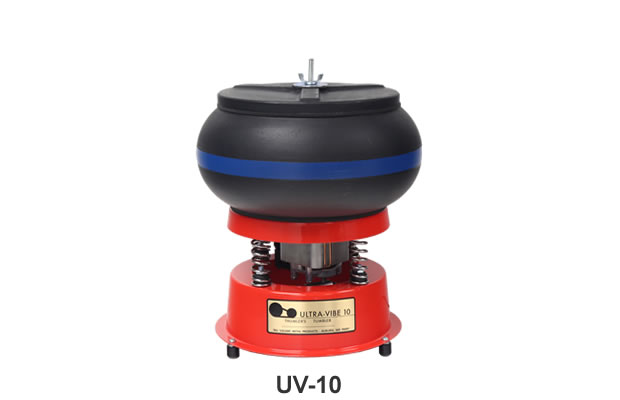 Age Recommendation
This is a large-capacity tumbler that should be used by adults.Find out why.
Thumler's Model UV-10
(10-pound capacity bowl)
Thumler's Ultra-Vibe UV-10 Industrial Rock Tumbler / Brass Polisher



Industrial model designed for rocks!
Removable, polyethylene bowl with lid
Tumbles 10 pounds of rocks or 125-400 brass cases
Creates a cyclonic effect (see video below)
Ball bearing motor operates on 115 volts
A hobbyist grade rock tumbler
Motor is thermally protected for safety
Vibrates at 3000 VPM
1/30 HP motor
UV-10 dimensions - 10" diameter x 11" tall.
Warranty begins on the date of purchase

Vibratory tumblers are a lot faster and a lot more economical than rotary tumblers. These Ultra-Vibe tumblers will do the rough grind in just a few days and the fine grit and polish steps in just one or three days each. That will save you time and electricity. This UV-10 tumbler also uses a lot less grit and polish (about half as much) as a rotary tumbler of similar size. So, although these tumblers have a higher cost than most rotary tumblers, you will actually save that much money or more if you use them regularly.

This tumbler also works great for polishing brass gun cartridges. Polishing brass requires the use of crushed corncob or walnut shell media.

It is supplied with instructions that will guide you through tumbling your first batch of rock. You can also watch our video below and read an article about how we use the UV-10 tumbler. We have also put together a U-V vibratory tumbler guide to help you get good results and to keep your tumbler running smoothly and quietly.



What Size Rough Can It Process?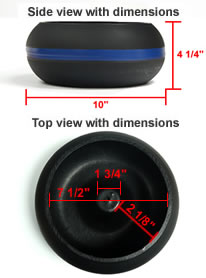 One dimension of the rough must be under 2 1/8 inches to fit between the top rim and raised center of the bowl. We do not recommend the other dimension of the rough be any larger than about 3 inches. If you are going to tumble pieces this large we recommend only two or three pieces of that size per batch. The remainder of the space should be filled with small rough between 1/4 inch up to about 1 1/4 or ceramic media. Good particle size balance will help with the tumbling action in the bowl and reduce the chance of the material being bruised.


UV-10 Industrial Bowl Dimensions
Exterior Dimensions
Height: 4 1/4 inches
Diameter: 10 inches
Lid Dimensions
Diameter: 8 inches
Height (with foam): 7/8 inch
This bowl can process approximately 10 pounds of material.
Rough Size: One dimension of the rough must be less than 2 1/8 inches to fit into the bowl. The other dimension should not be more than 3 inches.
We use both rotary and vibratory for most of the rocks we polish.


We enjoy the rounded rocks produced by a rotary tumbler, but we also enjoy the speed, grit savings and electricity savings of a vibratory tumbler. So, when we tumble, we do the rough grind using coarse grit in a rotary tumbler for however long is needed. This gives us nicely rounded stones. We then do the medium (two days), fine (one or two days) and polishing (two days) in a UV-10 vibratory tumbler.