Thumler's Tumblers and Lot-O-Tumblers
When Will They Be Available?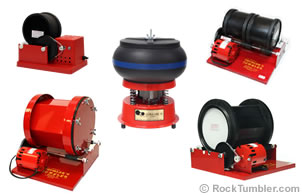 You can see all of the Thumler's Tumblers that we sell, as well as their availability, on
this page
.
ADVERTISEMENT
Supply Chain Issues


Supply chain issues are still hitting manufacturers in many parts of the world. Tumbler manufacturers are no exception.

Thumler's Tumblers and Belt Inc. (the manufacturer of the Lot-O-Tumbler) are both having trouble obtaining motors. Motor manufacturers are unable to keep up with their orders!



Status of Thumler's Vibratory Tumblers


We currently do not have any of the following Thumler's vibratory tumblers:

Thumler's is still producing their famous vibratory tumblers, but they are waiting on motors. As soon as we have any information about out-of-stock tumblers, we post an estimated availability date on the pages of this website where those tumblers are sold. If you do not see an estimated available date, we do not know when they will be in stock. We are unable to provide any more information than that.

When we receive a shipment of Thumlers Tumblers, we immediately place "Add to Cart" buttons on our website. If you would like to be notified (by email) immediately after they arrive, please send an email message to

and we will notify you right away. Be sure to tell us which models you are interested in because we usually only receive one or two models at a time.

We do not reserve tumblers, and we never take customer payments for merchandise that we do not have on hand. But, when we receive tumblers from Thumler's, we usually receive a large quantity. So, if you are on our email list and purchase promptly, you have a good chance of obtaining a tumbler.



Status of Thumler's Rotary Tumblers


We are lucky to have most of the Thumler's rotary tumblers that we sell in stock.

Unfortunately, we are sold out of the Thumler's A-R1.

However, we still have the following tumblers in stock: Thumler's Model MP-1, Thumler's A-R2, Thumler's A-R12, and Thumler's Model B.


---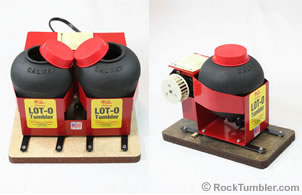 We sell the Lot-O-Tumbler Single and the Lot-O-Tumbler Twin. You can find information about them, their prices, and current availability
on this page
.
Status of Lot-O-Tumblers


Uncle Tom is still making Lot-O-Tumblers, and he sends us small shipments of his tumblers whenever they are available. We receive them often, but not on a regular schedule.

If you visit our website and the Lot-O-Tumbler that you are interested in is sold out, we are happy to notify you by email when we get a few of his tumblers. Please send an email message to

, and be sure to tell us if you are interested in the Single or the Twin. We will notify you by email as soon as your preferred model can be purchased on this website.

Please know this: At this time, the demand for Lot-O-Tumblers is much higher than the supply. There are a lot of people on our email list. So, when we get a few tumblers in stock, we notify a few people - not everyone on our email list. We don't want to notify more people than we believe can be supplied. If you ask to be added to our email list today, it is unlikely that you will receive a "tumblers are available" notification for at least a few months.

Also: When we send emails that tumblers are available, we do not guarantee that you will be able to purchase a tumbler. It is possible that the small number of available tumblers will be gone if you don't get one promptly.

Finally: We do not reserve tumblers, and we never take customer payments for merchandise that we do not have on hand.


Thank you!
---