Thumler's Model B Rock Tumbler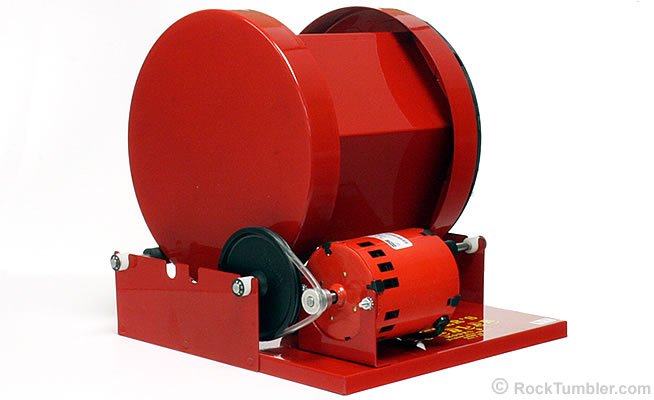 Age Recommendation
This is a large-capacity tumbler that should be used by adults.Find out why.
Model B Tumbler
Thumler's Model B Rotary Rock Tumbler
Features:
Heavy-duty, commercial grade, rotary rock tumbler
Large capacity - Process about 10 pounds of rocks
1550 rpm thermally protected motor
Metal base and metal barrel
Powder coat paint resists chipping and rusting
Rubber barrel liner for quiet operation
Metal lid and rubber gasket prevent leaks
Easy open and close barrel
Easy maintenance
Built to last for years
Warranty begins on the date of purchase.
A Durable Large-Capacity Tumbler


The Model B rock tumbler is a heavy-duty rotary tumbler with a 15-pound capacity barrel. It will process about 10 pounds of rough into beautiful tumble-polished gemstones. This tumbler is great for a person who wants to tumble large amounts or larger pieces of rough. People who go out and collect their own rough often buy this tumbler.




NOTE: Thumler's offers a high-speed Model B that is designed for polishing brass. The high-speed version's motor spins at 3000 rpm, which is too fast for tumble-polishing rocks.
Quality Base and Motor


The motor and metal base have a powder coat paint job that will resist rusting and chipping. The motor has thermal protection to prevent it from overheating. The motor spins at 1550 rpm, which is perfect to tumble-polish rocks in this size barrel.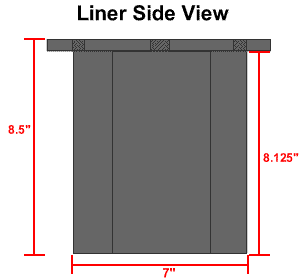 Diagram showing the exterior dimensions of Thumler's Model B barrel liner.
Quiet Operation / Without Leaks


The barrel has four main components: a metal frame, metal lid, rubber liner and a rubber lid gasket. The metal frame and lid are powder coat painted. The rubber liner is 1/4 inch thick, which keeps the noise level down and provides cushioning to prevent bruising. Between the metal lid and rubber liner is a rubber lid gasket. The lid gasket creates a watertight seal between the liner and lid. The rubber lid gasket also protects the metal lid and helps to quiet the noise during tumbling. We carry replacement barrels and barrel parts if you run your tumbler enough to wear out the liner or lid gasket.



Easy to Load / Unload


The Model B barrel lid is tightened down by six wingnuts and washers. The wingnuts and washers make opening and closing this barrel quick and easy.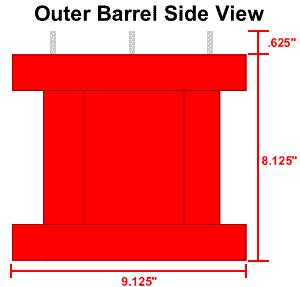 Diagram showing the exterior dimensions of Thumler's Model B barrel.
How Big is the Barrel?


The metal barrel frame measures 8.125" high with a diameter of 9.125". The barrel liner is approximately 8.5" high with a diameter of about 7". The barrel liner's inside dimensions are about 8" high with a diameter of about 6.5". The liner can hold approximately 1.2 to 1.3 gallons of water. We have diagrams showing more measurements of the barrel lid, lid gasket and liner here.



How Big of a Rock Can it Tumble?


The largest pieces of rough that we put in this tumbler barrel are 3 to 3 1/2 inches. We only put three or four pieces of that size in at a time. Then we bring the barrel up to capacity with small rough and ceramic media. The small material will help cushion the large pieces from each other. Tumble more than a few large pieces, and they may bruise or chip each other because there won't be enough small material in the barrel to cushion them from each other.



Replacement Parts are Available


We carry all of the available parts for Model B tumblers. The most common parts that need to be replaced on a Thumler's Model B are the belt and bearings. Replacing the belt and bearings is a job that can be done quickly. When the nylon or rubber rollers wear out, most people replace the entire shaft as they are inexpensive and easily change out. If you want to replace the individual components on the old shafts, we have them, but doing so can be challenging and time consuming.



Easy Maintenance


Oil the motor and bearings once a month to keep it running smooth and quiet. This easy maintenance takes only a couple of minutes and requires no tools. For motor maintenance put one drop of 3-in-1 motor oil in each oil port. Wipe the bearing area of the shafts clean before oiling. After the shafts have been cleaned, put a drop or two of general household oil near the bearings. Then rotate the shaft and slide it back and forth in the bearing. This will work the oil through the entire bearing.



Testament to Thumler's Model B Quality


We have people contact us about parts for a Thumler's Model B tumbler that they have been running for decades. We let them know that the parts we sell will fit on Model B tumblers produced since the late 1970s. This reinforces our belief in the design, quality and durability of these machines. With proper maintenance and care, a Thumler's Model B tumbler can bring joy to generations in the family.


Check out our Model B video below....