Lot-O-Tumbler Vibratory Rock Tumblers
Widely known as "Uncle Tom's Calway Lot-O-Tumbler"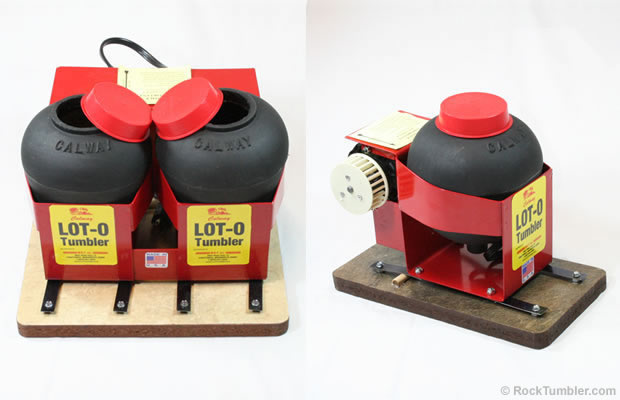 Age Recommendation
This is a large-capacity tumbler that should be used by adults who are mechanically inclined.Find out why.
Single-Barrel
Lot-O-Tumbler
Twin-Barrel
Lot-O-Tumbler
Lot-O-Tumbler Vibratory Tumblers



Tumble about four pounds of rock per barrel
Tumbles rocks up to about 2 1/4" in diameter
Run in medium grit until stones are smoothed
To check progress, open the lid, pull out a rock
Two days in fine grit to prepare for polish
Two days in polish for most polishable stones
Uses about 1/2 as much grit/polish as rotary
Save on grit, polish, electricity and time
Durable rubber barrels last a long time
Vibrates at over 2500 VPM
Motor is 0.07HP
Must be attached to a concrete block
See how we use the Lot-O-Tumbler in this video
Guarantee begins on the date of purchase.


When we used the Lot-O-Tumbler for the first time, we were really surprised. It doesn't look like a tumbler, but it processed our rocks quickly and produced an awesome polish! The machine makes the load of rocks vibrate very rapidly and churn through the barrel with a thin film of grit on them. That thin film of grit turns every rock-to-rock contact into a rapidly-vibrating point of abrasion. The surface of every rock in the barrel turns into instant sandpaper!

The Lot-O-Tumbler is fast. It will process a batch of rocks from rough to polish in under a week if you rinse the rock and add new grit every 12 hours. That is an easy job, you just lift the barrel off of the machine, pull off the red cap, fill the barrel with water, invert the barrel to drain, rinse again, add grit, and place the barrel back on the machine. Watch our video below to see how easy it is.

NOTE: As with any tumbler, don't allow the used grit and mud to go down a drain - it can clog your plumbing.

Only three abrasives are needed. We use medium grit silicon carbide (220 or 150/220 grit), fine grit silicon carbide (500 or 600 grit) and polish (we have obtained great results on agate and jasper with inexpensive TXP aluminum oxide polish. The instructions that come with the machine give specific suggestions for other materials.

The Lot-O-Tumbler uses very little grit and polish - less than 1/2 the amount of abrasives that you would normally use for the same amount of rocks in a rotary tumbler.



*** Lot-O-Tumbler's 90-Day Guarantee ***




With a Lot-o-Tumbler you will save lots of money on grit and you will produce a load of finished rocks in under seven days - that's a lot faster than one month minimum in a rotary tumbler. That short tumbling time will save electricity too!



*** Learn how we use a Lot-o-Tumbler ***


Here are the downsides for some people: 1) the Lot-o-Tumbler must be attached to something heavy; and, 2) it makes a little more noise than a rotary tumbler - it hums!

We got a standard concrete block, painted it to make it look nice, then used "Goop" to glue a single-barrel machine to the block. It works great. Many people use super double-stick tape strips supplied with the tumbler. The instructions recommend gluing the single-barrel machine to a standard 40-pound concrete block (we filled the holes in our block with concrete for extra weight). They recommend gluing the two-barrel machine to a 100-pound block or a concrete floor!

You can see our Lot-o in operation in the video below. We run ours in a small room in our garage and think that the noise sounds like we are sitting in the cabin of a small commuter plane - but not quite as loud. If you have a shed or garage where a little noise will not be a problem, then the Lot-o-Tumbler will work great for you. We run a single Lot-o-Tumbler in a garage that is below our bedrooms. We turn it on in the morning and let it run all day, rinse the rocks before bedtime, and leave it off for the night. With that schedule we can polish many types of rocks from start to finish in a little over a week.


As with other vibratory tumblers, the Lot-O-Tumbler "smoothes" the surface of the rocks and does minimal rounding. If you like your tumbles nicely rounded, just run them for one or two weeks in a rotary machine and finish the job in the Lot-O-Tumbler. Here is how we use the Lot-o-Tumbler. If you have a rotary tumbler that produces four pounds of rounded rock per week, then you can run both machines and finish a load of nicely-rounded tumbles every seven days. You will be running a gemstone factory!



For Best Polishing Results:

If you are really serious about getting a high quality polish we recommend getting a separate barrel and using it exclusively for the polishing step. A dedicated barrel for polish (and a thorough cleaning of your rocks after the 600 grit step) will help avoid grit contamination of your polishing step.