40 Different Tumbled Stones
A colorful collection of semi-precious gemstones from around the world!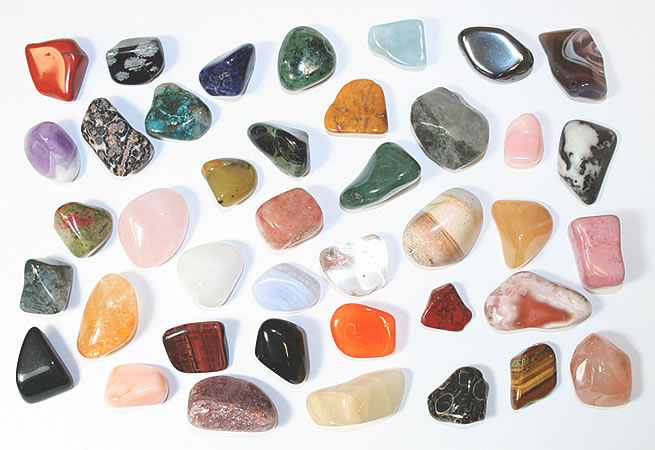 This collection includes forty tumble-polished semi-precious gemstones from numerous countries and five different continents. Each specimen is a brightly-polished example that is representative of that gemstone. Specimens range in size from 5/8 inch to 1 inch across. The collection that you will received will contain forty different stone varieties. For a list of the stones that you will receive, please see the list below.
Warning!
Polished stones can be a choking hazard for small children.
40 Tumbled Stones from Around the World

Stones Range: Approximately 5/8" to 1" (18-25 mm) Size Chart

If you like gemstones, rocks, minerals, geography or beautiful natural objects then this is a collection for you!

We have hand-selected forty different tumble-polished semi-precious gemstones that together make a worldwide collection of color. Stones like these are sold in crystal shops for $2 and $3 each.

Your collection will be shipped in a zip-lock bag along with a card that contains the names of the stones, the countries where they were found and a URL where you can download and print a stone identification chart.



Apache Tear - Arizona
Apricot Agate - Botswana
Banded Amethyst - Namibia
Blue Beryl - Angola
Blue Lace Agate - Namibia
Blue Tiger Eye - South Africa
Botswana Agate - Botswana
Brecciated Jasper - South Africa
Carnelian Agate - Botswana
Chrysocolla in Quartz - Namibia
Citrine Quartz - Brazil
Clear Quartz - Madagascar
Gold Tiger Eye - South Africa
Green Aventurine - Zimbabwe
Green Moss Agate - India
Hematite - Brazil
Kambamba Jasper - Madagascar
Leopard Skin - Mexico
Olive Opal - Kenya
Orange Quartz - India
Picasso Stone - U.S.
Picture Jasper - Namibia
Pink Aventurine - Canada
Pink Botswana - Botswana
Pink Opal - Peru
Red Jasper - South Africa
Red Tiger Eye - South Africa
Rhodonite - Madagascar
Rose Quartz - Namibia
Snowflake Obsidian - U.S.
Sodalite - Various Countries
Sunstone - India
Turritella Agate - U.S.
Unakite - South Africa
White Moonstone - India
White Quartz - South Africa
Yellow Jasper - South Africa
Yellow Quartz - India
Zebra Marble - U.S.
Zoisite - Tanzania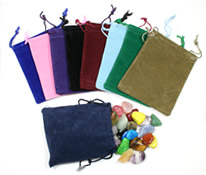 Treasure Bags!

These velour pouches are perfect for storing your stones or presenting them as gifts. Kids love keeping their treasure in a soft draw-string bag.

Note: Citrine may be Amethyst that has been heated. Red Tiger Eye may be Gold Tiger Eye that has been heated.

Note: We regret that we are unable to customize the collections or make substitutions.

This is a great collection for anyone who collects or has an interest in gemstones, rocks, minerals, geography or art. Display them on a shelf in a glass jar, on a table in a wooden bowl, mounted in a frame or scattered on a placemat. You will be surprised at how many people notice them and want to know more about them. Many people use them to make colorful jewelry items.

A fun collection for students, adults, or anyone who likes colorful gems.
RockTumbler.com Authors
---
| | |
| --- | --- |
| | Hobart M. King: Most of the articles on this website have been written by Hobart King. He is owner and manager of RockTumbler.com and has decades of rock tumbling experience. He has a PhD in geology and is a GIA graduate gemologist. He has also written most of the information about rocks, minerals and gems on the Geology.com website. |