50 Different Tumbled Stones
A colorful collection of semi-precious gemstones from around the world!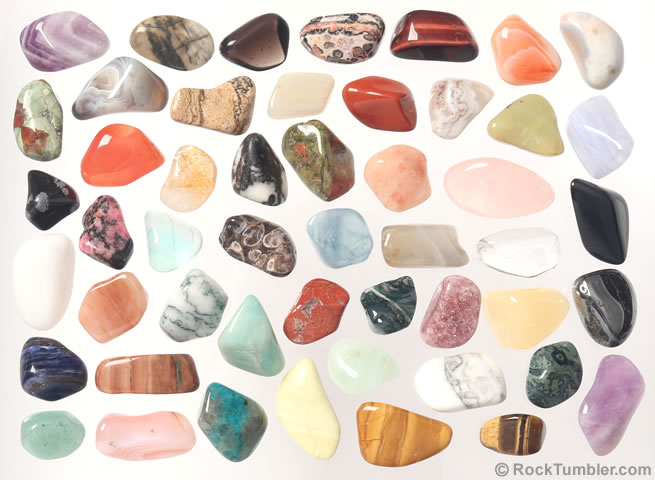 This collection includes fifty tumble-polished semi-precious gemstones from numerous countries and five different continents. Each specimen is a brightly polished example that is representative of that gemstone. Specimens range in size from 5/8 inch to 1 1/2 inches across. The collection that you will receive will contain fifty different stone varieties. To find out which varieties of stones that you will receive, please see the list below.
Warning!
Polished stones can be a choking hazard for small children.
50 Tumbled Stones from Around the World

Stones Range: Approximately 5/8" to 1 1/2" (16-38 mm) Size Chart

If you like gemstones, rocks, minerals, geography, or beautiful natural objects, then this is a collection for you!

We have hand-selected fifty different tumble-polished semi-precious gemstones that together make a worldwide collection of color. Stones like these are sold in crystal shops for $2 and $3 each.

Your collection will be shipped in a zip-lock bag along with a special identification card that shows the 50 selected varieties of stones and their names. We also include a free drawstring pouch that can be used to store your collection.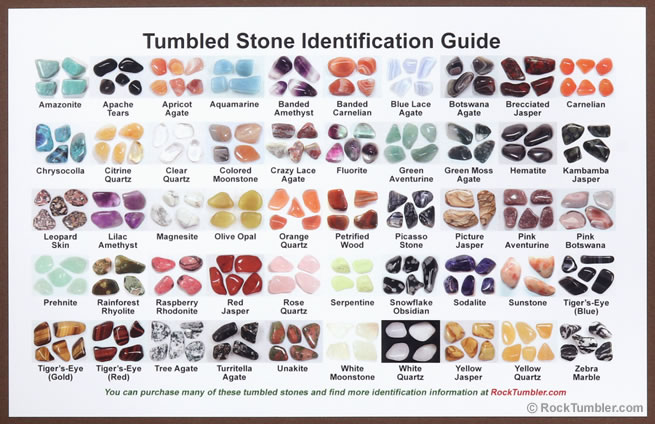 Shown here is the identification card that will be included with your 50-stone collection. The card measures 4 1/2 by 7 inches. Each of the 50 varieties included in the collection is shown on the card. How quickly can you match them up?

Amazonite - Mozambique
Apache Tear - Arizona
Apricot Agate - Botswana
Aquamarine - Angola
Banded Amethyst - Namibia
Banded Carnelian - Botswana
Blue Lace Agate - Namibia
Botswana Agate - Botswana
Brecciated Jasper - South Africa
Carnelian Agate - Botswana
Chrysocolla in Quartz - Namibia
Citrine Quartz - Brazil
Clear Quartz - Madagascar
Colored Moonstone - India
Crazy Lace Agate - Mexico
Fluorite - China
Green Aventurine - Zimbabwe
Green Moss Agate - India
Hematite - Brazil
Kambaba - Madagascar
Leopard Skin - Mexico
Lilac Amethyst - South Africa
Magnesite - Zimbabwe
Olive Opal - Kenya
Orange Quartz - India
Petrified Wood - Arizona
Picasso Stone - Utah
Picture Jasper - Namibia
Pink Aventurine - Canada
Pink Botswana Agate - Botswana
Prehnite - South Africa
Rainforest Rhyolite - Australia
Raspberry Rhodonite - Madagascar
Red Jasper - South Africa
Rose Quartz - Namibia
Serpentine - Various Countries
Snowflake Obsidian - United States
Sodalite - Various Countries
Sunstone - India
Tiger's-Eye (Blue) - South Africa
Tiger's-Eye (Gold) - South Africa
Tiger's-Eye (Red) - South Africa
Tree Agate - Botswana
Turritella Agate - Utah
Unakite - South Africa
White Moonstone - India
White Quartz - Various Countries
Yellow Jasper - South Africa
Yellow Quartz - India
Zebra Marble - United States

Included with your purchase is a free drawstring bag that can be used to store your collection. Bag is made of gray velveteen and measures 5 1/2 by 4 1/8 inches.

Note: Citrine may be Amethyst that has been heated. Red Tiger's-Eye may be Gold Tiger's-Eye that has been heated.

Note: We regret that we are unable to customize the collections or make substitutions.

This is a great collection for anyone who collects or has an interest in gemstones, rocks, minerals, geography, or art. Display them on a shelf in a clear jar, on a table in a wooden bowl, mounted in a frame, or scattered on a placemat. You will be surprised at how many people notice them and want to know more about them. Many people use them to make colorful jewelry items.

A fun collection for students, adults, or anyone who likes colorful gems.
RockTumbler.com Authors
---
| | |
| --- | --- |
| | Hobart M. King has decades of rock tumbling experience and writes most of the articles on RockTumbler.com. He has a PhD in geology and is a GIA graduate gemologist. He also writes the articles about rocks, minerals and gems on Geology.com. |