Gemstone Vase Filler Ideas
Tumbled stones make an interesting and colorful vase filler that can be matched to your decor or theme.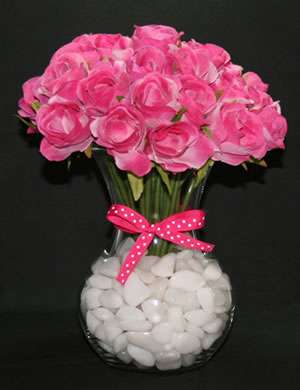 A bouquet of pink roses in a 3.5" x 7" sweetheart vase decorated with a pink ribbon. The gem vase filler is about two pounds of
snow white quartz
.
What is Vase Filler?


Vase filler is a material placed in the bottom of a vase to support a floral arrangement. It can conceal the stems of your flowers, and weight the bottom of the vase to protect against tipping.

Gemstone vase fillers are very colorful and will make your arrangements unique and interesting. You will be surprised by how many people notice them and the conversations that they will start.

Gemstones are enduring. Even though fresh flowers might be temporary the gemstones can be saved, remembered and used in many future projects.

Here we share ten of our recent projects. Except where noted, all vase fillers were 3/4" to 1" tumbled gemstones selected from the menu on the right column of this page.

In these projects we used artificial flowers and plants so any type of stones could be used. When using live flowers and plants it is best to use stones that will not react with acidic soils and waters. Tumbled stones from the quartz and feldspar families work best. Quartz stones include: agate, jasper, amethyst, citrine, chrysoprase, chalcedony and aventurine. Feldspar stones include: moonstone, unakite, amazonite and labradorite.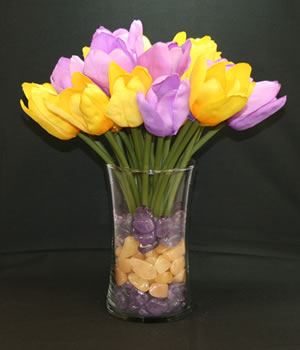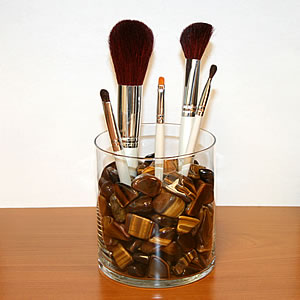 Keep your cosmetic brushes "at the ready". Select a nice clear container and fill it about three to four inches deep with your favorite tumbled stones (we used golden tiger's eye). The handes of your brushes will easily slip into the smooth tumbled stones and the weight of the stones will hold the brushes upright and ready for use. A container of stones can also be used to hold pens, dried flowers or many other items. They look great on your desk or vanity.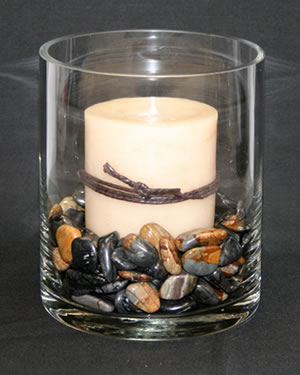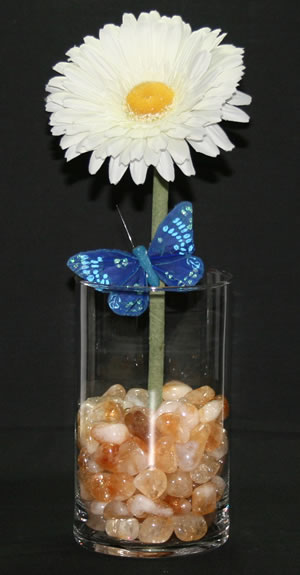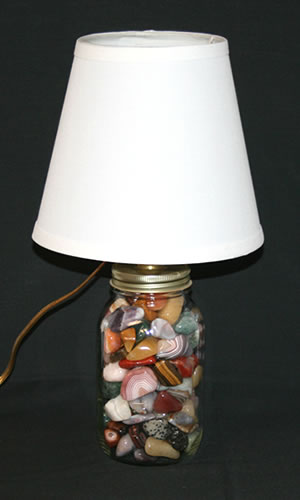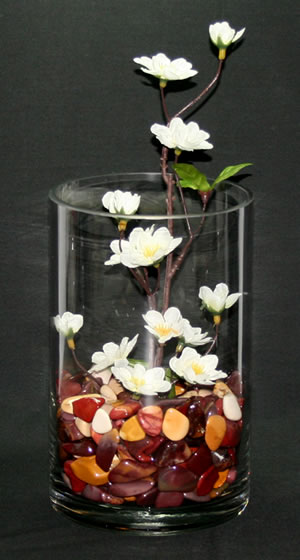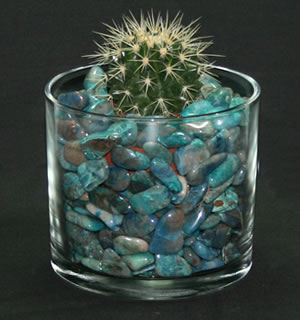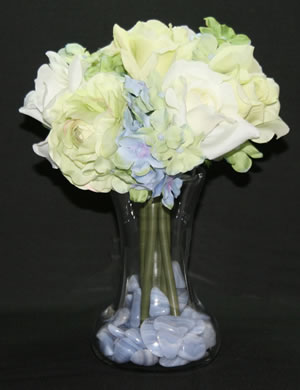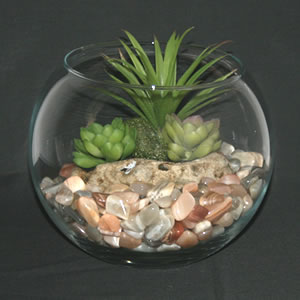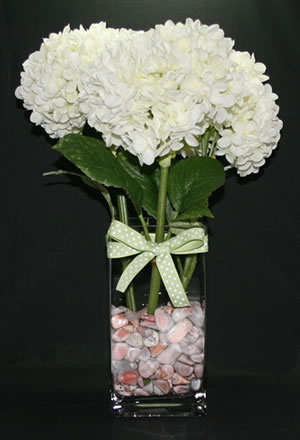 Ideas for Using Gem Vase Fillers
Choose undyed gemstones in a color that will compliment or emphasize your creation.
Most cut and fresh flowers are supported nicely by medium size (3/4" - 1") gemstones. Arrangements with heavier stems work well with large size gemstones (7/8" - 1 1/4").
Add enough gemstones to stabilize your arrangement. This is very important when using flowers with large heavy blooms.
Carefully add gemstones to a glass bowl or vase. Dropping them in can crack the vase.
Consider combining gemstone colors to accent your arrangement.
Select some of your favorite gemstones to face the front of your vase, or to arrange on the top of a potted plant.
Undyed gemstones are best when you are using them with fresh flowers in water or on the top of a potted plant where watering occurs.
The amount of gemstones added to a vase depends upon how much weight you need to stabilize the piece and your personal preference.
To reduce the amount of gemstones required, place a piece of floral foam or other filler in the bottom of a vase and arrange the gemstones around it.
RockTumbler.com Authors
---
| | |
| --- | --- |
| | Hobart M. King has decades of rock tumbling experience and writes most of the articles on RockTumbler.com. He has a PhD in geology and is a GIA graduate gemologist. He also writes the articles about rocks, minerals and gems on Geology.com. |