Where is the Best Place to Run a Rock Tumbler?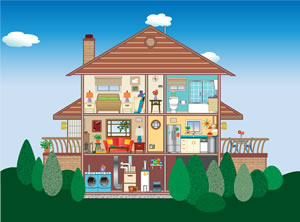 Where in your house is the best place to run a rock tumbler? For most people the answer to that question is "in the basement or the garage." These locations generally work best because the noise of the tumbler will not be too disturbing, and a small spill can generally be cleaned up without causing a problem.

A rock tumbler is a small machine with an electric motor, moving parts and a barrel full of muddy water that makes a bit of noise. Those are the things that you need to consider when picking a location to run it. Actually, it is sometimes easier to decide where you don't want to run a tumbler. Let's consider these items one at a time to rule out a few places at your house.



Near Electricity and a Water Source


A rock tumbler must be plugged in so you will need to run it in a location that stays dry and near a source of electricity. Avoid using an extension cord unless absolutely necessary. You will also need a light for loading and unloading the tumbler and inspecting it regularly. You will also need access to water for loading the barrel and cleaning up.
Where You Have Easy Access but Pets and Small Children Don't


Adults should closely supervise children to be sure that they respect electricity and the moving parts of the rock tumbler. Pets can be a problem if they are curious about or don't like things that make noise and move constantly. So, your tumbler should be located in a place that is secure. Most people run their tumbler in a closet, a basement, a garage or a shed where it will be behind a closed door and will not be disturbed by pets and small children.

Be sure that your "secure place" isn't inconvenient to visit. You need to visit your tumbler at least a couple times per day to be sure that it is running properly.



Where the Temperature Stays Comfortable


Your rocks will be running in a barrel of water. So if you live in a climate where temperatures can drop below freezing, your tumbler will need to be in a heated building.

Running the tumbler in a location that has a temperature that is high enough to be uncomfortable for humans is not a good idea. Some tumbler motors have thermal protection which means if they get too hot they will automatically shut off. If your tumbler shuts off the mud in the barrel can harden if you don't promptly get it running again. Also, some inexpensive tumblers to not have motors that automatically shut down when they overheat, this can result in motor failure.



Where a Small Mess Will Not Be a Big Problem


You might be a very neat person, but accidents happen. You will be opening tumbler barrels that are filled with muddy water and measuring out grit and polish by the tablespoon. Rock tumblers also need to be oiled and might shed a little bit of black rubber particles. We recommend running a tumbler in a location with a concrete or tile floor and where spills can easily be cleaned up and stains will not cause a problem.
Where Noise Will Not Be a Problem


All rock tumblers make a bit of noise. You will not want it running where you watch television, in your bedroom or where you read or study. Closets, basements, garages and sheds are popular places to run a tumbler. We have lived in a few different houses. In a 100-year-old Victorian house we ran small rotary tumblers in the basement and the noise didn't bother us on the first floor. In a ranch house the basement was also a good location. We currently live in a house with a garage below the first floor. Rotary tumblers have not been a problem even when running two at a time. However, I could hear my Lot-o-Tumbler (my favorite machine!) humming at night. That was an easy fix. I rinse the rocks in the evening and restart it when I go to work in the morning.



Running on a Workbench or Table is Not Recommended


Some people want to run their rock tumbler on a workbench. We do not think that this is a good idea for these reasons:
If the tumbler moves it could slide off of the bench and onto the floor. This could damage the tumbler or cause a barrel to spill.


If a barrel jumps off the tumbler it could fall off of the bench and onto the floor, producing a spill.


Vibrations from the tumbler will travel into the surface of the workbench, and be amplified as they exit the bottom of the workbench
Plastic Barrels: The Ultimate Noise-Maker


One type of tumbler causes noise problems for lots of people. That is the toy tumblers with plastic barrels. They make an enormous amount of noise. All of the rotary tumblers that we sell have soft rubber barrels for making a minimum amount of noise. Vibratory tumblers make a bit more noise than rotary tumblers. They hum and sound like you are in the passenger compartment of a small airplane (a bit of an exaggeration - but you get the idea). They are best operated in a heated shed, a detached garage or in a part of your house that is below and away from where you want a quiet environment.

If you want more information about rock tumblers and noise please see our article: How Much Noise Does a rock Tumbler Make?



Outdoor Use Is Not Recommended


Some people might be tempted to run their tumbler on a porch or patio. These outdoor uses are not recommended for the following reasons.
Rock tumblers are air-cooled. Running them outdoors where air temperatures are high can cause them to overheat.


Running a rock tumbler in direct sunlight can cause overheating.


Rock tumblers run on electricity. Rain, snow, dew and other precipitation can cause the motor and electrical cord to become wet, resulting in damage to the tumbler or injury to the operator.


Rock tumbler barrels contain water. Operating them outdoors in freezing temperaturs can freeze the contents of the barrel, causing leaks, spills or off-balance barrels that will fall off of the machine.


Happy Tumbling!
RockTumbler.com Authors
---
| | |
| --- | --- |
| | Hobart M. King has decades of rock tumbling experience and writes most of the articles on RockTumbler.com. He has a PhD in geology and is a GIA graduate gemologist. He also writes the articles about rocks, minerals and gems on Geology.com. |