Swoboda Gem Trees
The First Tumbled Stone Trees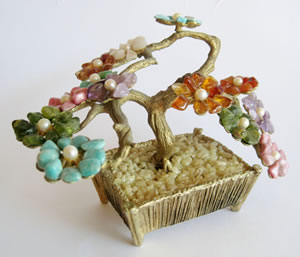 A Swoboda bonsai-style gemstone tree in a small planter with fused quartz gravel. The tree has several beautiful gemstone flowers, each formed by several tumbled stones surrounding a central pearl. The flowers were made from tumbled amethyst, aventurine, citrine, rose quartz, peridot and amazonite. Photo by Ilze Kuhlman.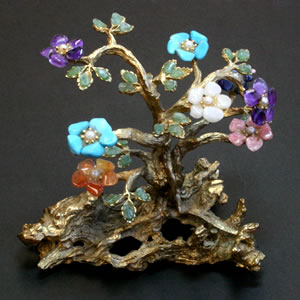 Many Swoboda gemstone trees were sold with a metal base. This one has flowers made from amethyst, dyed howlite, citrine, sodalite and rhodochrosite. It also has leaves made from green aventurine.
Gem Trees With Tumbled Stones


Swoboda Jewelry manufactured the first tumbled stone jewelry made in the United States. They also made wonderful gem trees in a variety of styles. The bonsai-style tree shown at right was one of the most popular gem tree styles made by Swoboda.

The trunks and branches of these trees were made from a single base metal casting that was typically gold plated. The branches had pads where a number of colorful tumbled stones were glued to produce small flowers or a cluster of leaves. The tumbled stone flowers were made of gemstone petals surrounding a pearl or gemstone bead.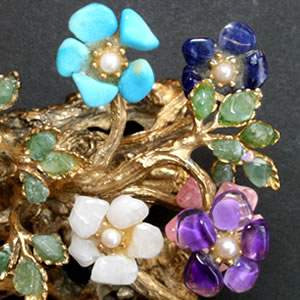 A close-up of a few flowers and aventurine leaves from the metal-base gemstone tree shown in the right column. This shows how the gemstone flowers are formed from a cluster of tumbled stones around a central pearl. Flowers shown here are made from dyed howlite, sodalite, amethyst, and white quartz.


Swoboda trees were generally small, starting at about five inches with a few dozen gemstones. The larger trees were over one foot tall, weighed several pounds and were covered with hundreds of gemstones.

The leaves of Swoboda trees were usually green aventurine or jade. Swoboda used a wide variety of stones as petals of the flowers. Some of the most commonly seen petal stones are amethyst, rose quartz, amazonite, citrine, peridot, sodalite, lapis, carnelian, moonstone, rhodochrosite, and howlite dyed to a turquoise color.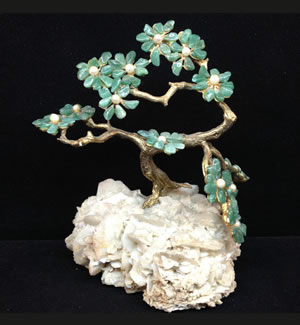 This beautiful Swoboda tree is mounted on a mineral specimen base that is either barite or dolomite. The flowers have petals of green aventurine tumbled stones surrounding a natural pearl. The branches and roots have a gold-tone finish. Photo by Kelly in California.
Swoboda Base Styles


Swoboda gemstone trees had three different types of bases: planter bases, metal bases and mineral bases.

PLANTER BASES

Many Swoboda trees were placed in a small planter such as the bonsai-style tree at the top of the right column. These planters were generally filled with a gemstone gravel that was glued or fused in place. White quartz and green aventurine were common gravels.

METAL BASES

Some Swoboda trees had a metal base. The second tree from the top in the right column has a metal base. These often depict the gnarly roots of a tree on a rocky landscape. Although one might expect these metal bases to make the trees very heavy, the features were often hollow to save on metal and reduce weight.

MINERAL BASE

A third type base used by Swoboda was a rock or a mineral specimen. These gave the trees a natural look. A bonsai-style tree on a rocky landscape gave the impression that it was tenaciously clinging to the Earth. The third photo in the right column is an example of a Swoboda tree with a mineral specimen base.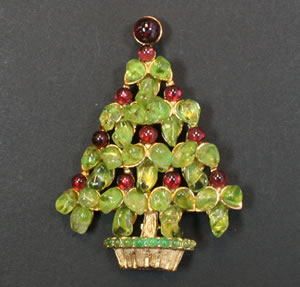 Swoboda Jewelry produced many variations of their "Christmas tree brooch." This tree has tumbled peridot for foliage and garnet beads for ornaments, with a planter accented with peridot beads.
Swoboda Christmas Tree Brooch


The most popular Swoboda tree was a small Christmas tree that was worn as a brooch.

These were small pins that ranged from about 1 1/2" to 2 1/2" in height and had gemstone foliage and ornaments. Green aventurine, jade and peridot were often used as foliage. Many different stones were used as ornaments with garnet, dyed howlite and pearls being very popular. A photo of one of their Christmas tree brooches is displayed in the right column of this page.



Swoboda Tree Trivia


Nancy Reagan, wife of then California governor Ronald Reagan, liked Swoboda gemstone trees. When the 1966 national Governor's Conference was hosted in California, she commissioned Swoboda Jewelry to produce miniature cypress trees as gifts for the governors. [source]

Happy Tumbling!
RockTumbler.com Authors
---
| | |
| --- | --- |
| | Hobart M. King has decades of rock tumbling experience and writes most of the articles on RockTumbler.com. He has a PhD in geology and is a GIA graduate gemologist. He also writes the articles about rocks, minerals and gems on Geology.com. |