The History of Rock Tumbling
Rock tumbling is as old as the Earth but people now control the process in electric tumbling machines.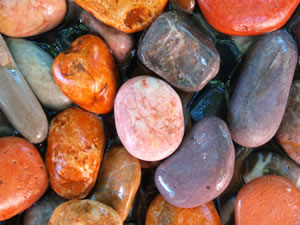 Ancient "rockhounds" collected colorful stream and beach gravel. The natural processes that created these smooth, rounded stones probably served as an inspiration for some of the earliest attempts at rock polishing. Photo © Goran Stimac iStockphoto.
Moving Water: The First Rock Tumbler


Rock tumbling began millions of years ago when waves and streams tumbled Earth's first sediments. These natural processes shape and smooth the rocks but they rarely produce a highly-polished gemstone.

Ingenious people observed this natural tumbling and decided to create controlled "rock tumbling environments" where carefully selected stones could be tumbled through a sequence of abrasives to produced brightly polished gems.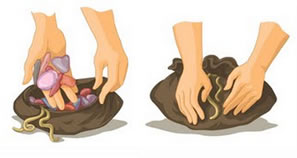 Lapidaries in ancient India used a "polishing bag". Stones were placed in a goat skin bag with water and finely ground rock. Workers rolled the bag back and forth on the ground day-after-day, tumbling the stones within the bag and polishing them [2]. Sketch by Dmitry Olijnyk.
Ancient Rock Polishing Methods


In ancient Egypt, slaves chipped carefully-selected stones into preliminary shapes and then moved them back and forth in troughs filled with sand and water to smooth their surface and polish them. This manual "tumbling" polished the stones but was very time-consuming, often taking many months to polish a stone [1].

Lapidaries in India used a "polishing bag". Stones cut to preliminary shapes were placed in a goat skin bag with water and finely ground rock. Then workers rolled the bag back and forth on the ground. Doing this day-after-day, would slowly polish the stones in the bag. [2].

Other lapidaries in ancient India made teeter-totter boards that rolled jars filled with pre-cut beads, abrasives and water back and forth to produce polished beads [3]. This simple machine might be considered as the first "rock tumbler".

These were some of the first efforts at "rock tumbling". Unfortunately, all of these methods were very labor intensive, required months to complete and had a very limited output.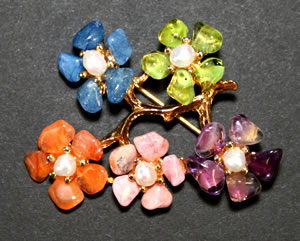 A tumbled stone and pearl brooch in a colorful floral design made by Swoboda Jewelry. The stones were mounted on a plated base metal setting. Stones in this design are peridot (green), amethyst (purple), rose quartz (pink), carnelian (orange), blue quartz (blue). Swoboda Jewelry ignited the public's interest in tumbled stones throughout the United States.
Swoboda Jewelry


In the early 1950s Edward Swoboda of Los Angeles, California acquired a large quantity of tourmaline and beryl that was very colorful but not of adequate quality to be sold as faceting rough. He cut and polished some of these stones into baroque shapes by hand and used them to make small jewelry items which were immediately popular with his customers. To speed production he collaborated with Warren Jones to build a rock tumbling machine and develop a method that produced large numbers of baroque-shaped polished stones with very little labor [3].

These tumbled stones were mounted into plated base metal settings to produce beautiful jewelry items such as the floral brooch shown in the photo at right. One of Edward Swoboda's ads from 1952 described the stones as: "gemstones in natural, baroque shapes, uncut but highly polished" [4]. A large collection of brooches, necklaces, earrings and other jewelry items adorned with small tumbled stones became the product line of Swoboda Jewelry which was founded in 1956 and operated until 1979 [5].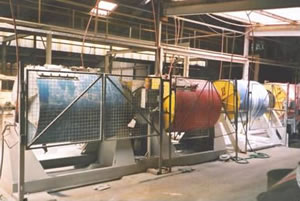 Craftstones is the world's leading producer and wholesaler of tumbled stones. They use giant 6000-pound capacity rock tumblers. Image courtesy of Craftstones Europe.
Craftstones


Shortly after Edward Swoboda's success, Herb Walters was experimenting with rock tumbling and developed a process that could produce tumbled stones in large enough quantities to support a wholesale trade. This effort was very successful and his business, Craftstones, of Ramona, California, produced "baroque gemstones" that were used in a variety of jewelry and craft projects.

Some of the early work done by Craftstones was done in small "paint can" tumblers. As they improved their methods and demand for their products grew they built larger capacity tumblers. Craftstones soon became the world's leading producer and wholesaler of tumbled stones. Today they have facilities in California, the United Kingdom and South Africa and can produce 60 tons of tumbled stones per month using giant 6000-pound capacity tumblers [6].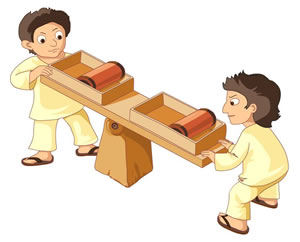 Lapidaries in ancient India made teeter-totter boards that rolled jars filled with pre-cut beads, abrasives and water back and forth to produce polished beads [3]. These might be considered to be the first "rock tumbler". Sketch by Dmitry Olijnyk.
Tumbled Stone Popularity Explosion


The early success of Swoboda Jewelry and Craftstones fueled public interest in tumbled stones throughout the United States. This inspired many other ingenious people to develop rock tumblers. By 1955 at least a dozen companies were offering tumblers, "polished baroques", bell caps and tumbler plans through ads in Lapidary Journal magazine. By the 1960s rock tumblers were being manufactured in the United States by a large number of companies.

Almost any issue of Lapidary Journal published during the late 1950s and 1960s had many ads offering rock tumblers from a variety of manufacturers. The April 1964 "Rockhound Buyer's Guide" issue of Lapidary Journal listed 78 companies as tumbler manufacturers [7]. Most of these tumblers were small rotary machines that processed a few pounds of rock. The first vibratory rock tumblers were also produced in the 1950s.
Paint Can Tumbler Barrels


Many of the small inexpensive rock tumblers of the 1950s and early 1960s used metal paint cans as barrels. They made an enormous amount of noise and didn't last very long. The cans would wear out quickly. Also, any dent in the can became a point of attack of the grit and tumbling rocks in the barrel and quickly was worn into a hole. These problems with metal barrels inspired several manufacturers to produce rubber barrel-liners to reduce the noise.

One company offered a "tire tumbler" that used auto tires instead of a barrel. The tires ran on a pair of long shafts. Each tire was supposed to hold and process about six pounds of rock and provide "fast, quiet and continuous operation".

Several companies offered plans that could be used to "build your own" rock tumbler that would run metal paint cans as barrels. A partial list of tumbler manufacturers from the 1960s is posted in the right column of this page.
Mobile Oil and PetroFina Loyalty Premiums


In the late 1960's two petroleum company loyalty programs in Europe caused an explosion in the demand for tumbled stones. PetroFina, a European petroleum company was developing a charm bracelet giveaway program to promote customer loyalty for their Fina gas stations. They decided to give a small gemstone charm to every customer who purchased a tank of gasoline. Then, on the tenth fill-up, the customer would receive a charm bracelet on which the gemstone charms could be worn. Fina needed millions of low-cost gemstone charms for this promotion.

A number of agate cutters in the Idar-Oberstein area of Germany responded to Fina's call for small gemstone charms. Among them were Hermann Stutzel, his daughter Elke Welsch and son-in-law Dieter Welsch. They rough-tumbled their materials in concrete mixers and developed a procedure for finishing them in smaller tumblers. They produced large quantities of tumbled stones for Fina's loyalty program. Today the Welschs continue to produce tumbled stones or "trommelsteine" as they are locally known [8].

Mobile Oil had a similar gemstone give-away program in Europe and needed millions of tumbled gemstones in ten different varieties. Craftstones was able to source an adequate supply of rough and produce enough tumbled stones to supply Mobile's needs.

These premium programs brought an enormous amount of attention to tumbled stones in Europe because the stones were unique and most people had never seen them. Unfortunately an oil company loyalty program using tumbled stones as a premium was not conducted in the United States.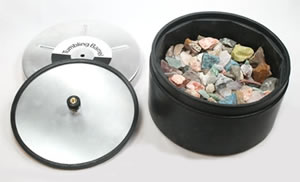 In the late 1960s Lortone introduced a rubber rock tumbler barrel with a faceted interior. The rubber barrel produced much less noise than metal or plastic barrels. Thumler's and Scott-Murray also developed innovative rubber barrels. This and other improvements distinguished these companies and helped them persist in the marketplace while other companies stopped producing rock tumblers.
The First Rubber Tumbler Barrels


Running a paint can rock tumbler was noisy business and the smooth inside walls allowed the load of rocks to slide instead of tumble. By 1970 several companies were producing much quieter rubber and plastic barrels, some with faceted interiors to facilitate a tumbling action.

Scott-Murray offered an "all rubber hexagonal barrel tumbler" that improved tumbling action over the paint can barrels. At about the same time Lortone introduced a new ten-sided barrel that "gives almost twice the tumbling action of conventional six-sided barrels". Thumler's Tumblers introduced a fifteen-sided rubber barrel.

The multi-sided rubber tumbler barrel was a significant improvement over the paint can. The companies willing to invest in producing these superior tumbler barrels distinguished themselves in the market place. Noise and leaking barrels were the primary complaint of people who lived in a house with an operating rock tumbler. Rubber tumbler barrels solved these problems - or at least reduced them significantly.

Another problem with the paint can machines is that tumbling rocks in a metal can with silicon carbide sometimes produced gas. The gas would build up in the can and sometimes developed enough pressure to blow the lid off of the can - splattering grit, rock mud and tumbled stones all over the workshop. Rubber barrels had fewer problems with gas.
Tumbler Manufacturers 1960's

Adams Machine
Le Borget
Bobo's Lapidary
Lewaco
Bouton's Lapidary
Little Gem
Covington Lapidary
Lortone
Craftools
Mattke Tire Tumbler
Dyson
Pastime Lapidary
Gem Lapidary
Pomona Tumblers
Gemaco
Rolly's
Genii
Scott-Murray
Geode Industries
Star Diamond
Heathcote Tumblelap
Thumler's Tumblers
Hillquist
Victor
Kiva
Ward's
Landon
Yankee Crafter
These are a few of the many tumbler manufacturers advertising in the Lapidary Journal during the 1960's.
Lots of Small Manufacturers Disappear


In the late 1950s and early 1960's every rockhound wanted a rock tumbler. That immediate demand from rockhounds across the United States supported a large number of rock tumbler manufacturers. However, by 1970 almost all of the long-time lapidary enthusiasts who wanted a rock tumbler had one running happily in their garage or basement. That caused a slowing of tumbler sales in the United States.

As the sales spike subsided there was not enough room in the market for dozens of tumbler manufacturers. Those who did not have a superior product received fewer orders and stopped manufacturing. Three recessions in the 1970s and early 1980's produced a difficult economic environment for both hobbyists and manufacturers.

Two manufacturers of small hobbyist tumblers who started in the 1950s, innovated, survived multiple recessions and remain popular today are Lortone and Thumler's. They innovated to produce quiet rubber-barrel machines that worked well. Also, their machines were not intimidating for the hobbyist who didn't have a background in maintaining machinery.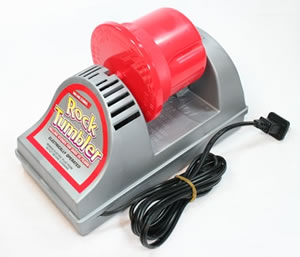 In the 1980s and 1990s a large number of companies started manufacturing small toy plastic rock tumblers. This is a photo of a "Rolling Stones" rock tumbler manufactured by Natural Science Industries, Ltd. This same model is also sold under the name "Smithsonian" rock tumbler, "SciEd" rock tumbler and the "Edu Science" rock tumbler. These toy tumblers had a limited life-span and tumbled a few ounces of rock.
The Era of Plastic "Toy" Tumblers


By the 1980s a number of companies started to produce very small tumblers with plastic bases and plastic barrels. They had a retail price that was about 50% lower than the hobbyist tumblers made by Lortone and Thumler's.

The hobbyist tumblers made by Lortone and Thumler's in the 1980s had a metal base, quiet rubber barrels and durable construction that would stand up to years of continuous use. The plastic tumblers were very noisy, tumbled less than one pound of rocks, leaked frequently, rarely produced an excellent polish and were typically broken or worn out by the time they tumbled two or three batches of rocks.

The toy plastic tumblers are still sold in large numbers. Surprisingly, well-known institutions including National Geographic and the Smithsonian have placed their brand name on them. They are manufactured to target the novelty and Christmas gift market where a low-priced toy will produce volume sales.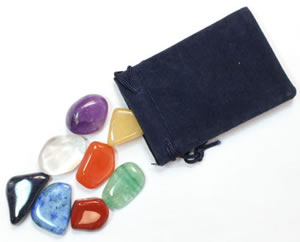 Internet searches for "healing crystals", "energy stones", "chakra stones" and related topics return an enormous number of vendors selling tumbled stones and books about using stones for personal benefit. Although none of these benefits have been scientifically proven, a very strong public interest in them continues in the United States. Tumbled stones fit nicely into this market because they allow a person to obtain specimens of historically popular gemstones such as agate, amethyst, bloodstone, carnelian, citrine, chrysoprase, jasper, lapis, and moonstone at a price that anyone can afford.
Sustained Demand for Tumbled Stones


Although the initial uses for tumbled stones in Europe and the United States was for tumbled stone jewelry, the stones have become extremely popular in craft and home decor projects. Today tumbled stones are used as accents in centerpieces, ground cover in potted plants, gravel in aquariums, vase filler in flower arrangements. They are used to make gemstone critters, Christmas decorations, refrigerator magnets and many other projects. There are a wide diversity of other uses for tumbled stones.

Today there is also an enormous demand for tumbled stones for use as "healing crystals", "energy stones", "chakra stones" and other metaphysical objects. Although none of these benefits have been scientifically proven many books have been published about how gemstones can be used for personal benefit. Tumbled stones hold a strong position in this market because they allow a person to obtain specimens of historically popular gemstones such as agate, amethyst, bloodstone, carnelian, citrine, chrysoprase, jasper, lapis, and moonstone at a price that anyone can afford.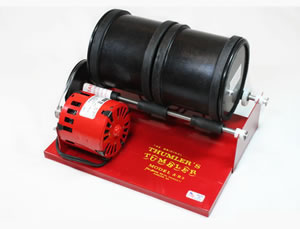 The Thumler's A-R2 rock tumbler of today looks almost exactly like the machines that were produced in the early 1960s. Replace the rubber barrels with metal quart-size paint cans and position the rollers a little differently and it would be hard to tell them apart!
Quality Persists in the Marketplace


The dominant hobbyist rock tumbler manufacturers in the market today are Lortone and Thumler's. For nearly sixty years their machines have held up well under continuous use, producing nicely-polished stones for any operator who learns how to use them.

My father bought a Thumler's A-R2 tumbler for me in the early 1970s and I ran it for many years. Then in 2005 I decided to purchase another tumbler for family use and was surprised to see the Thumler's A-R2 was still available and produced with an almost identical design! I bought another one and still use it today. Quality persists in the marketplace.

The current line of Lortone tumblers have changed very little since the late 1960s. As an example, the Lortone Model 3A tumbler was produced in the mid-1960s as the "Gem Sparkle" tumbler. It was available at that time with a plastic barrel. Then Lortone introduced a rubber barrel.

The long-lasting designs of the Lortone and Thumler's tumblers give them significant recognition in the marketplace. They have been around long enough that not only parents, but grandparents can purchase them for a child's gift and say "I had a tumbler just like this one when I was a kid."

That is a powerful market position.
Information Sources
[1] Modern Rock Tumbling, Steve Hart, Little Red Store Publishing, 2008.
[2] The Manufacturing of Ancient Stone Beads, Gunar Myhlman, AncientBead.com website article, accessed March, 2012.
[3] The History and Future of Gemstone Tumbling, Anonymous Author, Lapidary Journal, May, 1964.
[4] "The Gift", An Edward Swoboda advertisement, Lapidary Journal, December 1952.
[5] Swoboda Then and Now, Liz Bryman, JewelCollect.org website article, June 2001.
[6] About Craftstones, An "about us" page on the Craftstones.com website, accessed, February, 2012.
[7] An Up-to-Date Summary of Best Tumbling Techniques, editor's preface, Lapidary Journal, May, 1964
[8] Stone Cutters for Over 80 Years, Welsch Trommelsteinschleiferei, English language article on the Welsch-Edelsteine.de website, accessed, February, 2012.
The Future of Rock Tumbling


Rock tumbling and tumbled stones continue to attract many people. "Rockhounds" are the largest group of people who buy rock tumblers. Children and adults interested science, rocks and minerals are another large group. People interested in producing tumbled stones for jewelry and craft projects purchase lots of tumblers.

Even with competition from electronic devices and other modern hobbies, people still have a strong interest in tumbling rocks. It is a great activity to share with family and friends.



Happy Tumbling!

RockTumbler.com Authors
---
| | |
| --- | --- |
| | Hobart M. King has decades of rock tumbling experience and writes most of the articles on RockTumbler.com. He has a PhD in geology and is a GIA graduate gemologist. He also writes the articles about rocks, minerals and gems on Geology.com. |