Our Media Bucket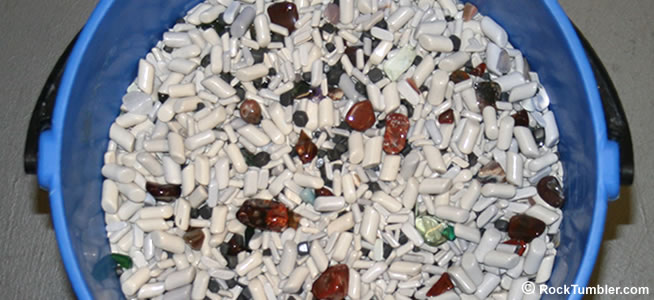 This is looking into our media bucket. Notice there are all different sizes of ceramic media and some small tumbled stones. A range of media sizes works great for cushioning, particle size balancing, filler, and improving the tumbling action in your barrel.
We Always Use Media


Our goal is quality not quantity when we tumble. We tried ceramic media a number of years ago and are thankful that we did. It has saved us time and disappointment. We get higher quality stones and have only a few that need a second run through the tumbling process. We now run a minimum of 20% media in every batch of stones that we tumble.

Some batches of rough require more media depending on the material. If all of the rough is large pieces we use about 30-40% media to fill in the spaces between the large pieces of rough to get more points of contact on the stones. Rough such as crystalline quartz and obsidian can bruise or chip easily and must be cushioned with media to prevent bruising the stones. To properly cushion the stones at least 50% of the barrel's capacity should be ceramic media.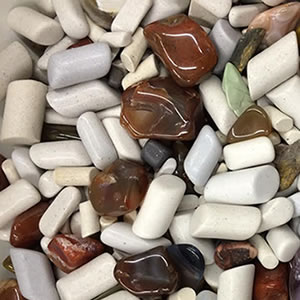 Here you see some lake superior agate and a few other tumbled stones mixed in our media bucket. We use stones that are not quite ready as media. They work like media and have a chance to become high quality stones.
Not All of Our Media Is Ceramic Pellets


Our media bucket contains a lot of stones that have already been tumbled. Small pieces of rounded agate or other small rounded rough material is just as effective as ceramic media. These may be stones that are smaller than we desire or stones that can be improved by going through the tumbling process again. If we see great stones in our media bucket they get pulled out and put in our collection.



In Our Media Bucket is a Range of Sizes


We have learned through tumbling many batches of rough that there is no single size media that works every time. A mix of sizes works best. It gives us great results and we don't have to separate the media by size. We simply separate the media from the polished stones and keep them in a bucket until the next time we load a barrel.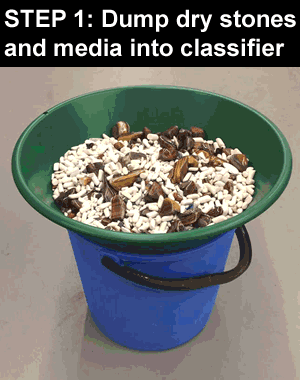 A short photo sequence showing you the process of separating the media and tumbled stones using a classifier and bucket.
Separating the Media from Tumbled Stones


It used to take a lot of time to separate our tumbled stones and media by hand. We have found a much simpler and faster way to do it. All you need is a bucket, with a top opening no greater than 13" and a 14" classifier. The classifier has 7/16", measured on the diagonal, openings in the bottom. This size opening is good for us because we prefer stones that are larger in size.

If you enjoy small stones or know someone who does, dump the media bucket out on a towel and go prospecting for gems. They can be beautiful in a jar and work great for a variety of craft projects.

Our setup works best if the stones and media are dry so after tumbling we spread the stones and the media on thick towels to dry. When they are dry we place a classifier on top of our media bucket and make sure it is steady enough not to flip or tip over. We then pour the mix of dried tumbled stones and media into the classifier and gently shake the classifier to allow the media and undersize stones to fall through into the bucket. You might need to move the material around by hand to get the last few small stones and ceramic media to fall into the bucket. At this point you have a classifier full of polished stones and a bucket of media ready for your next batch of tumbled stones.

The classifier and media bucket have saved us a lot of time and made tumbling more enjoyable. One final tip... Cover your media bucket between times of use to reduce the chance of dust or contaminants getting in. A plastic bag pulled over the top of the bucket can work great. Carefully lift the bag off of the bucket when you are ready to get a scoop of media.

Happy Tumbling!

Article Authored by
---
| | |
| --- | --- |
| | Bradley Cole: Bradley is the manager of RockTumbler.com and has authored much of the content on this website. He also does customer support, photography, maintains the website, and consults with customers about rock tumbler repair and maintenance. |
| | Hobart M. King: Hobart is the owner of RockTumbler.com and has authored much of the content on this website. He has a PhD in geology and is a GIA graduate gemologist. He also writes most of the content for Geology.com. |