My Rock Tumbler's Motor is Hot! Is That Normal?
Most motors will be hot to the touch when operating. Here are a few tips for safe operation.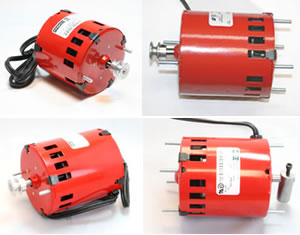 ADVERTISEMENT
Rock Tumbler Motors Run Hot


Many people who own rock tumblers notice that the tumbler's motor is very warm - even hot - while the tumbler is operating. They are often concerned that something is wrong with their tumbler. We understand completely because we were surprised the first time we discovered that our tumbler's motor was hot.

Hot tumbler motors are normal. Most rock tumblers have air-cooled motors that are designed to run hot to the touch. You will probably not burn your fingers if you touch the motor quickly. However, if you allow your fingers to remain in contact with the motor for more than a moment, the heat will be uncomfortable. That motor temperature is normal.



Thermally Protected Motors


High-quality rock tumblers have thermally protected motors. These motors are designed to shut off if they become overheated. This is a safety feature intended to prevent fires.

We sell several Thumler's Tumblers that are shipped from the factory with thermally protected motors. They are the Thumler's A-R1, A-R2, A-R12, Model B, U-V10 Industrial Model, and U-V18 Industrial Model. We believe that these are some of the highest quality motors used in hobbyist rock tumblers today.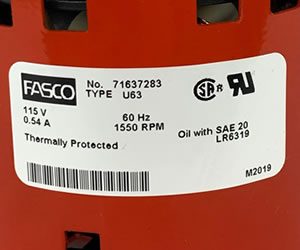 Thermally protected motors usually have the words "thermal protection" or "thermally protected" on the motor nameplate. Thermal protection is a safety feature and a feature that can extend motor life in some situations. Motor manufacturers want you to know if the motor is thermally protectited - it is a sign of quality.
ADVERTISEMENT
Our Experience with Hot Motors


We have been using Thumler's Tumblers for about 50 years and have sold thousands of their tumblers to customers. We have never heard of a fire or a building electrical problem being attributed to a Thumler's Tumbler. We have never heard of a fire or an electrical problem being attributed to a Lot-o-Tumbler (another brand of tumblers that we sell).

At almost any time, we have between one and four rock tumblers running at our office. This is a combination of Thumler's Tumblers, Lot-o-Tumblers, and Lortone tumblers. We estimate that the tumblers at our office have experienced a total running time of at least 50 years. Out of all of that time, we have only experienced a motor overheating to the point of shutting off one time.

That overheating was on a Thumler's A-R2, when one of the barrels got wedged between the drive shaft and the idler shaft. That kept the drive shaft from turning, but the motor kept running and working hard trying to turn that stuck driveshaft. The motor overheated. The motor stopped operating. We found the tumbler stopped that evening. The room had an odor of burned plastic. We had to replace the motor. It would no longer operate.

We have had good luck with our tumbler motors. This good luck may be in part to three habits which we practice: 1) we keep our rock tumbling area clean and free of excess dust (which air-cooled motors will inhale), 2) we keep our tumblers clean, and, 3) we oil the motors of our rock tumblers regularly. These are things that anyone who runs a rock tumbler should do.


Things You Should Watch For


If a motor on a rock tumbler begins to overheat, you will likely smell it. Overheating motors often emit an odor of hot plastic, hot oil, or something burning. If you experience this odor, do not touch the tumbler. Instead check the outlet where the tumbler is plugged in.



ADVERTISEMENT



If you see smoke coming from the outlet, or the if outlet plastic is deformed, or if the wall is hot, do not touch the plug. Instead, leave the building and contact someone who can help right away. Call 911 if you do not have immediate help from someone who is trained to evaluate this situation. (We have never experienced this situation and have never heard of it occurring with any of our customers.)

If you don't see smoke, deformed plastic, or feel heat around the outlet or the plug, then unplug the tumbler and allow it to cool. After it is cool, try plugging it back in and see if the motor will run. If it runs, then unplug it, use compressed air to blow the dust out of the inside of the motor, wipe the motor with a clean cloth, oil the motor, and clean the area around the tumbler - your goal is to rid the area of dust that might be inhaled by the motor. Then, when you start using the tumbler again, keep a close watch on it to make sure that it is running normally. If your motor fails to run after plugging it in, then you likely need a new motor.


Things That Can Cause Overheating


Here are some things that can cause your rock tumbler to overheat. Do your best to avoid them!
Covering the tumbler with a box to reduce noise (a box over the tumbler will cut off the supply of the fresh air needed to cool the motor). Instead of covering the tumbler to reduce noise, lubricate the motor and bearings.


Operating the tumbler in a hot shed, in direct sunlight, or another hot environment. We have heard from numerous customers who operated a tumbler in these conditions, and on a hot summer day they went to check the tumbler and it was not operating. Most likely the tumbler overheated and stopped operating.


An event that adds resistance to the motor (a barrel jumping off of the shafts and wedging between them will impede the turning of the motor and cause it to fail).


Poor bearing maintenance (dirty bearings create friction and apply extra load on the motor). Keep your bearings lubricated, keep them clean, and replace them if they stop operating smoothly; this will save your motor.


Overloading the barrel. This can occur by adding too much volume, but can also occur when high-specific-gravity materials such as hematite or pieces of metal are tumbled. Overloading can also be caused by running a large barrel on a tiny tumbler that was not designed for the heavy load. An overloaded tumbler will overheat.


A problem in the motor that causes it seize up or fail to start turning (a dropped ceramic pellet that bounces into one of the motor vents will likely kill the motor).


An accumulation of dust or dirt in or on the motor that prevents it from cooling properly. (Don't operate a tumbler in a dusty environment. Keep the tumbler and surrounding area swept clean. Air-cooled motors inhale incredible volumes of air every minute.)
Any machine operated by electricity can be a fire hazard under the right conditions, many of which are listed above.
There is one situation that should concern you. If you detect a hot oil or burnt plastic odor coming from your motor, or see smoke, that is a time to unplug the motor and contact the manufacturer.
Be Concerned About Motor Safety


Here are some general tips to keep your rock tumbler operating safely. Some of them also prevent overheating.

unplug the motor before doing maintenance or repair


use a tumbler with a thermally protected motor


take care of the cord, inspect it regularly, and repair if it is damaged


keep pets and small children away from where a motor operates


operate the tumbler according to the manufacturer's instructions


locate it where it has access to plenty of fresh air


locate it away from combustible materials


locate it away from sources of heat


operate it in a clean and uncluttered environment


keep the motor clean and in good operating condition


inspect and lubricate the motor and bearings according to instructions


wear safety glasses during use, repairs, and maintenance


don't wear jewelry, loose sleeves, or dangling hair when working near a tumbler


if you have doubts about your motor, contact the manufacturer


if you must replace a motor, obtain a replacement of the same make and model


using GFCI receptacles can improve the safety of your work area

A safety-conscious person who does the above can reduce the risk of fire, reduce the risk of injury, and prolong the life of the tumbler.


Quality, Care and Gentle Use


We advocate buying a quality tumbler, made by a company that has been in business for a long time.

Some manufacturers design and build with a goal of producing the lowest-cost item on the market. The most expensive part of most rock tumblers is the motor, and using a low-quality motor is a place where costs can be cut. You get what you pay for.

We also advocate "care and gentle use" of the items that you purchase. It does not matter if it is a rock tumbler, a car, or a toaster. Treat your machines with respect. Keep them clean. Lubricate them regularly. Doing these things will often enable you to enjoy your possessions for a much longer time.
Some Motor Trivia


Most modern homes have at least two dozen small air-cooled motors working in them every day. These motors are in furnaces, air conditioners, refrigerators, ceiling fans, space heaters, recliners, washing machines, dryers, waste disposals, ovens, microwaves, attic fans, hair dryers, garage door openers, pumps, toys, and more. Most people are surprised to learn how many motors are working in their home.

Motors in the home cause occasional fires. They are the small machines that we live with, so we should buy quality products, install them properly, operate them gently, and maintain them according to the manufacturer's instructions.



Happy Tumbling!

RockTumbler.com Authors
---
| | |
| --- | --- |
| | Hobart M. King has decades of rock tumbling experience and writes most of the articles on RockTumbler.com. He has a PhD in geology and is a GIA graduate gemologist. He also writes the articles about rocks, minerals and gems on Geology.com. |