Used Rock Tumblers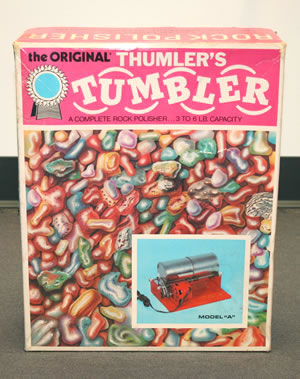 This Thumler's Model A rock tumbler from about 1970 still had a good motor and base. It was intended to run metal paint cans as barrels. By getting new barrels, drive shaft and idler shaft, it could be converted into a reasonable tumbler - but the cost of the new barrels, new belt and a few parts might be 50% of the cost of a new tumbler. If you buy this tumbler for just $14.99, pay for postage, then buy some parts, you might spend more than buying a new tumbler - the new tumbler would be a much better deal.
Should I Buy a Used Rock Tumbler?


Lots of people think about purchasing a used rock tumbler to save money. A used machine might be a good purchase if you have these three things going for you: 1) you get a fair price; 2) you are buying a tumbler for which replacement parts are still available; and, 3) you know how to determine if the tumbler is in good running condition.



Avoid tumblers that are "no longer manufactured." If you buy an obsolete tumbler and need a belt, a bearing, or a motor you will be out of luck. Lots of people contact us looking for ancient tumbler parts. We don't have them. We don't know where you can get them. We can only recommend the parts that we sell for the tumblers specified by the manufacturer.




What Type of Tumbler Do You Need?


It is very important to purchase a tumbler that is matched to your budget and to the number of rocks that you have to tumble. If you don't need an extra large tumbler it is probably not a good idea to buy one - even if you get a fantastic deal on a used machine.

Large tumblers are expensive to operate. For example, a 12-pound capacity tumbler uses one pound of grit for each grinding step. That large tumbler will cost a few dollars a week to operate - just for the grit. You will also have an expense for polish, media, tumbling rough and electricity. (See our article on the costs of running a rock tumbler.)

If you have lots of rough to tumble, a tiny tumbler is going to frustrate you. If you have twenty pounds of rough, a tiny tumbler that processes two pounds will take nearly a year to work through your rough!
Examine the Tumbler Carefully


First check the electrical cord and motor to make sure that they are in perfect condition. If they have any burn marks, melting, cuts, modifications or anything suspicious, I would not buy the tumbler. You don't want to buy a tumbler that might have an electrical problem. I would also reject a motor that has rusty metal parts or looks like it has been stored or operated in a dirty environment.

If a used tumbler needs a new motor, I would buy a new tumbler instead. A new motor will cost between $40 and $100 - if you can find one. I would rather apply that money toward a new machine. If the tumbler is not being manufactured today then you might be unable to find a suitable motor.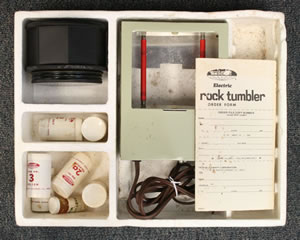 Used rock tumblers are often sold with a supply of grit, polish and other materials. Using the coarse grit and medium grit might work without a problem. However, if the fine grit or the polish container has been opened we would not use them. It is safer to toss them out and not waste a couple of weeks tumbling nice rough in contaminated grit. We would gladly pay the expense required to use good supplies.
How Well Does it Run?


When buying a used tumbler it is very important to see if it runs well. Place the machine on the floor, plug it in and let it run until the motor becomes warm to the touch (this is normal - most tumbler motors run warm to the touch).

Potential problem signs are: some noises and squeaks can be solved by lubrication. But, grinding sounds or a burning smell coming from the motor can indicate big problems. Look for the source of the noise to see if the machine simply needs lubrication or if replacement parts are required. (See our article on rock tumbler noise.)

Place a barrel full of rocks on the machine. The motor should not strain and the barrel should turn smoothly. Problems here might signal a bad motor, bad barrel, poor alignment, or bad bearings.

Some of these are easy to fix. Some can cost a lot of money. Again, if the tumbler is not currently being manufactured the parts that you need will probably be impossible to find.
Examine the Rubber/Plastic Parts


Rubber and some plastic parts deteriorate with age or with storage in sunny, hot or cold environments. Are the rollers in good condition? Are the bearings clean, smooth-working and free from dirt and cracks?

Is the rubber barrel in good condition? Remove the lid and squeeze the barrel. When you squeeze it do you see cracks opening up in the rubber? If the rubber is stiff or cracked it might be old. New barrels are not cheap.

Examine the walls, bottom and lid to see if they are wearing thin. Look for sticky rubber - it is a sign of deterioration. Carefully check the rubber where the lid seats and seals for nicks, cracks or deformation. You don't want a barrel that leaks!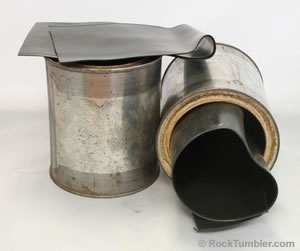 The Thumler's Model A tumbler shown in the photo at the top of this page was supplied with "barrel silencers." These were thin sheets of rubber that were used to line the inside of the paint cans, protecting them from abrasion and cutting down on the noise. We have never used them but we believe that they would be an awful mess! The paint cans often "popped a lid" and that made a terrible spill.
Be Careful of "Vintage" Tumblers!


Lots of people buy vintage rock tumblers at yard sales or online auctions. They think that they will clean them up, replace a couple of parts and have a brand new machine. Then they learn that it is impossible or very difficult to get replacement barrels, bearings, belts, motors and other essential parts.

I would not buy one.

If you buy a tumbler that is not currently being sold in new condition, expect to have trouble buying replacement parts.

Tumblers made in the early 1970s or older often have barrels made from paint cans or hard plastic. These make an enormous amount of noise and usually don't last very long. New, rubber tumbler barrels may not fit these machines or fit them poorly.



Used Tumbler Supplies


If your used tumbler comes with some rough rocks or ceramic pellets they will probably work fine. However, if the tumbler comes with a package of fine grit or polish that has been opened you should assume that they are contaminated. Trying to get a good polish when your fine grit or polish is contaminated is a waste of time. I would throw them out, or be willing to waste a couple of weeks testing them on low-value rough.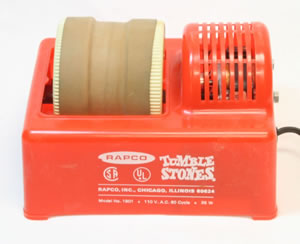 Photo of the Rapco "Tumble Stones" rock tumbler with the thick-wall plastic cylinder covered by a rubber band sleeve being used as the barrel. This is how the tumbler was sold starting in about 1972.
Toy Tumblers Have a Very Short Life


Rotary rock tumblers that have a plastic barrel are toy tumblers. These tumblers might survive tumbling a few batches of rocks. If you buy one in used condition, don't expect it to last very long. (We don't sell toy tumblers in new condition because they get lots of bad customer reviews and they don't last very long. The tumblers that we sell are hobbyist quality that usually last for years of retular use.)

All of the rotary tumblers on the market today that are worth buying in used condition have barrels made from rubber or metal with a rubber liner. Tumblers made by the following companies are hobbyist or commercial models that might be worth buying in used condition: Lortone, Thumler's, Lot-O-Tumbler, Covington, Tumble Bee, and Diamond Pacific. These tumblers are quality machines and you can usually get replacement parts for models that are currently manufactured.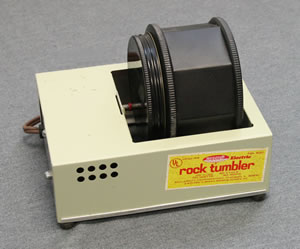 This used Skilcraft tumbler from the 1970s has a plastic barrel with a screw-on lid. That barrel will make a lot of noise and will probably leak.
Where to Buy a Used Rock Tumbler


Our highest recommendation for a place to buy a used rock tumbler would be a rock shop. Here you will probably be buying from a person who knows about rock tumblers and is not trying to dump a lemon on you. Another good place might be a rock and mineral club where members sell and trade their excess items. Here you will likely be buying from someone interested in the hobby who is selling a machine that has been taken care of.

Places to be very careful when buying a used rock tumbler are yard sales, flea markets and online auctions. At these places it can be very difficult to get information about the machine - it might have been yanked out of an attic last week and now it is for sale. The seller knows nothing about it. It can also be impossible to examine and test it properly.
Don't Pay Too Much!


We see lots of people paying too much for used rock tumblers. We collect vintage tumblers and see the prices that they are sold for in used condition. Buyers often bid the price up to an amount that is more than what an equivalent new tumbler would cost. Sometimes they pay a lower price, but then the cost of replacement parts will drive their total cost to higher than a new tumbler.

If you are buying a used machine you should be paying way less than the cost of an equivalent new machine. These machines have a limited life and if the machine that you are buying is 1/2 worn out you should be paying way less than 1/2 current retail.

Finally, we would not purchase a used tumbler that is no longer made. If you buy one you will quickly find that replacement parts are no longer available. The first time you need a lid, a bearing, a belt or a barrel your tumbler will be inoperable.



Good Luck!


Good luck if you are buying a used rock tumbler. We hope you get a great machine and a great deal.

Happy Tumbling!
RockTumbler.com Authors
---
| | |
| --- | --- |
| | Hobart M. King has decades of rock tumbling experience and writes most of the articles on RockTumbler.com. He has a PhD in geology and is a GIA graduate gemologist. He also writes the articles about rocks, minerals and gems on Geology.com. |