Smithsonian / Rolling Stones Rock Tumbler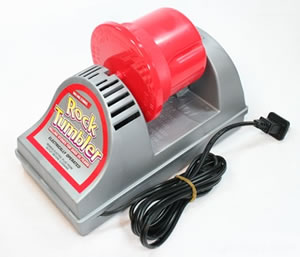 The Smithsonian / Rolling Stones Rock Tumbler.
The Best-Selling Rock Tumbler of All Time?


This little plastic rotary tumbler has been around for a long time. Sold since the 1970s in a number of models under a variety of different names, the "Rolling Stones Rock Tumbler" is probably the best-selling rock tumbler of all time. Its popularity comes from its low price and from its presence in the stores of many different online and brick-and-mortar retailers.



Sold as a Kit


The tumblers are always sold as part of a kit that contains everything needed to tumble a single batch of rocks. The kit typically includes: tumbler, barrel, rough rocks, silicon carbide grit, rock polish and instructions. A small group of jewelry findings such as a keychain, pin, tie tack, earrings and pendant are included. These enable the user to make a few gift items with the rocks that were tumbled.

Retail prices vary widely, but the kit normally retails for $50 or less. This low price allows the buyer or gift recipient to try the rock tumbling hobby at minimal entry cost. Refill kits can be purchased for about $15.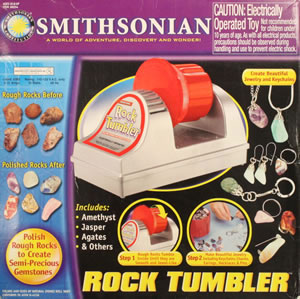 Box with Smithsonian Institution branding.
Smithsonian Rock Tumbler


Although the name "Rolling Stones Rock Tumbler" has been persistently used, the tumbler has also been packaged and sold as the "Smithsonian Institution Rock Tumbler." Other names that we have seen on these machines include: "SciEd Rock Tumbler," "Edu Science Rock Tumbler" and "NSI Rock Tumbler." This last name is derived from the manufacturer, Natural Science Industries, Ltd.



We Sell Hobbyist Tumblers


We don't sell the Rolling Stones Rock Tumbler or other toy tumblers with low-capacity plastic barrels. The machines that we sell are hobbyist-level models designed to quietly tumble rocks and last for years. They have a higher price.

We purchased a Smithsonian Institution Rock Tumbler (photograph at right) and ran it. We believe that the tumbler might last long enough to produce a few batches of rocks. Each batch will yield a small handful of tumbled stones with fair shaping and a fair polish.

If you simply want to try rock tumbling for one or two batches of rocks and spend the minimum amount of money, this machine could be a good buy. Some of the people who reviewed this tumbler on major retail sites say that it was an inexpensive way to give their child a rock tumbling experience. They spent less than $50 for an "activity" instead of spending $100 to launch a "hobby" that they might not continue.

Many of the reviewers felt that the four-week wait was excessive - but that is an unavoidable part of tumbling in a rotary tumbler. We recommend an even longer tumbling time to get nicely-rounded rocks.

One of the biggest complaints was the amount of noise produced. This tumbler is exceptionally loud! But that is to be expected when you place a handful of rocks in a small plastic barrel and tumble them.

Related: How Much Noise Does a Tumbler Make?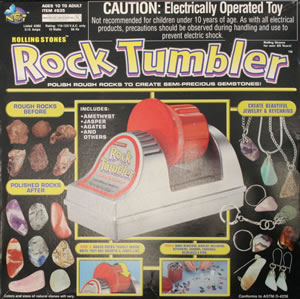 Box for the same tumbler kit but branded as "Rolling Stones" rock tumbler.
We Recommend the Thumler's MP-1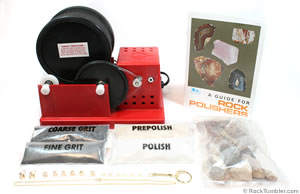 Thumler's MP-1 rotary tumblers that we sell here at RockTumbler.com are hobbyist-grade tumblers designed to operate with a minimum amount of noise and provide continuous service for a long time. As an alternative to the plastic barrel tumblers we recommend the Thumler's Model MP-1.

It retails for about $20 more than the Rolling Stones Rock Tumbler. It has a rubber barrel to run quietly, a heavier motor, a larger capacity and a design that should last through years of use. If you use it according to instructions it will produce many batches of tumbled stones with a very bright polish.
Noise Comparison: Rolling Stones vs MP-1
RockTumbler.com Authors
---
| | |
| --- | --- |
| | Hobart M. King has decades of rock tumbling experience and writes most of the articles on RockTumbler.com. He has a PhD in geology and is a GIA graduate gemologist. He also writes the articles about rocks, minerals and gems on Geology.com. |