Thumler's A-R1 Kit:
Everything you need to start tumbling in this kit by Thumler's Tumblers. Runs a three-pound barrel.
Lortone 3A Tumbler
Quiet, easy-to-use, durable. An inexpensive start to rock tumbling. Tumbles about two pounds of rock.
Thumler's A-R2
A great twin barrel tumbler for those who want a quiet, reliable machine with two rubber barrels.
Large Capacity Rock Tumblers
Six-Pound Tumbler
The Lortone QT6 tumbles a medium-sized load quietly in a six-pound barrel. Our favorite rotary tumbler.
Nine-Pound Tumbler
The Model A-R6 has a single nine-pound rubber barrel that will tumble about six pounds of rock.
Two 6-Pound Barrels
The Lortone QT66 tumbles two batches of rocks in six pound barrels. Tumble two materials or rocks at two different stages.
12-Pound Tumbler
If you are serious about tumbling or have access to lots of rough, the Thumler's A-R12 is a tumbler for you!
12-Pound Tumbler
If you are serious about tumbling or have access to lots of rough, the Lortone QT12 is a tumbler for you!
15-Pound Tumbler
If you are serious about tumbling or have access to lots of rough the Thumler's Model B tumbler is for you!
Vibratory Tumblers - They are FAST!
Lot-O-Tumbler
Tumble a batch of stones in just 7 to 14 days! The Lot-O uses very little grit and produces an awesome polish on agate, jasper and many other rocks. Wow!
Thumler's Vibratory
The Thumler's Ultra-Vibe is a large vibratory tumbler with a ten-pound bowl. We sell the industrail model needed to tumble rocks.
Tumbling Supplies and Stones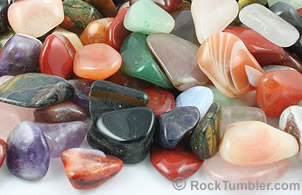 Tumbled Stones: Our tumbled stone mixes contain some of the most colorful and highly polished stones that you will find anywhere.
Rock Tumbler Grit, Polish & Media
Rock Tumbler Grit
All of the grit you need for rock tumbling. Single use kits or by the pound. Save by purchasing a bulk grit kit.
Tumbling Media
Two sizes of ceramic cylinder media and plastic pellets. These are used for cushioning, delivering grit and as filler.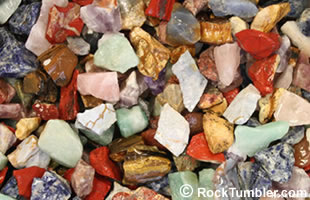 Tumbler Rough: We offer a variety of rocks already sized for use in your tumbler. Beginner's Mix, Mixed Jasper, Picture Jasper, Petrified Wood, Lake Superior, Brazilian Agate, Apache Tears and Bulk Rough.
New Roughs: Green Jasper and Brecciated Jasper.
Polished Stone Identification
Identify Polished Stones
Picture identification guide for polished stones and tumbled rocks. Includes most of the stones in our mixtures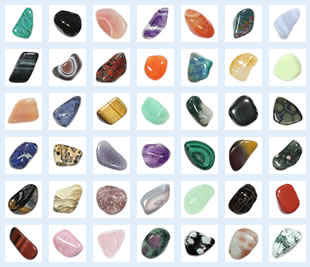 Replacement Barrels, Motors & Parts
Rock Tumbling Information
Tumbling Articles and Resources
| | | |
| --- | --- | --- |
| | | We highly recommend: Modern Rock Tumbling by Steve Hart. Learning is the fastest way to improve the quality of rocks that you tumble. In this book you will learn from an expert with extensive experience. You will increase your abilities, learn to save time, and have a great reference book that you will use again and again. |
Rotary Tumbler or Vibratory Tumbler?