Thumler's UV-45 Vibratory Tumbler
Their largest vibratory tumbler made for rocks.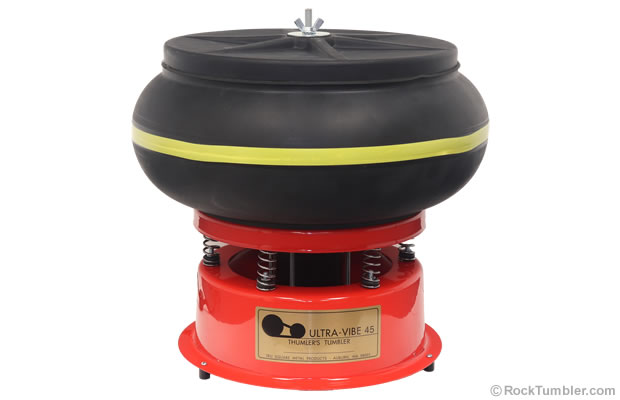 Age Recommendation
This is a large-capacity tumbler that should be used by adults.Find out why.
Thumler's Model UV-45
Thumler's Ultra-Vibe UV-45 Rock Tumbler / Brass Cleaner and Polisher
Designed for rocks and brass.
Durable polyethylene bowl and lid.
Tumbles 45 to 50 pounds of rock and media...
... or up to about 1000 brass 30.06 cases.
Ball bearing motor operates on 115 volts.
Motor is thermally protected for safety.
A commercial grade rock tumbler.
Vibrates at about 3000 VPM.
Operates on a 1/20 hp motor.
Dimensions: 17" diameter x 17 1/2" tall.
Warranty begins on the date of purchase.
The Yellow Band


Tru-Square Metal Products makes one version of the UV-45 tumbler. Decades ago they decided to place a yellow band on the bowl. However, be assured that the tumbler being sold here is intended for polishing rocks. And, you can also use it for tumbling brass ammunition cases using crushed corncob or crushed walnut shell media.

A yellow band on a UV-10 or UV-18 tumbler means the tumbler is intended for polishing brass ammunition cases. A blue band is placed on UV-10 and UV-18 tumblers that are intended for polishing rocks (these tumblers are advertised as the "Industrial Model" because they have heavier springs, a more powerful motor, and a bowl with thicker walls). You can learn more about the difference between the Standard and Industrial models here.



Amount and Size of Rocks Tumbled


The Thumler's Model UV-45 is the largest vibratory tumbler made by Tru-Square Metal Products. It can easily tumble about 45 to 50 pounds of material (rocks, media, and abrasives) - and it quickly shapes and polishes them into beautiful tumbled stones (providing that the rocks are of tumbling quality).

A few of the rocks in your load can be up to about 6 inches in size (measured along their maximum dimension). But, be sure to have lots of medium rocks (2 to 3 inches) and small rocks (1 to 2 inches) in the barrel for a good tumbling action. Large ceramic media (or a mix of media sizes) can be used to improve the tumbling action or to serve as filler.

If you place only large rocks in the bowl, the strong vibrating action of this tumbler will cause them to jump around in the bowl, damaging each other and ruining your expensive bowl.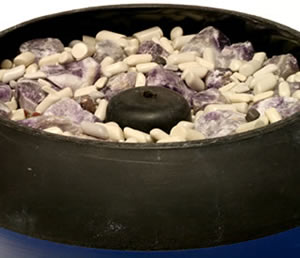 This photo shows a properly filled vibratory tumbler bowl. Notice the level of material is just below the top of the bowl's center structure.

You should fill the bowl of this tumbler nearly up to the top for the best tumbling action. We fill the bowl nearly up to the top before we place it on the machine (see accompanying photo). Then we start the machine, and the volume of rocks in the bowl seems to decrease. We then add more rocks or more media to fill the barrel almost to the top of the cylindrical structure in the center of the bowl.

Warning: Do not fill the bowl so high that rock mud is going to get on the elevated structure that holds the threaded center post of your bowl. If that happens, water and grit will leak down along the threaded center post, and it might drip on your motor!

Recommendation: A replacement bowl for the UV-45 tumbler costs over $300. So, be sure to read our article... 13 Tips for a Long Vibratory Tumbler Barrel Life.



About Grit and Polish


If you have broken or angular rocks with sharp edges, we highly recommend tumbling them with coarse grit in a rotary tumbler before you tumble them in a vibratory. Why? We do that to remove the sharp points and edges from those rocks so they will not gouge, abrade, and damage your vibratory tumbler bowl. We also warn everyone not to use coarse grit in a vibratory tumbler.

Tumbling large, broken, angular rocks in coarse grit in a Thumler's vibratory tumbler is just like burning money.

Some people want to argue with us about this. We are not going to argue with anybody. We are just letting you know what's going to happen if you decide to tumble angular rocks and/or use coarse grit in a UV-45 vibratory tumbler... your bowl is going to wear out quickly.



About Cleaning Brass Cases


Many professional reloaders use this tumbler to tumble brass ammunition casings. It can handle about 1000 brass 30.06 casings in corncob or walnut media in a single load.



Things to Know Before Buying...
1)
This tumbler is not for everyone. It is for people who have already been successful at producing nice tumbled stones from various kinds of rock in an UltraVibe tumbler. If you don't have that experience, we recommend purchasing a smaller UltraVibe tumbler such as the Thumler's UV-10 and tumbling a lot of rocks. (It is a lot cheaper to make your mistakes with ten pounds of stones in the bowl than with 50 pounds of stones in the bowl.)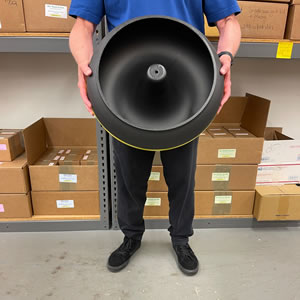 The bowl of this tumbler is enormous. The empty bowl weighs about 10 pounds. After you fill it with rocks and media - then add your grit and necessary water - the total weight can be over 60 pounds!
2)
The bowl of the Thumler's UV-45 tumbler is huge. You must be a strong person to pick up the bowl and carefully mount it on the machine. It requires even more strength to carefully remove the bowl and gently dump out the rocks for cleaning. Don't underestimate the amount of strength that you will need.


3)
Fully loaded, the bowl can contain about 50 pounds of rocks, media, grit and water. It is best to use the tumbler with a single type of stones. Are you going to have that much material? This tumbler does not work well if you only fill the bowl 1/2 full. If you do that, the rocks will be shaken so strongly that bruising will likely occur, and your tumbled stones will be ugly.


4)
The UV-45 tumbler has a large motor, a large bowl, and a lot of rocks being tumbled. That makes it much louder than any other tumbler that we sell. We believe that it makes enough noise that most people will not want to run this tumbler in their house. We hope that you have an appropriate location for this tumbler.


5)
Do you have enough rocks and enough money to feed this tumbler? Forty to fifty pounds of rocks / media is a lot. If you collect your own rocks, you might have enough to operate it often. But if you must buy rocks for tumbling, that is going to cost at least a few hundred dollars per load. Grit and polish will cost about $50 per load. Running a large tumbler is expensive.


6)
When you finish tumbling the first step of rocks, you will need a carefully planned work area and a method to dump out the rocks and clean them quickly - before the rock mud starts drying on their surface. If you have used the UV-18, imagine having 2 1/2 to 3 times the amount of material in one barrel - or five times the volume of a UV-10 tumbler.


7)
You will also need a good method of collecting and disposing of the waste water and rock mud. What are you going to do with it? You can't wash it down the drain because it will clog your plumbing.


8)
We have a UV vibratory tumbler guide with information to help you get the most out of your Ultra-Vibe tumbler. The guide includes information for loading the barrel properly, how much grit to use, and best practices for maintaining the machine and its components. Please check it out before you start tumbling and consult it often.


9)
Replacement bowls for this tumbler cost over $300. Please learn to use tumbling methods that will be gentle on your bowl because you want it to last a long time. Please see our article: How to Make Your Vibratory Bowl Last a Long Time.
What Size Rough Can It Handle?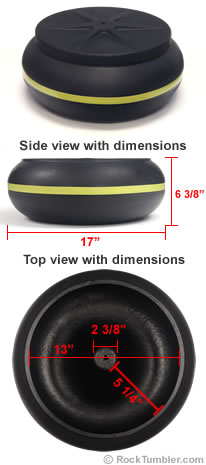 This tumbler's bowl can handle some good-size pieces of rough. If you have a load of mixed sizes of rocks, a few of the rocks can be up to about six inches (measured across their maximum dimension). The rest of the load should be smaller material, along with some large ceramic media to facilitate a good tumbling action. If you tumble only large pieces, they will bruise one another and possibly damage the machine.

Do not underfill this tumbler. If there isn't enough material in the barrel, the rocks will bounce around wildly, hammering into each other and the bowl. You should strive to produce a very smooth tumbling action in the bowl. That is done by having enough small-size material and the proper amount of water. You also need to fill the bowl to just below the top of the elevated structure in the center of the barrel.



UV-45 Industrial Bowl Dimensions
Exterior Dimensions
Height: 6 3/8 inches
Diameter: 17 inches
Lid Dimensions
Diameter: 13 inches
Height (with foam): 1 5/8 inch
This bowl can process approximately 45 pounds of material.
Rough Size: One dimension of the rough must be less than 5 1/4 inches to fit into the bowl. The other dimension should not be much more than that.
We Use Both Vibratory and Rotary Tumblers


We prefer our finished stones to be more rounded than what a vibratory tumbler produces. So we will run our stones in a Thumler's Model B rotary tumbler using coarse grit to get the nice rounded shape we desire. Then we take advantage of the time and grit savings that you get with a vibratory tumbler.

Before we start with the medium grit step in the vibratory tumbler, we add ceramic media to the bowl to bring it up to recommended capacity. We then run medium grit for two or three days, fine grit for one or two days, and polish for two days in our vibratory tumbler. Almost every tumbled stone that we make is polished in a vibratory tumbler. Why? We get a better polish in vibratory.

Happy Tumbling!