Thumler's Ultra-Vibe Mini Bowl Tumbler
Small capacity vibratory tumbler (4 pounds)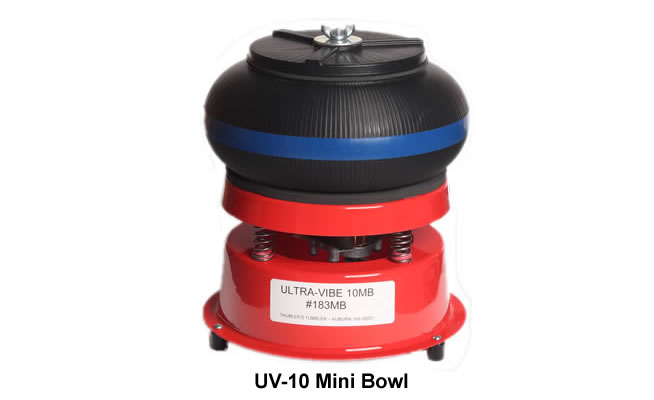 Age Recommendation
This is a tumbler that
should be used by adults.
Find out why.
Thumler's UV Mini Bowl
(4-pound capacity)
Thumler's UV Mini Bowl Vibratory Rock Tumbler



Small capacity, hobbyist grade, vibratory tumbler
Tumbles approximately 4 pounds of material
Heavy duty polyethylene bowl and lid deisgned for rocks
Creates a cyclonic effect in the bowl
Motor operates on 115 volts at 300 VPM
Motor is thermally protected
UV Mini Bowl machine dimensions - 8.5" diameter x 10" high.

This small capacity vibratory tumbler is a new addition to the Thumler's Ultra-Vibe vibratory tumbler product line. The UV Mini Bowl will process approximately 4 pounds of material, including both rocks and media, at a time. This smaller capacity is great for people who prefer to run small batches or for experimenting to get the best results on a certain type of material.

If you currently run a small capacity rotary tumbler this machine will make a great addition to your tumbling equipment. You can run one or two batches through coarse grit in your rotary tumbler and then finish them more quickly and using less supplies with this UV Mini Bowl vibratory tumbler.

We think it is the perfect companion for a Thumler's A-R2 rotary tumbler. After running the two 3-pound barrels of material through coarse grit you should have about 3 pounds of material ready for medium grit. Place that rounded material into the UV Mini Bowl bowl and add ceramic media to get the UV Mini Bowl bowl up to operating capacity. Plastic pellets are not recommended for use in vibratory tumblers.



Maximum Size of Rough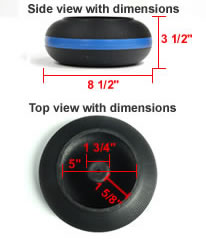 The bowl on this Mini Bowl tumbler can handle rough of which one dimension must be less than about 1 5/8 inches. If the piece of rough is more of an egg shape the long axis can be up to about 2 1/2 inches. But again the narrow part of the stone must be 1 5/8 inches or less to fit into the bowl. For best results do not put more than 2 or 3 pieces of this size in the bowl at a time. The rest of the bowl should be filled with smaller rough material ranging in size from 3/8 inch up to about 1 inch. Or use ceramic media to get the bowl to operating capacity if you do not have smaller rough.


UV Mini Bowl Tumbler Bowl Dimensions
Exterior Dimensions
Height: 3 1/2 inches
Diameter: 8 1/2 inches
Lid Dimensions
Diameter: 5 1/2 inches
Height (with foam): 3/4 inch
This bowl can process approximately 4 pounds of material.
Rough Size: One dimension of the rough must be less than 1 5/8 inches to fit into the bowl. The other dimension should not be more than 2 1/2 inches.
UV Mini Bowl Operation Basics


1) Load the bowl with approximately 4 pounds of material. The 4 pounds includes the weight of the rough and media used.

2) Add grit. We use one level tablespoon of grit or polish for every two pounds of material.

3) Add water. A very important step. There is not a specific amount of water that you will add every time. The key is to add just enough water to get the grit to stick to the material. Here is how we do it... Turn the tumbler on before adding any water. Once it is running add a little water at a time. We put in a taplespoon at a time to ensure we do not add to much. If you add to much water it will pool at the bottom of the bowl rinsing the grit off the material. If you do not have enough water the grit cannot stick to the material.

To help you maintain and get the best results possible with your tumbler, visit our Ultra-Vibe vibratory tumbler guide.