Thumler's UV-10 Vibratory Tumbler
For Rock and Brass Polishing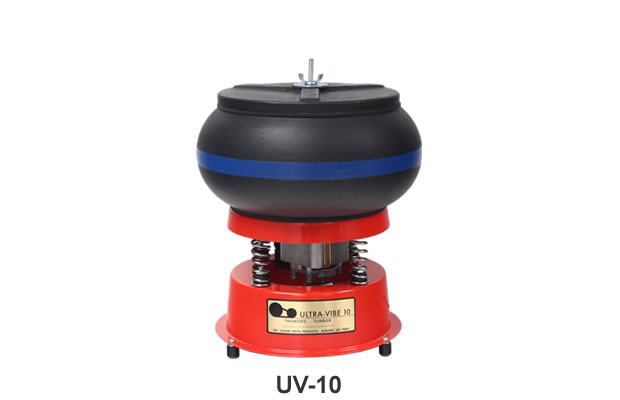 Age Recommendation
This is a large-capacity tumbler
that should be used by adults.
Find out why.
Thumler's Model UV-10
Thumler's Ultra-Vibe 10 Industrial Rock Tumbler / Brass Polisher



This is the "industrial" model designed for rocks!
Removable, heavy polyethylene bowl with lid
Three quart capacity
Tumbles 10 pounds of rocks or 125-400 brass cases)
Creates a cyclonic effect (see video below)
Ball bearing motor operates on 115 volts
Thermally protected for safety - 1.12 amps
Vibrates at 3000 VPM
Dimensions: 10" diameter x 11" high.

Vibratory tumblers are a lot faster and a lot more economical than rotary tumblers. The Ultra-Vibe 10 tumbler will do the rough grind in just a few days and the prepolish and polish steps in just two or three days each. That will save you time and electricty. It also uses a lot less grit and polish (about half as much) as a rotary tumbler of similar size. So, although this tumbler has a higher cost than most rotary tumblers, you will actually save that much or more if you use it regularly.

The UV-10 tumbler also works great for polishing brass gun cartridges. Polishing brass requires the use of crushed corncob or walnut shell media.

The Thumler's Model UV-10 is supplied with a single ten pound bowl which will process about ten pounds of rock. It has a heavy-duty, maintenance-free motor, durable base and large capacity barrel. This is the heavy duty industrial version of the UV-10.

The tumbler is supplied with instructions that will guide you through tumbling your first batch of rock. You can also watch the video below and read an article about how we use the UV-10 tumbler.

We want you to enjoy this hobby as much as we do.

For Best Polishing Results:

If you are really serious about getting a high quality polish we recommend getting a separate barrel and using it exclusively for the polishing step. A dedicated barrel for polish (and a thorough cleaning of your rocks after the 600 grit step) will help avoid grit contamination of your polishing step.