Binghamite Tumbling Rough
A small-size, easy-to-tumble rough for the beginner.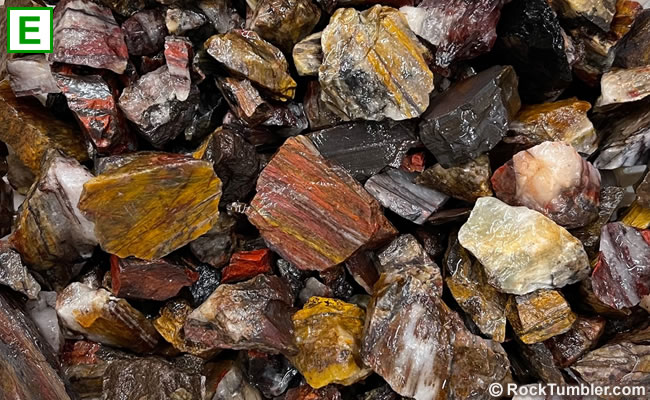 This photo shows two pounds of Binghamite tumbling rough, dumped in a colander and sprayed with water to reveal its approximate polished color. The pieces of rough in the photo range in size from approximately 3/8 inch to 1 1/2 inches (measured across their maximum dimension). Much of the yellow to gold color material will exhibit chatoyance. Most of the white material is milky vein quartz.
Click for a larger view.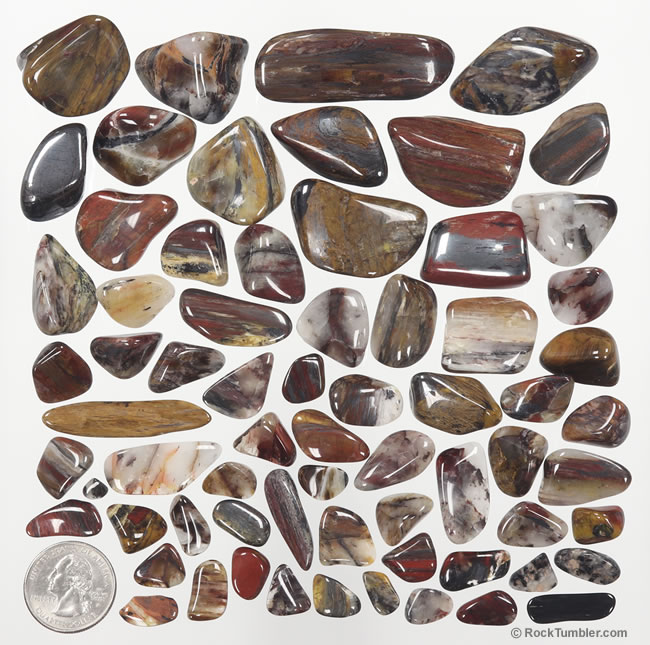 We polished two packages of Binghamite tumbling rough using a Thumler's A-R2 tumbler. The photo above shows a scatter of some of our favorite stones. Note that the size of the stones are small. However, they are colorful, some are chatoyant, and many show metallic luster.
Click for a larger view.
Binghamite Tumbling Rough

,

, and

What do they mean?
Size:
Mostly 3/8 inch to 1 1/2 inch pieces


-- Recommended for beginners
-- Easy-to-polish
-- Small-size rough for small rotary tumblers
-- A quartz-cemented fault breccia
-- Contains patches of chatoyant quartz & metallic iron
What Is Binghamite?


Binghamite is a trade name for a colorful lapidary material found in central Minnesota. It is a fault breccia that contains patches of chatoyant quartz, red jasper, and flashes of iron ore with a silver metallic luster. The material has been called "American Tiger Eye", "Minnesota Silkstone", "Minnesota Tiger's-Eye", and "Cuyunite". We think that the material being sold here deserves the name "Minnesota Tiger Iron".

Because this is a fault breccia made up of rock fragments, there are lots of fractures throughout the material. Our finished stones, especially the larger stones, contain many fractures. However, we ended up with plenty of small and extra-small pieces that are simply wonderful!

Here is what the United States Geological Survey had to say about Binghamite in their Professional Paper 407, titled Geology and Ore Deposits of the Cuyuna North Range Minnesota:

"Several mines in the central part of the North range have exposed peculiar sheared quartz-hematite and quartz-goethite veins that contain an unusual and beautiful variety of chatoyant quartz. This material is highly esteemed by lapidarists of the area and has been called binghamite. The chatoyancy seems to be caused by minute needles or plates of hematite in the commonest red variety and of goethite in the yellow variety. The iron oxide minerals are probably pseudomorphic after some other mineral."
Binghamite - Tumbling Properties

Marketing Name:
Binghamite
Classification:
A quartz-cemented fault breccia that contains two especially interesting materials: 1) patches of chatoyant minerals; and, 2) iron ore fragments composed of red jasper and hematite with a silver metallic luster.
Composition:
Mostly quartz with minor amounts of hematite and other minerals.
Mohs Hardness:
Quartz has a hardness of seven.
Size:
Pieces of this rough range from about 3/8 inch up to 1 1/2 inches in size (measured across the maximum dimension).
Recommended Recipe:
We tumbled Binghamite in a Thumler's A-R2 rotary tumbler with good results using our "Tumbling Instructions for Jasper, Agate, and Other Hard, Tenacious Materials".
Recommended Polish:
TXP aluminum oxide
Tips for Rock Tumbling Success:
(1) For nicely rounded stones, we tumble Binghamite for two weeks in coarse (60/90) silicon carbide grit - with a grit change at the end of one week.

(2) Some people do a 30-minute burnishing tumble with grated Ivory bar soap after the polishing step. This can often improve the luster of your stones. See the burnishing article for how you can determine if the burnishing step will be helpful.
* Tumbling properties are for the stones being sold here. Stones purchased from other vendors may require a different procedure. If your material was sold as "tumbling rough" you should ask the vendor for tumbling instructions.
Customers also bought...

Large Ceramic Media



Large ceramic pellets work great as a filler and for delivering grit or polish to difficult-to-reach surfaces. More information...




Small Ceramic Media



Small ceramic pellets work great when you need small material for better tumbling action or to deliver grit or polish to difficult-to-reach surfaces. More information...




Standard Grit Kit



1 pound of each: coarse, medium and fine grit. 8 ounces of TXP polish. This is enough supplies to tumble up to four three-pound barrels of rocks. Save money with a large grit kit.