Picture Jasper - Rock Tumbler Rough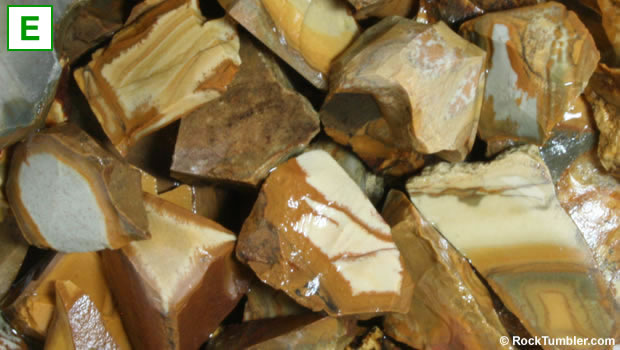 This photo shows some rough pieces on the left side and tumble polished pieces on the right. These truly are beautiful stones that take a great polish.
Picture Jasper Rough
Size: mostly 3/8 to 1 1/2 inch pieces


This is a beautiful brown, tan, grey, cream and blueish gray jasper that yields interesting pictures and desert scenes when tumbled. We always enjoy opening the barrel at the end of a tumble to see what types of scenes have developed. The gemstones remind us of our trips to Utah and Arizona!

We recommend TXP polish - an aluminum oxide compound - for polishing this picture jasper.

This Picture Jasper rough ranges in size from approximately 3/8" (9 mm) to 1 1/2"" (38 mm) in diameter.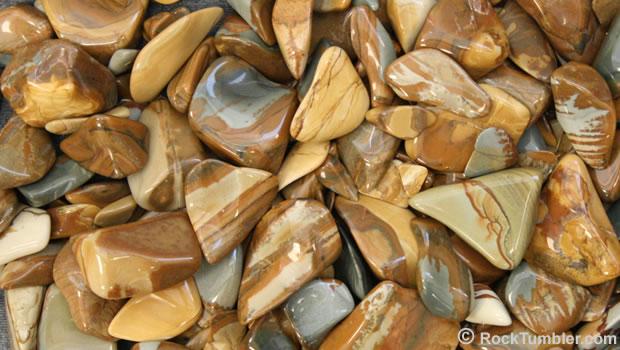 We tumbled a batch of picture jasper to produce the tumbled stones shown above. They were tumbled in a
rotary tumbler
using the standard four-step tumbling process. They spent one week in 60/90
silicon carbide grit
, one week in 150/220 grit and one week in 500 grit. Then they were polished for one week in a rotary tumbler using
TXP aluminum oxide polish
.
Many people would have tumbled a second week or longer in 60/90 to improve the rounded shape of the stones. When tumbling jasper - especially larger pieces - we often tumble one month or more in 60/90 grit.
Customers also bought...

Large Ceramic Media



Large ceramic pellets work great as a filler and for delivering grit or polish to difficult-to-reach surfaces. More information...




Small Ceramic Media



Small ceramic pellets work great when you need small material for better tumbling action or to deliver grit or polish to difficult-to-reach surfaces. More information...




Standard Grit Kit



1 pound of each: coarse, medium and fine grit. 8 ounces of TXP polish. This is enough supplies to tumble up to four three-pound barrels of rocks. Save money with a large grit kit.