Ocean Jasper Tumbling Rough
Ocean Jasper Tumbling Rough
Size: mostly 3/8 to 1 1/2 inch pieces


Ocean jasper is one of the most colorful and beautiful tumbling roughs that we have ever seen. It is a multi-color chalcedony with amazing orbs and bulls-eye patterns. It is mined at two locations on the west coast of Madagascar. (The rough in the photo above was photographed wet to show full color.)

Ocean jasper has become famous and easy to recognize because of the colorful orbs and spheres scattered through the material. These produce beautiful round markings on the surface of tumbled stones, beads, cabochons or slabs made from the material. A few pieces contain small vugs lined with druzy quartz, which sometimes survives through the tumbling process. Many pieces actually contain quite a bit of agate so a better name for this material might be "ocean chalcedony" - but "ocean jasper" is easier to say and spell :-)

The ocean jasper that we are selling has a broad color range that includes whites, creams, greens, yellows, reds, pinks and browns. It is pre-packaged in two pound bags, with each bag containing a diversity of color and pattern. When we tumble a couple of pounds we always find pieces that surprise us.

Ocean jasper rough is getting harder and harder to find. The two deposits on the west coast of Madagascar have been minded for a couple of decades and will one day be worked out. That's what happens when a beautiful rough enters the market and rockhounds love it.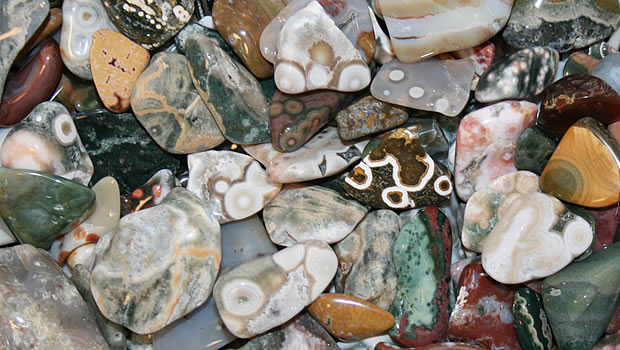 The tumbled stones shown in the photo above were produced in a
rotary tumbler
. They were tumbled one week in 60/90 coarse
tumbler grit
, one week in 150/220 grit, and one week in 500 grit. That was followed by one week in
TXP aluminum oxide
polish.
Many people would tumble more than one week in 60/90 to improve the rounded shape of the stones. That is what we usually do when tumbling jasper and agate because we like nicely rounded stones. When we are tumbling larger pieces of 1 1/2 inches or more we usually tumble them a month to round sharp edges and grind out depressions. Experiment to find what shapes the stones to your preference.
Customers also bought...

Large Ceramic Media



Large ceramic pellets work great as a filler and for delivering grit or polish to difficult-to-reach surfaces. More information...




Small Ceramic Media



Small ceramic pellets work great when you need small material for better tumbling action or to deliver grit or polish to difficult-to-reach surfaces. More information...




Standard Grit Kit



1 pound of each: coarse, medium and fine grit. 8 ounces of TXP polish. This is enough supplies to tumble up to four three-pound barrels of rocks. Save money with a large grit kit.