Green Jasper Tumbler Rough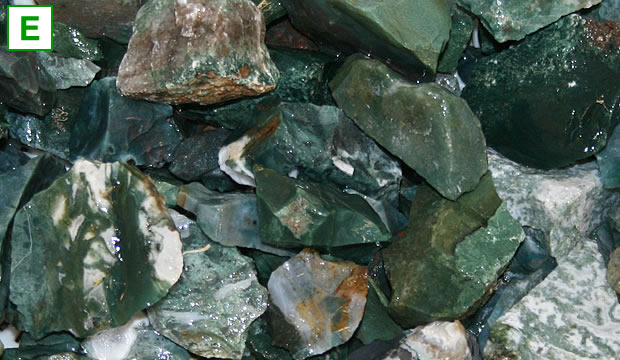 Green Jasper Tumbling Rough
Size: mostly 3/8 to 1 1/2 inch pieces


This is a deep green jasper with zones of white and translucent agate and quartz. You might find a few pieces with a little bit of red or yellow. It can be tumble polished to a very bright luster. See the photo below of a batch that we tumbled and the polishing procedure that was used.

This mix is perfect for the beginner. It has a range of particle sizes from approximately 3/8" (9 mm) to 1 1/2"" (38 mm) and should require little to no preparation before tumbling.

We recommend TXP polish for polishing all types of jasper.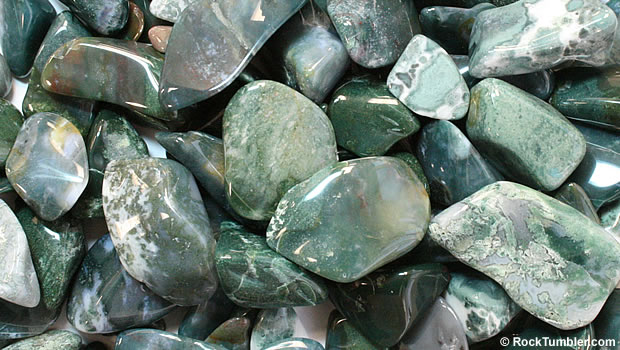 This is a photo of some Green Jasper that we polished. The mix of white agate made some interesting stones.
Steps 1A, 1B, 1C:
We started with a little less than four pounds of rough and loaded it into the barrel of a Lortone QT6 tumbler with
60/90 grit silicon carbide
. This is very angular rough with lots of edges to round off. At the end of one week we inspected the rocks and were really impressed with the color. Most of the rocks were smooth but there were still a few sharp edges and dimples that we wanted to grind off. So we ran it a second week with a fresh charge of 60/90 grit. At the end of week two we were feeling picky so we ran it a third week in fresh grit for good measure. After three weeks we had lots of nicely rounded rocks with almost all of the sharp edges worn off and the dimples worn smooth. We cleaned it up for tumbling in medium grit. That was three weeks total in coarse (60/90) grit. If we tumble this material again we will add a little extra grit and let it run for a month.
Step 2:
We loaded the jaspers into a single barrel
Lot-O-Tumbler
and ran for 48 hours in with
150/220 grit
, rinsing and adding new grit after the first 24 hours.
Step 3:
We then ran the jaspers about 36 hours in the Lot-O-Tumbler with
500F prepolish
. The jasper was now showing a slight gloss.
Step 4:
The final step was just 24 hours in the Lot-O-Tumbler with
TXP aluminum oxide polish
. Wow! We were amazed at how brightly they polished in just one day.
Total processing time was three weeks, four days and 12 hours.
Customers also bought...

Large Ceramic Media



Large ceramic pellets work great as a filler and for delivering grit or polish to difficult-to-reach surfaces. More information...




Small Ceramic Media



Small ceramic pellets work great when you need small material for better tumbling action or to deliver grit or polish to difficult-to-reach surfaces. More information...




Standard Grit Kit



1 pound of each: coarse, medium and fine grit. 8 ounces of TXP polish. This is enough supplies to tumble up to four three-pound barrels of rocks. Save money with a large grit kit.