Home » Tumbler Rough » Bulk Tumbling Rough
Bulk Tumbling Rough
Several Types of Tumbling Rough Available. Limited Quantities!
Montana Agate



Montana Agate is a clear to white to amber agate sometimes flecked with black and brown mossy inclusions.

The moss patterns are most interesting when the amount of moss is just a few percent of the material. Montana Agate is popular with people who run rock tumblers because it polishes easily to a very bright luster and yields beautiful agate and sometimes mossy surprises.

This rough consists of material that has been crushed to approximately 3/8" (9 mm) to 1 1/2"" (38 mm) diameter pieces - a size that will work well in your rock tumbler. It might also include a few small nodules, small slabs, and trim saw end-cuts. These can produce some nice tumbled stones.
---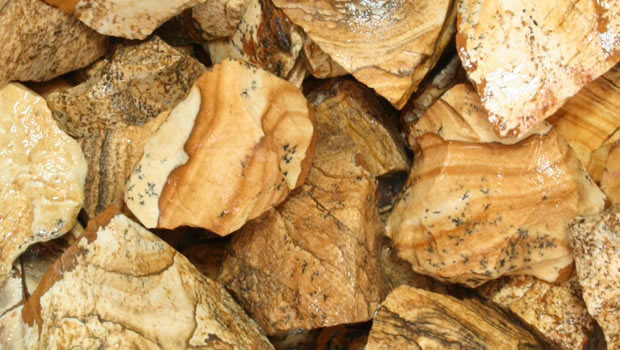 Picture Jasper Tumbling Rough - Wow!



Use a little imagination and you can see desert scenes in this rock! A beautiful cream and brown jasper that shapes well, accepts a good polish to yield some really scenic tumbles!

We always enjoy opening the barrel at the end of the polish step to see what types of scenes have developed! The tumbled stones remind us of trips to Utah or Arizona!

This Picture Jasper rough ranges in size from 1/2" to 2" in diameter. Perfect for your tumbler. Photographed wet to show full color.
Rock Tumblers and Supplies
| | |
| --- | --- |
| | We highly recommend: Modern Rock Tumbling by Steve Hart. Learning is the fastest way to improve the quality of rocks that you tumble. In this book you will learn from an expert with extensive experience. You will increase your abilities, learn to save time, money and have a great reference book that you will use again and again. |
| | |
| --- | --- |
| | We highly recommend: Gemstones of the World (fifth edition) by Walter Schumann. One of the most popular gemstone books ever written, with over one million copies sold. It has about 100 pages of basic gemstone information and about 200 pages dedicated to photos and descriptions of over 100 gems and gem materials. |
Gemstone and Jewelry Book
| | |
| --- | --- |
| | We highly recommend: Gemstone Tumbling, Cutting, Drilling and Cabochon Making (by Jim Magnuson and Val Carver. This is our favorite book for a person who does rock tumbling and now wants to make beads, pendants and other jewelry from tumbled stones. Includes an introduction to cabochon cutting. |
Tumbling Articles and Resources