Brecciated Jasper Tumbler Rough
A great rough for rock tumbling.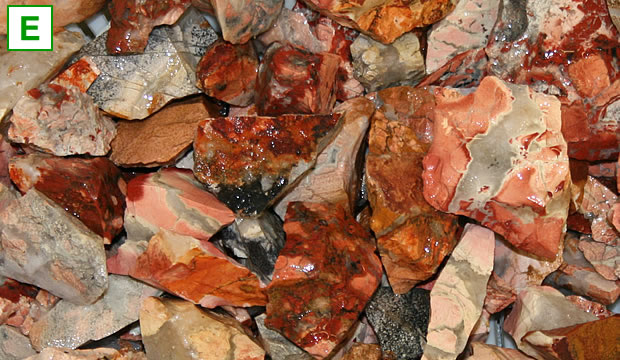 Brecciated Jasper Tumbling Rough
Size: mostly 3/8 to 1 1/2 inch pieces


This is one of the nicest materials that I have tumbled in a long time. It is a brecciated jasper with a wide range of colors. A "breccia" is a rock that contains angular pieces that have been cemented together to form a solid mass. The breccia fragments in this material range from tan to pink through gray. They have been cemented together with a translucent white to gray agate. The result is a wonderful blend of diverse color.

This mix is perfect for the beginner. It rounds nicely in the tumbler and accepts an brilliant polish with TXP aluminum oxide polish. It has a range of particle sizes from about 3/8" (9 mm) to 1 1/2" (38 mm) and requires little to no preparation.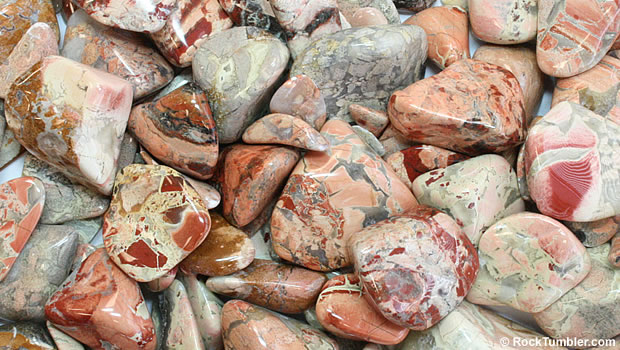 This photo is of a batch of Brecciated Jasper rough that we polished. Here's how we did it......
Steps 1A, 1B, 1C:
We loaded a little less than four pounds of this material into the barrel of a Lortone QT6 tumbler with four ounces of
60/90 grit silicon carbide
and enough water to cover them. The rough is angular pieces and our goal was to produce nice rounded tumbles. At the end of one week we inspected the rocks and WOW, we were really impressed with the color. They were smoothing and rounding nicely but still had a few angles on them. So we loaded the material back into the barrel with another four ounces of grit and covered it with water. At the end of week two the rocks were nicely rounded and many people would have stopped there - but we are picky and decided to run one more week in coarse grit. After three weeks of tumbling we had some really nice stones. If we were going to tumble this material again we would save on labor and instead of running it for three weeks and opening the barrel at the end of each week, we would simply add an extra couple ounces of grit and run it for one month straight.
Step 2:
We loaded the jasper into a
Lot-O-Tumbler
single and ran it for 48 hours in with
150/220 grit
, rinsing and adding new grit after the first 24 hours. Now the rough is starting to look really nice.
Step 3:
We then ran the jasper for about 36 hours in the Lot-O-Tumbler with
500F prepolish
. At the end of 36 hours the jasper had a semigloss finish and was looking great.
Step 4:
The final step was just 24 hours in the Lot-O-Tumbler with
TXP aluminum oxide polish
. Wow! This material took a polish very quickly. A very high quality polish on nicely rounded stones. You can see them in the photo above..
Total processing time was three weeks, four days and 12 hours.
Customers also bought...

Large Ceramic Media



Large ceramic pellets work great as a filler and for delivering grit or polish to difficult-to-reach surfaces. More information...




Small Ceramic Media



Small ceramic pellets work great when you need small material for better tumbling action or to deliver grit or polish to difficult-to-reach surfaces. More information...




Standard Grit Kit



1 pound of each: coarse, medium and fine grit. 8 ounces of TXP polish. This is enough supplies to tumble up to four three-pound barrels of rocks. Save money with a large grit kit.