Indian Blanket Jasper
A beautiful lapidary material found near Enterprise, Utah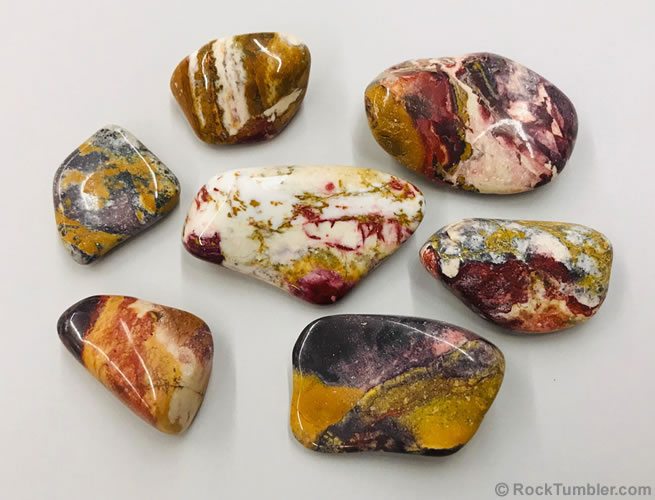 Almost Lost to Landscape Use


One of our favorite lapidary materials is Indian Blanket Jasper, which was found in a small deposit near the community of Enterprise, Utah. It received its name because the sellers thought that it had a color range similar to some Native American fabrics.

The jasper occurred in one small part of a stone quarry where the rock was being mined, crushed, and used as a colorful landscape rock. But, a small percentage of the rock was found to be a jasper of lapidary grade. A few pounds of nice lapidary-grade material could be sold for the price of a ton of landscape rock. Luckily, much of the lapidary-grade material was separated and appropriately sold.


Beautiful Colors and Patterns


The lapidary material was so colorful and pleasing that many people wanted it. Many pieces of Indian Blanket have a white or light-colored background splashed with bright yellows, reds, oranges and purples. Much of it was sold between 2000 and 2010, but rough material is almost impossible to find today.

If you are lucky, you might be able to buy slabs and cabochons at gem shows or on one of the marketplace websites. We were lucky that a good friend gave us a box of tumbling rough that contained mostly lapidary-grade material along with a small amount of landscape rock. We used it to produce the tumbled stones in the photos on this page. We wish we had a dozen barrels of it!


How to Identify Lapidary-Grade Material


In the unlikely event that you have a chance to buy some, it is important to determine if the material offered is of lapidary grade. Material of landscape stone grade is very gritty and cannot be polished. If you fill up a rock tumbler with lapidary-grade material and one piece of landscape rock slips past your careful eye, the entire batch of tumbled stones will not take a nice polish.

Landscape-grade material is more like sandstone or rhyolite than jasper. Pick up two pieces, one in each hand, and rub them gently together. If you dislodge a rain of gritty particles, then at least one of the pieces in your hands is below lapidary grade. Some of the less-than-lapidary-grade material is so gritty that you can detect it with your hands.


Not to Be Confused with "Indian Paint"


Another material called "Indian Paint Jasper" is sometimes confused with Indian Blanket. Indian Paint usually exhibits lots of linear markings and colors of much darker tones on muted gray, brown, or pink backgrounds. Indian Paint polishes to a matte finish. Indian Blanket has much more vivid colors, and high-quality pieces can be polished to a bright vitreous luster.


How We Tumbled The Photographed Stones


We tumbled the polished stones in the photos using standard tumbling instructions for jasper:

-- Seven days in coarse grit (60/90)
-- Seven additional days in coarse for better shaping
-- Seven days in medium grit (150/220)
-- Seven days in fine grit (500F)
-- Seven days in TXP aluminum oxide polish

That's how easily it tumbled!


RockTumbler.com Authors
---
| | |
| --- | --- |
| | Hobart M. King has decades of rock tumbling experience and writes most of the articles on RockTumbler.com. He has a PhD in geology and is a GIA graduate gemologist. He also writes the articles about rocks, minerals and gems on Geology.com. |