Rock Crystal (Clear Quartz)- Rock Tumbler Rough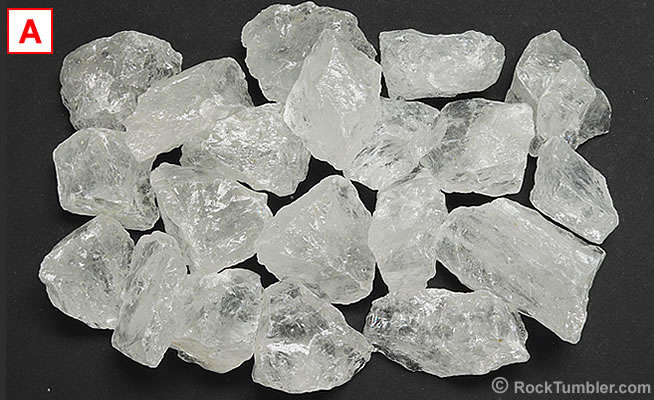 This image shows a 3-pound bag of rock crystal tumbling rough, dumped into a colander and sprayed with water - just as we do with every other rough.
Click on the image
for a larger view. This is transparent colorless quartz and the photo does not do this wonderful material justice.
Rock Crystal Tumbling Rough
Size: mostly 1 to 2 1/2 inch pieces
What Is "Rock Crystal"?


"Rock Crystal" is a popular name for a colorless quartz that is clear enough that you can see thorugh it. It is rarely seen as a tumbling rough and we have a small quantity that we are offering for sale. It is in large chunky pieces that range between about 1 and 2 1/2 inches in size.



Tumbling Tips for Chunky Rock Crystal


These pieces of rock crystal are large enough that you will need to cushion them in a rock tumbler. We would use at least 50% ceramic cylinder media - probably a mix of large and small - or small only. If this much media is not used these pieces will bang against one another in the tumbler barrel and you will have bruised quartz instead of clear quartz. If your tumbler has a three-pound capacity barrel, we suggest only using two or three of these large pieces at a time. If you have a larger capacity tumbler, just use a 50/50 mix of media and quartz.

Don't allow the warnings above to scare you out of tumbling this material. Just use the proper amount of ceramic media and you will be fine.

These large pieces of quartz will need some time in a rotary tumbler to approach a nice rounded shape. We would run them for three to four weeks using coarse or medium silicon carbide grit with plenty of water. That should get them to a nice shape, without protrusions or large rough areas. More time might be needed if you are using a three-pound capacity barrel.

After the pieces are shaped to your satisfaction, just one week in medium grit and one week in fine should prepare them for polishing. If the volume of rocks/media in your barrel drops, just add more media. Its really important to have the barrel filled to the prpoer capacity to avoid hard impacts between the large pieces of quartz that will cause bruising.

For the polishing step we use TXP aluminum oxide polish, making sure to maintain at least 50% media in the barrel. Don't overtumble at this step. One week in TXP should have these rocks shining.



Polished Rock Crystal


If you would rather just purchase tumbled stones of this material. We usually have medium-size tumbled Rock Crystal here.


Customers also bought...

Large Ceramic Media



Large ceramic pellets work great as a filler and for delivering grit or polish to difficult-to-reach surfaces. More information...




Small Ceramic Media



Small ceramic pellets work great when you need small material for better tumbling action or to deliver grit or polish to difficult-to-reach surfaces. More information...




Standard Grit Kit



1 pound of each: coarse, medium and fine grit. 8 ounces of TXP polish. This is enough supplies to tumble up to four three-pound barrels of rocks. Save money with a large grit kit.