Lake Superior Agate Tumbler Rough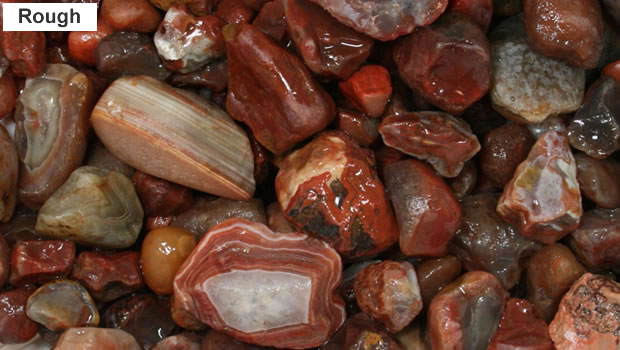 This is a photograph of our Lake Superior Agate rough on the left and what it looks like polished on the right. This material consists of agate nodules and pieces between 1/4" and 1 1/4" in diameter. Lots of red, white, gray, orange, brown and crystal color material with nice banding and occasional eyes.
Lake Superior Agate
Size: mostly 1/4 to 1 1/4 inch pieces


Lake Superior Agate is widely known as a tumbling rough. It is so popular in the Great Lakes area that the Minnesota legislature designated it as the official "state gemstone".

Lake Superior Agate is typically a banded material - often concentric - but sometimes has eyes and mossy patterns. The red, yellow, orange and brown colors are a result of an iron pigment within the agate material.

Our Lake Superior Agate mix consists of small nodules and nodule fragments found in the Great Lakes area. It is a tough, dense material in pieces that range from approximately 1/4" (6 mm) to 1 1/4"" (32 mm) in size. It takes a great polish. We use TXP polish - an aluminum oxide compound - when we polish Lake Superior Agate.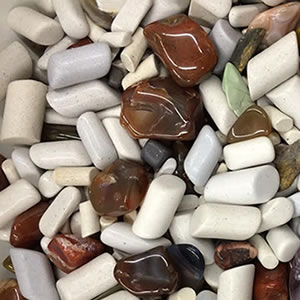 This peek into our media bucket shows a few pieces of Lake Superior Agate (and a few other tumbled stones) that will serve as media the next time we tumble. Using rough or tumbled stones that could be improved is like getting the use of fine media for free.
Confession: Lake Superior Agate Makes Great Tumbling Media!


Truth be told, we believe that Lake Superior Agate can serve as an excellent rock tumbling media. It has a nice rounded shape and is, in our opinion, harder than the tumbling media that we sell. It also costs about the same as good tumbling media. So, when we need filler, we toss a couple of pounds of agate nodules into the tumbler instead of large ceramic media.

After the polishing step we recover some really nice polished agates from our media bucket. Any agates that are less than "excellent" are allowed to run through the cycle again and the deeper material removal improves some of them to "excellent."

It's like getting free media and some beautifully polished agates as a bonus. We probably shouldn't tell this little secret because it will probably trigger a demand for more Lake Superior Agate than we can obtain!

A photo of some finished Lake Superior Agate that we polished is shown below.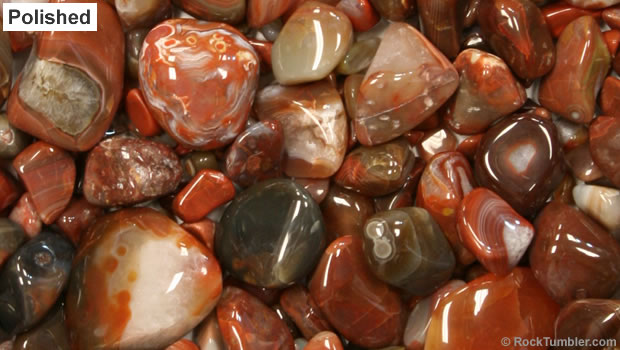 This photo is of a batch of Lake Superior Agate rough that we polished. It is a very hard material that can take an absolutely brilliant polish. Our tumbles had plenty of bands, quite a few eyes, a little moss, several crystal windows and lots of red, orange and brown colors. Here are the steps that we used to achieve this polish.
Steps 1A, 1B, 1C:
We loaded a little over four pounds of rough into the barrel of a Lortone QT6 tumbler with
60/90 grit silicon carbide
and tumbled for three weeks. The nodules had some rough husks and the broken pieces had some deep dimples so we knew that we would run more than one week in 60/90 grit to get the really nicely rounded tumbles that we like to produce. At the end of Week One we rinsed the nodules, picked out a few that revealed cracks or porosity and loaded the rest back into the barrel with fresh 60/90 grit. At the end of Week Two we rinsed and reloaded with fresh 60/90 grit and ran for Week Three. That's three weeks total in coarse (60/90) grit.
Step 2:
We loaded the agates into a single barrel
Lot-O-Tumbler
and ran for two days with
150/220 grit
, rinsing and adding new grit every 24 hours.
Step 3:
We then ran two days in the Lot-O-Tumbler with
500F grit prepolish
, rinsing and adding fresh grit after 24 hours.
Step 4:
The final step was just 24 hours in the Lot-O-Tumbler with
TXP aluminum oxide polish
. Burnishing was not needed. Wow! We were amazed at how brightly they polished in just one day.
Total processing time was three weeks, five days.
Customers also bought...

Large Ceramic Media



Large ceramic pellets work great as a filler and for delivering grit or polish to difficult-to-reach surfaces. More information...




Small Ceramic Media



Small ceramic pellets work great when you need small material for better tumbling action or to deliver grit or polish to difficult-to-reach surfaces. More information...




Standard Grit Kit



1 pound of each: coarse, medium and fine grit. 8 ounces of TXP polish. This is enough supplies to tumble up to four three-pound barrels of rocks. Save money with a large grit kit.