Tumble Bee Tumbler Parts
These replacement parts fit all Tumble Bee rock tumblers (TB-12, TB-22 and TB-14). We can supply 2-pound and 4-pound barrels, motors, drive belts, lid gaskets and barrel nuts.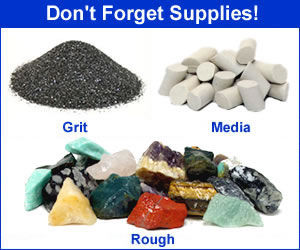 Tumble-Bee Drive Belt



Fits all Tumble Bee tumblers. Made from polyurethane with embedded nylon fibers. This is a timing-style design for non-slip traction. The folks at Tumble-Bee estimate that it typically delivers 3000-4000 hours of operation.

Tumble-Bee Barrel Nut



This is the knurled nut used to tighten the lid on all Tumble-Bee tumbler barrels.

Does NOT fit Lortone barrel lids.