Yellow Feather Jasper Tumbler Rough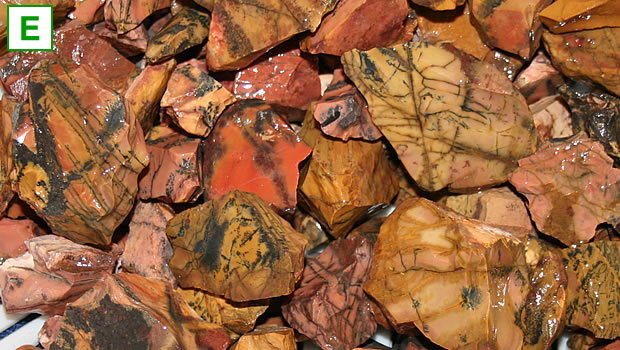 Yellow Feather Jasper Tumbling Rough
Size: mostly 3/8 to 1 1/2 inch pieces


Yellow feather is a multi-color jasper found in Utah. The name "yellow feather" was inspired by dark feather-like markings that cut across a yellowish background. The feathers are usually brown to black in color. The background colors vary, but they are usually in the range of yellow, orange, and tan. The background color of some pieces can be red or brown. (The rough in the photo above was photographed wet to show full color.)

The yellow feather that we offer here is a very nice tumbling rough. The material that we sell is in pieces that range in size between 3/8" (9 mm) and 1 1/2" (38 mm). It shapes well when tumbled in a rotary tumbler and it polishes nicely in either a rotary tumbler or a vibratory tumbler using TXP or Rapid Polish (both aluminum oxide polishes). Other polishing compounds such as cerium, tin or titanium will also produce good results. Photos of tumble-polished stones are shown below.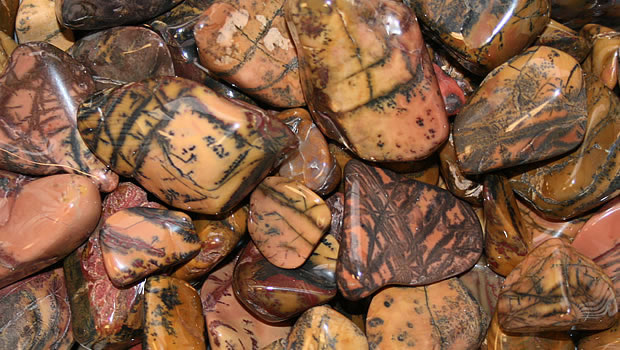 We tumbled a batch of yellow feather to produce the tumbled stones shown above. They were tumbled in a
rotary tumbler
using the standard four-step tumbling process. They spent one week in 60/90
silicon carbide grit
, one week in 150/220 grit and one week in 500 grit. Then they were polished for one week in a rotary tumbler using
TXP aluminum oxide polish
.
Many people would have tumbled a second week or longer in 60/90 to improve the rounded shape of the stones. When tumbling jasper - especially larger pieces - we often tumble one month or more in 60/90 grit.
Customers also bought...

Large Ceramic Media



Large ceramic pellets work great as a filler and for delivering grit or polish to difficult-to-reach surfaces. More information...




Small Ceramic Media



Small ceramic pellets work great when you need small material for better tumbling action or to deliver grit or polish to difficult-to-reach surfaces. More information...




Standard Grit Kit



1 pound of each: coarse, medium and fine grit. 8 ounces of TXP polish. This is enough supplies to tumble up to four three-pound barrels of rocks. Save money with a large grit kit.