Rose Quartz - Beautiful Pink from South Africa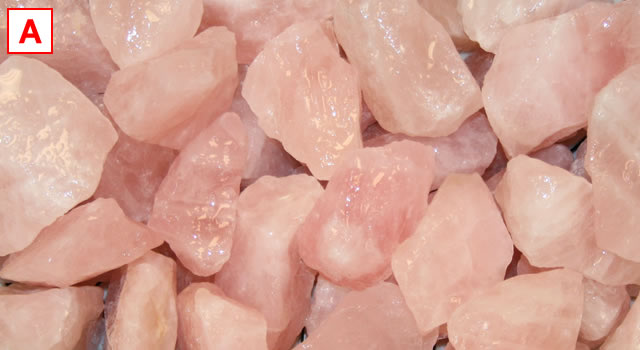 This image shows a 5-pound bag of rose quartz tumbling rough, dumped into a colander and sprayed with water to reveal its full color.
Click on the image
for a larger view.
Rose Quartz Rock Tumbling or Cabbing Rough
Size: mostly 1 to 3 inch pieces


We are offering some beautiful rose quartz with a strong pink color. This material is from South Africa and is being sold in five pound bags. It is a perfect size for making large tumbled stones. You might also slice these pieces into small slabs for cabbing or tumbling with a trim saw or small slab saw. Most of the material in these bags ranges in size between 1 and 3 inches along their maximum dimension. A few pieces might be a bit over or under those sizes.



Rotary Tumbling Suggestions


This material will tumble beautifully in a rotary tumbler. These large pieces will work best in a barrel that is larger than three-pounds capacity. As with all other varieties of crystalline quartz, such as amethyst, rock crystal, smoky and citrine, rose quartz should be tumbled with plenty of ceramic media or other small material. This is because crystalline quartz must have cushioning in the barrel to prevent bruising.

When we tumble any crystalline quartz material we make sure that at least 30 to 50 percent of the material in the barrel is smaller than 3/4 inch in size. To accomplish that we use ceramic media, small pieces of other rough, previously tumbled stones that need improvement, or some small agate nodules such as our Lake Superior agate. These small pieces surround the large pieces of quartz and keep them from hammering against one another during the tumble. If they are tumbled without adequate cushioning, the stones will most likely have numerous bruises on their surface. This is easily avoided with adequate small material to cushion.

When using a rotary tumbler, we normally tumble large pieces like this for at least three weeks in coarse grit. We fill the tumbling barrel about 2/3 full with a 50-50 mix of rose quartz and small media or other material. Then we add two tablespoons of coarse grit for each pound of material in the barrel plus enough water to completely cover the rough, seal the barrel and run it for at least three weeks.

At the end of three weeks we open the barrel and clean the contents. Any pieces that are ready for medium grit are placed in a tumbler barrel with the 50-50 mix of quartz and cushioning material. At this point we might add a little more media or small material if the volume has gone down. Then we add two tablespoons of medium grit per pound of material in the barrel, add water to almost cover the rocks and run for at least one week. We repeat that with fine grit.

For the polishing step we use two tablespoons of TXP aluminum oxide polish per pound of rock, add enough water to bring the water line up to about 1/2 inch below the top of the rocks and polish for one week. Don't run this step or the fine grit step any longer than necessary to prevent bruising. Burnish if needed. You should now have some really nice tumbled rose quartz that normally sells for at least $20 per pound.



Vibratory Tumbling Suggestions


We like nicely rounded stones so we usually run large pieces of quartz in coarse grit in a rotary tumbler for at least two to three weeks before switching it to a vibratory tumbler - using the instructions above. After that, we run a mix of 50% quartz and 50% small ceramic media or small rough in a vibratory tumbler. We maintain a thin mud of medium grit (about 1/2 tablespoon of grit per pound of rock and just enough water to make the grit stick to the rocks). Check the consistency of the mud a few times per day and add water if it is getting thicker than a thin slurry. Rinse the rocks and the barrel thoroughly every 48 hours and continue until the pieces are completely smooth but no less than 48 hours.

Run the fine grit step no longer than about 48 hours starting with 1/2 tablespoon of grit per pound of material and maintaining a thin mud as described above. Clean rocks and barrel thoroughly before starting the polishing step. For polishing, we use 1/2 tablespoon of TXP aluminum oxide polish per pound of rocks or 1/2 tablespoon of #61 Rapid Polish. Keep your rocks to media/small stone ratio at 50-50 but don't add any material to the barrel unless it is perfectly clean and has at least a fine grit finish - to avoid scratches. Maintain a thin polish mud for at least 24 hours and then start checking the quartz a few times per day until a nice polish has developed. Don't overtumble to prevent bruising. Burnish if needed.



Tumbled Rose Quartz is Beautiful


After you are finished tumbling you should have some nicely shaped and polished rose quartz with a rich pink color. If you prefer to purchase your tumbled stones instead of polishing them yourself, we have some nice rose quartz for sale here.

Happy tumbling! :-)

Customers also bought...

Large Ceramic Media



Large ceramic pellets work great as a filler and for delivering grit or polish to difficult-to-reach surfaces. More information...




Small Ceramic Media



Small ceramic pellets work great when you need small material for better tumbling action or to deliver grit or polish to difficult-to-reach surfaces. More information...




Standard Grit Kit



1 pound of each: coarse, medium and fine grit. 8 ounces of TXP polish. This is enough supplies to tumble up to four three-pound barrels of rocks. Save money with a large grit kit.