Beginner's Mix Rock Tumbler Rough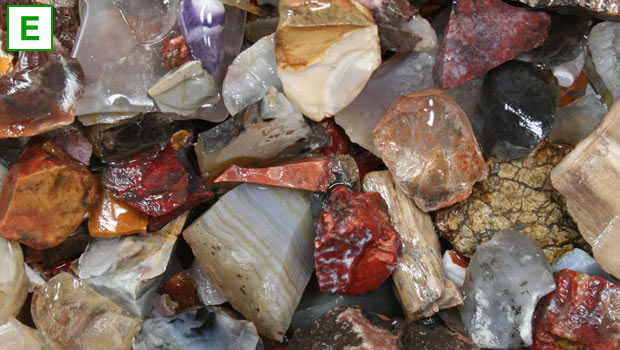 Beginner's Mix Tumbling Rough
Size: mostly 3/8 to 1 1/2 inch pieces


Our "Mixed Material / Regular Size" tumbling rough contains a blend of rock materials that are specially selected for tumbling success. This mix has been crushed and screened to have just the right particle sizes for a 3-pound tumbling barrel - such as the barrels of a Lortone 3A or 33B tumbler or the Thumler's A-R1 or A-R2. The pieces range in size from approximately 3/8" (9 mm) to 1 1/2"" (38 mm) in diameter. You will not need to add ceramic media when tumbling this mix.

Just fill your tumbler barrel to a little over 1/2 full to 2/3 full with rough, add water and grit, and you are ready to tumble.

Each bag of this mix is different. You will likely find pieces of colorful agate, jasper, quartz and other interesting materials that tumble well together and accept a brilliant polish. If you order today and then again in a few weeks the material that you receive could be entirely different.

We recommend TXP polish - an aluminum oxide compound - for polishing agates, jaspers and quartz materials.

The rough material in the photograph above is wet to show full color. The photograph below is of polished material.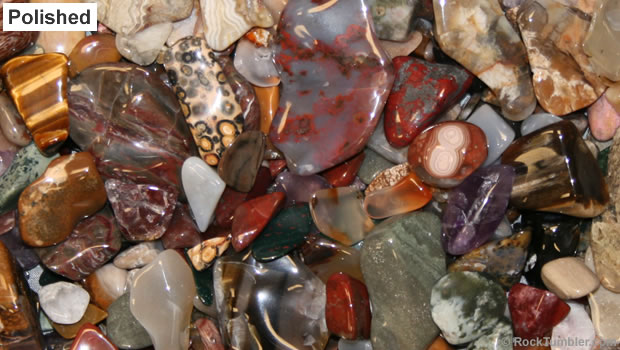 The photo above shows a batch of Beginner's Mix that we tumbled. Here is what we did....
Step 1:
We loaded a little less than four pounds of Beginner's Mix into the barrel of a Lortone QT6 tumbler with coarse
60/90 grit silicon carbide
and the recommended amount of water. We then tumbled for seven days. At the end of seven days we cleaned the rocks and the barrel. The rocks were not rounded to our satisfaction so we tumbled seven more days in coarse grit, cleaned the rocks and did a third week in coarse to achieve the desired degree of rounding.
Step 2:
We then loaded the Beginner's Mix into a single barrel
Lot-O-Tumbler
. We included some
large ceramic cyllinders
to bring the Lot-O-Tumbler barrel up to operating capacity. We then ran the Lot-O for 48 hours with
150/220 grit
, rinsing and adding new grit after the first 24 hours.
Step 3:
We then ran the Beginner's Mix and ceramic cylinders for 24 hours in the Lot-O-Tumbler with
500F grit prepolish
. The rocks were now showing a slight gloss.
Step 4:
The final step was 48 hours in the Lot-O-Tumbler with
TXP aluminum oxide polish
. We checked the rocks at the end of 24 hours and they had a bright polish but it wasn't mirror bright throughout. So we added one Lot-o-Tumbler cap full of water and allowed the tumbler to run another 24 hours. Wow! They came out great. Total processing time was one week and five days.
Customers also bought...

Large Ceramic Media



Large ceramic pellets work great as a filler and for delivering grit or polish to difficult-to-reach surfaces. More information...




Small Ceramic Media



Small ceramic pellets work great when you need small material for better tumbling action or to deliver grit or polish to difficult-to-reach surfaces. More information...




Standard Grit Kit



1 pound of each: coarse, medium and fine grit. 8 ounces of TXP polish. This is enough supplies to tumble up to four three-pound barrels of rocks. Save money with a large grit kit.