Medium Stones
approximately 3/4" to 1"
75 to 110 stones per pound

Image to show size. You will receive similar size and color stones.


Tumbled Carnelian Agate
Size Chart
Treatments: None known
From: Botswana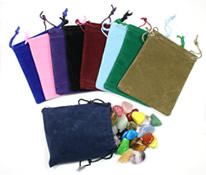 Treasure Bags!

These velour pouches are perfect for storing your stones or presenting them as gifts. Kids love keeping their treasure in a soft draw-string bag.

Carnelian Agate is the name given to a translucent variety of chalcedony that is orange, red or reddish brown in color. It is an exceptionally popular gemstone and has been used for jewelry and adornments for thousands of years.

For sale are beautifully polished Carnelian Agate gemstones. Your stones will be similar in shape and color to the stones pictured above. They are perfect for a variety of jewelry, decorative and craft projects - or simply to admire.

More information about Carnelian Agate

Carnelian is used as a gemstone in many types of jewelry. It is cut into beads, cabochons, cameos, sculptures and other shapes. Carnelian These are used in earrings, pendants, rings, necklaces, bracelets and other jewelry items.

Important sources of Carnelian Agate include India, Brazil, Uruguay, Botswana, Madagascar and the northwestern United States. The tumble-polished stones in the photograph above were produced in Botswana.

The orange-red color of Carnelian Agate is derived from the presence of iron. The color banding observed in some specimens formed in response to changing solution chemistry as the agate precipitated within a rock cavity.


Red Carnelian Agate Properties

Color
A deep orange to red agate..
Hardness
6.5 - 7
Optical Properties
Translucent.
Luster
Vitreous
Cleavage
None. Conchoidal fracture.
Crystal Properties
Agate is a microcrystalline variety of quartz.
Specific Gravity
2.5 - 2.7
Mineral / Rock Type
A variety of chalcedony.
Healing Properties
None scientifically proven.
Other Properties
Tumbled agate from nodules. Brilliant polish!